Cardiff's Principality Stadium is the likely venue for all-British heavyweight fight, on either Dec 3 or Dec 17
Anthony Joshua has accepted terms for a proposed world heavyweight title fight with Tyson Fury, his management team have announced, with Cardiff's Principality Stadium on either Dec 3 or Dec 17 in play.
The favoured date is December 3, offered by the Fury camp, with the roof closed for the 'Battle of Britain' mega-fight which will generate upwards of £80 million pounds. But it is also understood that the stadium has also been booked for Dec 17 in case an alternative date is required..
Indications that the contest is genuinely moving forward have also come with the World Boxing Council sanctioning body having installed Joshua as No 6 in their rankings, with Fury set to make a voluntary defence of the WBC heavyweight title after defeating mandatory challenger Dillian Whyte on April 23 at Wembley Stadium.
Telegraph Sport understands that both camps expect negotiations to reach a conclusion within the next five to seven days.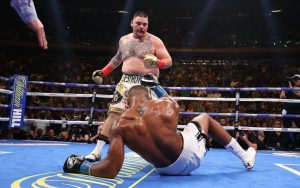 The 2012 Olympic gold medalist had held and challenged for the WBA, IBF, and WBO versions of the since 2016, with the WBC having an ongoing policy of not ranking any fighter who competes for another organisation's belt. It meant Joshua was unable to be rated until now.
Should the fight go ahead, it could set-up arguably the biggest weekend of British sport in history, with the England football team due to play their World Cup last-16 clash on either Saturday Dec 3 or Sun Dec 4 should they qualify, while the latter date would fall fewer than 24 hours before the World Cup final.
Fury had made an offer to his British rival last week, saying he would accept a 60-40 purse split in order to seal the contest. Joshua's management team, 258, said on Tuesday that they had accepted Fury's offer on behalf of Joshua and his promoter, Matchroom, and are awaiting the champion's response.
Frank Warren, Fury's promoter in the UK, also told Telegraph Sport in recent days that they were not commenting on ongoing negotiations due to the passing of Queen Elizabeth II, saying that it was "inappropriate at this time to pass comment" given that the nation was in mourning. However, Warren, Fury's promoter, has since replied: "Contract will be with you very soon."
The pair had been due to face each other last year in an undisputed clash but a two-fight deal was scuppered after a US judge declared that Deontay Wilder was contractually due a third fight with Fury, which took place in Las Vegas last October.
The fight between Fury and Joshua looked dead in the water when Joshua lost to Oleksandr Usyk twice but with the Ukrainian declaring himself not available to fight Fury until next year, Fury sent a fresh offer to Joshua. If agreed, the blockbuster will be the most significant bout in the blue-riband division involving two British fighters in two decades.
---
Why all signs point towards a Fury masterclass against Joshua
Boxing IQ
Tyson Fury is unbeaten in 33 contests, and looks in his prime at the age of 34, with the movement, ring generalship and all-round boxing IQ that has seen him weather a trilogy of fights against the dangerous, destructive hands of Deontay Wilder.
For Anthony Joshua, outboxing Fury is a tall order. He put in an improved performance against Oleksandr Usyk in their sequel, yet still came up short in the decisive last three rounds and it is difficult to see the former Olympic champion dethroning an in-form Fury on boxing nous alone.
Verdict: Fury
Movement
Look back to 2015 and Fury, then a different fighter, used his skills and elusiveness to outbox Wladimir Klitschko, until then the dominant heavyweight champion for almost a decade. It has been a staple of his world championship reigns ever since, and did for Wilder in their trilogy of fights as the American was left second-guessing where Fury's attacks would be launched from.
Joshua has lost twice in succession to Usyk, who, notably, used his footwork to create angles, both to evade Joshua's power and create openings to land his own punches. Fury would present a stronger opponent in this department than Usyk.
Verdict: Fury
Chin
In the three fights with Wilder, Fury also rose from the canvas four times, and has a terrific chin and aptitude for recovery along with a great engine, belying his 19st, 6ft 9ins-tall frame.
Joshua, against that, has lost three of his last five contests, one to the American Andy Ruiz, in which he was dropped four times in their contest in New York. He has shown vulnerability around the chin when hurt, and was down against Klitschko at Wembley, before going on to claim a stoppage himself in arguably his best career performance. Yet that was more than five years ago.
Verdict: Fury
Punch power
Heavyweight boxing can change with one punch, and Joshua will have a puncher's chance against Fury, but the Gypsy King's long jab, rangy style, movement and skillset ought to prove too much for Joshua to force his rival into the corners with his footwork. Fury also hits harder than Usyk, and while Joshua would be dangerous early in the contest against Fury, where he will need to make inroads, the WBC champion's unerring ability to control range is likely to pose many questions to the challenger.
Fury also dealt handily with Dillian Whyte in April in front of 90,000 fans at Wembley Stadium, and under Sugar Hill Steward, his Detroit-based trainer, has added aggressive intent and power punching to his armoury, as he demonstrated against Whyte with a sixth-round knockout of his British rival.
Joshua has power indeed, and has shown an ability to finish opponents, but while Fury's knockout reputation has blossomed with four of his last five fights won by stoppage, Joshua's is waning with just two in his last seven bouts.
Verdict: Equal
Prediction
While the fight, in my opinion, will be dramatic early, and the build-up hugely anticipated, one of the biggest (and certainly the richest monetarily) all-British heavyweight fights in history will play out with Fury dominating Joshua behind the jab, out-manning his rival in the clinch and out-boxing his foe before finding a home for his heavy right hands in the mid-to-late rounds to force a stoppage against a tiring challenger.
Verdict: Fury wins by stoppage