Both fighters are undefeated as professionals and their fight tops a historic 10-fight all-women's bill on Saturday night
British boxer Savannah Marshall labelled American Claressa Shields "a bully" as the longstanding rivals squared up ahead of their world middleweight title showdown at the O2 Arena, Docklands on Saturday night.
Both fighters are undefeated as professionals, but Marshall, from Hartlepool, beat Shields 10 years ago on her way to winning the world amateur title.
They held nothing back yesterday as they stepped up their war of words at a press conference called to promote a contest that tops an historic 10-fight all-women's bill and will give the winner the status of undisputed champion.
Shields, 27, listed her credentials which includes two Olympic gold medals and multiple world titles in a five year professional career.
But Marshall, who is four years older than Shields and has 10 knockouts in her 12 career victories, countered: "I've seen how Claressa boxes other girls  – she's a bully, simple as that. I think I'm a lot smarter than Claressa and I always have been and that's what will win me the fight. It's her ignorance that will lose her this fight.
"She's quite predictable. I'm comfortable in Claressa's presence. She doesn't scare me."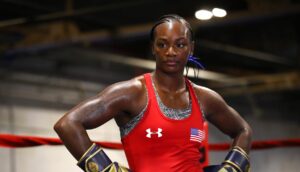 But Shields was dismissive of the Briton.
"I've never seen someone who lives off an amateur win for 10 years," said Shields. I've got two Olympic gold medals and ten titles in different divisions. She has one belt. It's like they're trying to erase everything I've done in the past years because I have been dominating boxing for a decade. She's done a great job promoting herself off of me.
"But I put in more hard work and my accomplishments show that."
Turning to Marshall, Shields added: "I don't know why you think you're so big and so strong. Knocking out all these bums… It's comical. You stand with me, you're going to be the one asleep. You think you'll knock me out ?
"I'll see you Saturday, keep my belt warm for me."
But Marshall believes she will have the last word. "Clock's ticking," she said. "Just two more days until I become undisputed middleweight champion of the world. It'll mean everything. All the blood, sweat and tears, everything that I went through, it'll all be worthwhile."
Meanwhile, the prospect of an all-British blockbuster between Tyson Fury and Anthony Joshua taking place this year for Fury's World Boxing Council heavyweight belt was still being discussed yesterday, but Bob Arum, Fury's US promoter – with Frank Warren dealing with Fury's affairs in the UK – told Telegraph Sport: "I don't think Joshua's people are
anxious to make the fight, but it is still being discussed."
Eddie Hearn, Joshua's promoter, confirmed that talks are still continuing over the December fight taking place in Cardiff.