Bivol beat the world's No 1 pound-for-pound fighter for the first time in almost a decade, winning by unanimous decision
It's an old adage, but there are weight divisions for a reason in prize-fighting. But there is also no end to ambition, self-belief and fearlessness when a fighting life is best lived.
Saul Canelo Alvarez will always be identified, now, with Dmitry Bivol, who shocked the world in Sin City by beating the world's No 1 pound-for-pound fighter Canelo for the first time in almost a decade, as the sport's star, climbing four weight divisions from his natural fighting weight, met his match in the ultra-tough, highly schooled, defending WBA light heavyweight champion on Saturday night, early on Sunday morning in the UK, at the T-Mobile Arena in Las Vegas.
Bivol – now unbeaten in 20 professional contests – won the bout by unanimous decision, with simplicity, strategy and strength.
He used a constant, strong jab, and his physicality to match and measure the Mexican. In doing so he inflicted on the man from Guadalajara – who has risen to become a national folk hero in Mexico – his first defeat since the arch ring general Floyd Mayweather Jr. bested him – a younger, raw fighter then – in September 2013.
The three judges – Tim Cheatham, Dave Moretti and Steve Weisfeld – concurred in scoring the twelve rounds 115-113 for Bivol.
It was never a rout, yet on the official punch statistics, Bivol's punches doubled Canelo's output, with the champion landing 152 of 710 punches thrown and the challenger finding the target with 84 of 495 punches thrown.
If Canelo looked lethargic in these twelve, absorbing but exhausting rounds, it was because Bivol's style, size and stamina allowed him to command, and to stop Canelo from launching significant assaults.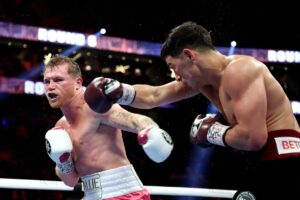 The plan was always for Canelo to fight Gennady Golovkin in a trilogy fight back in Sin City in September, and, as the Mexican holds all the belts at supermiddleweight, the contest remains possible. But knowing Canelo, he might just want to right the wrong – foolishly, some may argue, after this display.
Bivol certainly gave his blessing to a rematch in the aftermath immediately in the ring.
"I prove myself today, I'm the best (in my division)," said the Russian resident.
"Eddie Hearn, sorry I broke your plans with Gennady Golovkin. I am happy for the rematch."
Indeed, Alvarez was adamant that they will have a return fight, with Hearn, who promotes both boxers on DAZN, the streaming platform,  having created a contractual clause for the Mexican to have an immediate rematch.
"It doesn't end like this," said Alvarez, who is the biggest financial earner in the sport, commanding $50 million per fight, and before this contest widely-considered the No 1 pound-for-pound boxer in the sport.
This was Canelo's second loss in his 61st fight, having been a champion in four weight divisions between 154lbs and 175lbs. But the extraordinary Mexican, the youngest of seven brothers who have all boxed professionally, and who turned to the paid ranks as a fifteen-year-old sixteen years ago, has reached his limit physically in the challenges he inflicts on himself in pursuit of glory – and a legacy.