A mighty night to remember at Bellator 270 Dublin, in spite of a
Brazilian in Patricio Pitbull and an American in Patchy Mix spoiling
the post-pandemic party with victories over Peter Queally and James
Gallagher respectively as the fight league returned to the Irish
capital with a deep dive into the support Irish fans offer mixed
martial arts. Traditionally, they are great winners – and great
losers, full of respect – and it was no different at the 3Arena in
Dublin's docklands as Pitbull claimed the Bellator lightweight belt
his brother Patricio vacated and created history. Pitbull defeated
'Cinderella Man' Queally with a vicious assault and heavy strikes,
felling his foe after the proceedings were stopped due to an eye poke
early in the championship bout.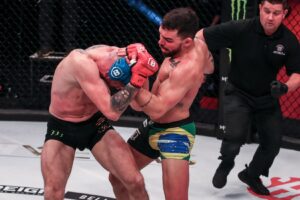 The night had built beautifully, a series of prelims delivering as the
arena became replete with celebratory fans, before the walk-ins of
Queally and Gallagher, which were a moment to behold. Queally, drawing
on everything, looked like an ancient warrior walking in, to not a
seat left empty in the house. Gallagher, too, soaked up a monumental
reception. Yet neither man would get their hand raised.
Queally was pounced on after the stoppage, and Pitbull never relented
as he dropped the Irishman, who got up, but was dropped again before
being handed heavy strikes on the cage wall, which saw the referees
intervention. It was a night the Pitbull brothers will never forget
for these loyal servants of the fight league.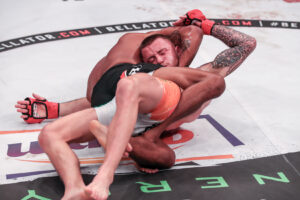 Patricky "Pitbull" Freire said afterwards: "He (Queally) thought that
I was going to kick his leg again. I can kick it anytime. I went to my
hand, my power. I was just relaxing and enjoying the fight. Now I
enjoy the Guinness."
He added: "I fought for 10 years in different places, Japan, Canada,
the U.S.A. It doesn't matter. I am the warrior. I am Brazilian. I am
the king of KOs, and now I am the champ. I want to thank my brother
for giving me this opportunity. Now, I am the champ and the king."
Mix, meanwhile, had a terrific battle with Gallagher, and won out
powerfully by submission."I knew he had to get a takedown in the last
round because I controlled the second. In the second round, he had me
in the guillotine," said Mix, who was taken aback by the power of the
crowd. "This crowd surprised me. It's crazy. It's like a movie in
here. I was nervous and came out flat in that first round. I didn't
expect the fight to be like this. All respect to James (Gallagher). I
don't know even know the guy. I came in a pound and a half overweight
and need to control that next time. I just want to build off this
momentum."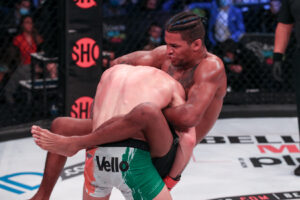 Pedro Carvalho did delight the locals, however, with victory over
Daniel Weichel, bouncing back from a two-fight skid in a compelling,
hard fought contest. "That was the biggest fight of my career. He
(Daniel Weichel) beat some of the biggest names in BELLATOR history. I
wanted this fight to be clean. I shouldn't be harsh with myself. It
was a win. Deep down I'm happy. Maybe I am too hard on myself. I want
to see my fight and what I did wrong," explained Carvalho. "My jab was
more successful when I switched to southpaw. This was the most
beautiful and special night of my career. It was exactly like I
expected. The crowd was exactly how I thought it would be. They gave
me strength and energy. I was fighting for my career. I fought the
toughest guy in my division. I don't think I performed that well
tonight."
The crowd went wild for the Portuguese fighter adopted by the Irish.
But the brilliant crowd went home discussing what might have
been…but MMA in Dublin was reborn with the return of Bellator.
Results: BELLATOR 270 MAIN CARD:
Patricky "Pitbull" Freire (23-10) defeated #4-Peter Queally (13-5-1)
via knockout (punches) at 1:05 of round one
Patchy Mix (15-1) defeated James Gallagher (11-2) via submission
(guillotine choke) at :39 of round threePedro Carvalho (12-5) defeated
Daniel Weichel (41-13) via unanimous decision (29-28, 29-28, 29-28)
Ilias Bulaid (3-0) defeated Georges Sasu (5-2) via split decision
(29-28, 28-29, 30-27)
PRELIMINARY CARD:
Ciaran Clarke (4-0) defeated Jordan Barton (6-2-1) via submission
(rear-naked choke) at 4:11 of round three
Daniele Scatizzi (11-5) defeated Brian Hooi (16-9, 1 NC) via unanimous
decision (29-28, 29-28, 29-28)
Lee Chadwick (27-15-1) defeated Arunas Andriuskevicus (15-5) via split
decision (28-29, 30-27, 29-28)
Gokhan Saricam (6-1) defeated Charlie Milner (7-2) via KO (punches) at
:15 of round one
Nicolò Solli (4-1) defeated Bobby Pallett (5-1) via split decision
(30-27, 28-29, 29-28)
Danni Neilan (5-0) defeated Audrey Kerouche (7-6, 2 NC) via TKO
(punches) at 3:58 of round three
Yusuf Nazokatov (1-0) defeated Stephen Costello (0-1) via submission
(heel hook) at 2:24 of round two