Peter Queally battles Patricky Pitbull for the second time tonight 1-0 in the contests between each other but with so much more at stake with the Bellator lightweight crown on the line, after it was vacated by his brother Patricio Pitbull. With a 10-year career in Bellator, Pitbull has notable victories over Josh Thompson and Benson Henderson, and others, and the home fighter Queally even admitted to me this week that he is "grateful" to his opponent's younger brother for allowing the title to be on the line for this headliner in Dublin, being shown live on the BBC iPlayer in the UK. Queally got the better of the last encounter, stopped by the cageside doctor in May this year after two rounds at Mohegan Sun, Connecticut. Final resolution goes ahead tonight, and Queally has great history fighting here in Dublin, generating a brilliant finish against Ryan Scope here two years ago by second round finish.
As Queally has spoken about so eloquently this week, he is a fighter by chance, never intending to be an MMA fighter. Now he has the chance to cap an historic night bidding to become Bellator's first Irish champion and the first Irish fighter since Conor McGregor to hold a major world MMA title. Queally has now trained alongside McGregor at the Straight Blast Gym in Dublin for many years under the tutelage of John Kavanagh.
"I had this little feeling this would happen, the stars would align for me," said Queally to Coral Barry of BBC Sport this week. "I kind of climbed the mountain a few times in my career to get to the next stage and then failed. It's so hard, so hard to put a string of wins together at this high level. I could have quit, but I just couldn't do it. I don't think I could have lived with myself if I did. That heartbreak you feel after a loss, you don't want to live with that for the rest of your life."
"Focus on yourself, work really hard. I'm a good example of that. It took me a long time but slowly, slowly, slowly and now I'm here. I hope I can win this world title and it can be a kind of vindication that this is the right way to do it. Take the hard path.
It's a 50/50 fight in my view, and Queally will want to make it a dogfight and take the heavy-handed Pitbull to the later rounds. Fighting at home, though, Queally is hellbent on making history, and will take much from the occasion, the atmosphere, and the stentorian crowd as No1 ranked Pitbull takes on the Irishman, ranked No 4 in the Bellator 155lb roster.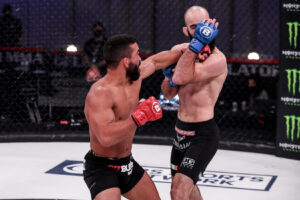 Elsewhere on the main card, a fascinating duel at bantamweight between another local Irish hero in James Gallagher, who meets Patchy Mix. It has been a week or ire between the two fights, as Mix failed to make weight, and negotiations ensued from Thursday onwards to make the fight go ahead. It has added to the bad blood between the pair – with Gallagher intent on winning what is being seen as an eliminator for a challenge at Bellator's 135lb crown. The title will be contested when incumbent champion Sergio Pettis defends his title for the first time against Kyoji Horiguchi on December 3 at Bellator 272. Here, the challenge for both Gallagher and Mix is how their ground games mesh, and who can get the early advantages in the stand-up. Gallagher has been working with James Krause in Kansas, USA, for a year and Krause told me this week that the Irishman has proven "a fantastic learner" in all disciplines, but it will be intriguing to see that curve here, where 'The Strabanimal' has a large following. Both Krause and Kavanagh will be in the corner.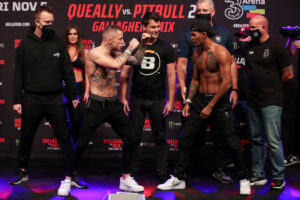 Also on the main card, Pedro Carvalho will look to escape from a two-fight skid in a very tough fight against veteran Daniel Weichel, at featherweight, looking to showcase a new maturity that he has expressed this week, looking to be more patient, having increased his workload in the stand-up. Weichel is the perfect foil too test those advancements. And featherweight newcomer to MMA Ilias Bulaid (2-0) takes on Georges Sasu looking to make his mark after a phenomenal kickboxing career in which he faced almost everyone that fans wanted to see. Bulaid, Moroccan in heritage but from Holland now, has the skills to become a star in the sport.
---
BELLATOR 270: QUEALLY VS. PITBULL 2 MAIN CARD:
SHOWTIME (US) / BBC iPlayer (UK) / Virgin Media Two & Virgin Media Sport (IRELAND)
Friday, Nov. 5 – 9 p.m. GMT/5 p.m. ET/2 p.m. PT
Lightweight World Title Main Event: #4-Peter Queally (13-5-1) vs. #1-Patricky "Pitbull" (23-10)
Bantamweight Co-Main Event: #6-James Gallagher (11-1) vs. #3-Patchy Mix (14-1)
Featherweight Bout: #6-Daniel Weichel (41-12) vs. #7-Pedro Carvalho (11-5)
Featherweight Bout: Ilias Bulaid (2-0) vs. Georges Sasu (5-1)
---
PRELIMINARY CARD:
BELLATOR MMA YouTube channel | SHOWTIME Sports YouTube channel | Pluto TV (US)
BBC iPlayer (UK) | Virgin Media Two & Virgin Media Sport (IRELAND)
6 p.m. GMT/2 p.m. ET/11 a.m. PT
Featherweight Bout: Ciaran Clarke (3-0) vs. Jordan Barton (6-1-1)
Lightweight Bout: Daniele Scatizzi (10-5) vs. Brian Hooi (16-8, 1 NC)
Light Heavyweight Bout: Lee Chadwick (26-15-1) vs. Arunas Andriuskevicus (15-4)
Heavyweight Bout: Gokhan Saricam (5-1) vs. Charlie Milner (7-1)
Welterweight Bout: Nicolò Solli (3-1) vs. Bobby Pallett (5-0)
Strawweight Bout: Danni Neilan (4-0) vs. Audrey Kerouche (7-5, 2 NC)
Featherweight Bout: Junior Morgan (3-0) vs. Darragh Kelly (Pro Debut)
Welterweight Bout: Stephen Costello (Pro Debut) vs. Yusuf Nazokatov (Pro Debut)
BELLATOR 270 is live on the BBC iPlayer tonight from 5pm.