There was always the feeling that if it lasted three rounds, we would be left wanting more. We are, and so does Michael Venom Page after claiming a very close, split decision victory over Douglas Lima, and avenge defeat two and half years ago. Page, pressed at the news conference post-fight, agreed that he would like to fight Lima, again, next, but over five rounds. Great call. That will be a decision for Bellator president Scott Coker. Let's hope he agrees, because it felt like unfinished business at the horn for the end of 15 minutes of absorbing, high-level physical chess. Next time, it really will be for the championship of each other.
It was easy to see why so many observers were split on the split. Lima was down three times, Page once, all of them were flash knockdowns, and on the ground, it was a stalemate, and we witnessed referee Mike Beltran contemplating whether he should stand them up. They should appoint Beltran for their trilogy fight. We barely saw him in there. Great refereeing. But I suspect he will stand them up after 30/40 seconds next time if the same occurs.
But the following and atmosphere created around this event, and on the night, with history being made with a live, primetime show on free-to-air BBCiPlayer made it a momemotus and seismic night for the growth and development of MMA in this country. Another brick in the wall. The spectators created an electric atmosphere. MVP's walkout was reminiscent of support for Michael Bisping and Conor McGregor in the past, when expectation is off the chart. Two extra rounds here would have been perfect.
Page said, following his split decision win: "I wanted to finish him. He's a tough man. I understand why he's been a champion three times. Even when I hit him with those big shots, he just kept coming and then he started to adjust and make it more difficult. I was confident. I knew he was going to go for a takedown. Every single striker that stands in front of me, I turn them into wrestlers. Every single one of them. Now I want that bling! I've come over and got my redemption. Now I want that bling." That was in the cage. Later, Page said that Lima was the next logical step, as they need to test each other. Result: Michael Page (20-1) defeated Douglas Lima (32-10) via split decision (29-28, 28-29, 29-28).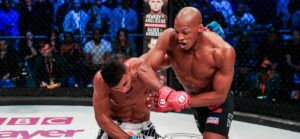 Leah McCourt (6-1) defeated Jessica Borga (3-4) via unanimous decision (30-27, 29-28, 29-28), in a strong performance in which the Belfast fighter showed improved standup. McCourt said after her victory: "I was happy I was able to bring out my striking and my standup in the cage on the night. I've always known I could do it. It was nice to just believe in myself a bit more. Hopefully they put me in Dublin in four weeks. I'm not hurt. Just a bit of a sore lip. I could definitely fight in four weeks in Dublin." Nonetheless, McCourt, No 5 in the rankings is still a long way from challenging Cris Cyborg for the Bellator women's featherweight belt.
The battle between Robert Whiteford (16-4, 1 NC) and Andrew Fisher (18-8-1, 1 NC) ended in a no-contest due to an unintentional eye poke at 2:50 of round two, which was a shame as both experienced fighters looked ready to go the distance and throw down.
Luke Trainer (5-0) defeated Yannick Bahati (9-6, 1 NC) via TKO (strikes) at 2:50 of round two, and announced himself as a rising star, lifting himself to the occasion. Children's nanny by day, fighter by night, the 6ft 6ins light heavyweight continues to progress and impress. After the victory over Bahati, in a thrilling back and forth contest which he dominated, yet was tested by his rival, including a big spinning backfist which landed flush, Trainer called out Ben 'Big Tuna' Parrish: "This was a war. I have so much to learn. I got rocked. First time I ever got rocked. I come back like a savage. I told everyone I'd be a savage. I told everyone I wanted violence. I got violence. I said he'd bleed, he bled. Ben Parrish – I'm coming for you! Nothing but respect. You're a savage but I'm coming for you, sir. Get me to the States…" No doubt that will happen soon enough.
Tim Wilde (14-4) defeated Yves Landu (16-9) via unanimous decision (29-28 x3) in a fine performance, showing adroit and adept standup against the dangerous Frenchman, who he might have gone after and finished when he had him hurt in the second round. Wilde explained, following his unanimous decision win: "I was a bit slow getting started, it's been two years, but it just feels so good to be back and get this victory. I know I hit hard but with a guy like Yves it's hard to land flush. I hope to get back in here as soon as possible and I would like to fight Charlie Leary or fight the number one fighter in Europe."
Also of note, was Kane Mousah's performance over fifteen minutes after a huge gash in his forehead from Davy Gallon in the first round of their contest on the preliminary card. Mousah, who lost the best part of his career at Her Majesty's pleasure, but is now an inspirational figure showing how a life can be transformed, refused to be dented by the injury and showed that there is not a scintilla of quit in him. He brought the house down by just finishing the fight.
It was emblematic of a brilliant night for Bellator, and the sport, in Europe.
PRELIMINARY CARD:
Lewis Long (19-6) defeated Michael Dubois (11-8) via technical submission (rear-naked choke) at :41 of round one
Davy Gallon (19-7-2) defeated Kane Mousah (13-4) via unanimous decision (29-28, 30-27, 30-27)
Elina Kallionidou (8-4) defeated Petra Castkova (4-4) via submission (heel hook) at 2:07 of round one
Jack Grant (18-7) defeated Nathan Jones (13-11) via TKO (punches) at 2:16 of round one
Fabacary Diatta (8-0) defeated Nathan Rose (7-4) via unanimous decision (30-27 x3)
Chiara Penco (6-3) defeated Katharina Dalisda (5-3) via submission (armbar) at 2:45 of round one
Khurshed Kakhorov (8-0) defeated Jair Junior (7-3) via unanimous decision (30-27 x3)