The king is dead. Long live the new king. AJ McKee became a new star in mixed martial arts with a brilliant, dramatic performance when he stopped champion Patricio Pitbull by submission in 97 seconds at The Forum Los Angeles just a few miles from where he was born.
It was the culmination of a two-year featherweight tournament and with victory, McKee extended his winning streak to 18 fights. "We are just getting started," said McKee afterwards. "This is only the beginning. When it first started and they were selecting the bracket, I wanted the third or fourth pick. But God told me that I am number one so when I picked that first draw, I knew that I was number one and now I am. Mentality is the key. You have to put the work in and my dad always says, hard work beats talent."
They came from either end of the Bellator spectrum. Pitbull, the wizened, in his prime champion making his seventh defence of the Bellator featherweight crown and McKee the 17-0 undefeated young upstart from just down the road at the fabled 'Forum of Inglewood', iconic home to great sporting and musical heritage and a fitting venue for a title contest for the fight league to savour, with the 145lbs crown and a one million dollar winner-takes-all prize on the line. Scott Coker, the president of Bellator, called it "the relaunch" with a live indoor crowd was permitted. After months of fight events in a "bubble" at Mohegan Sun Arena in Connecticut, almost exclusively crowd less, there was a hubbub and hurrah from fans about the continuance of MMA in Los Angeles, which has a massive fanbase for the sport.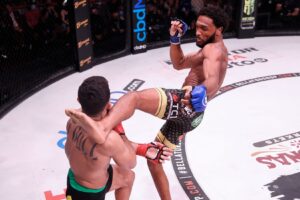 The young pretender made his way out, chest bulging, urged on by overwhelming local support. The Forum crowd booed the champion of two weight divisions (record 32-4), who has rarely been given the credit he merits, coming out looking tense, serious, to the strains of the Brazilian national anthem. Pitbull versus The Mercenary …
Loose, long, McKee pushed out lower kicks, using his range the combatants in their stance: one southpaw one orthodox and Pitbull patient, but as McKee walked Pitbull onto the cage wall he unleashed a kick followed by punches and then submitted the champion.
Bellator president Scott Coker summed up the event: "It was spectacular energy in the room, a big time championship fight feeling. AJ did his thing and was impressive, We've seen Pitbull fight for years… and no one has been able to do that to him. AJ completely dominated. It was not Pitbull's night. AJ was a rising star who became a big star tonight.
He was spectacular, and this kid is dynamite…he showed a lot of swagger and confidence. In fact, he has had it for years, and this is now one of the greatest finishes in the history of the company."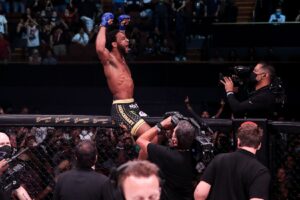 Coker believes McKee could have the makings of a genuine crossover star. A new sporting persona for the mainstream. "He could be the kind of fighter who takes Bellator onto CBS, who takes us to pay per view. He told me he even wants to box. What is his weakness ? A month ago his coaches said Pitbull was dangerous. He has dynamite in both hands and a great submission game. This is the future of MMA. This kid can do it all.
He is the best featherweight in the world. He could fight anyone in the world at 145. In any organisation. It doesn't happen in MMA with crossover fights (with other organisations, but we would do it in a heartbeat."
Earlier Mads Burnell, the Danish featherweight, advanced his cause towards the 145lbs crown against former title challenger Emmanuel Sanchez with a unanimous decision victory 29-28 and 30-27, twice. "He was the toughest guy I have ever shared a cage with," said Burnell, who was flying on emotion after the victory. "He's a freaking dog, man. He just kept coming. It was pretty much how I expected it to go. I would like to fight AJ down the line, but I thought he was brilliant tonight against Pitbull. I've got to fight smart. I don't go in there to fight with my balls, but to fight smart. I thought I did that tonight."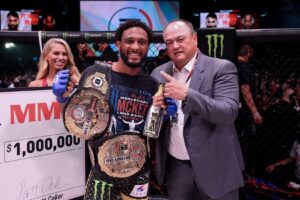 A raft of four Dagestani fighters under the tutelage of AKA gym supremo Javier Mendez and former undefeated, now retired, UFC champion Khabib Nurmagomedov were victorious at the circular pavilion in the Los Angeles suburb, not least Usman Nurmagomedov, the esteemed champion's younger cousin. Usman faced Manny Muro, and moved his resume to 13 fights undefeated, by dint of a dominant one round TKO stoppage, felling his opponent with a slicing knee strike to the liver from the clinch. Muro dropped, the Dagestani pounced on his fallen foe and referee Frank Trigg waved it over with 3 minutes 30 seconds gone in the round. Usman is now expected to fight in Moscow in October, where legendary heavyweight Fedor Emelianenko makes his return to the Russian capital, and where Bellator takes its bow for the first time.
Elsewhere, former lightweight champion Brent Primus was defeated by Dagestani Islam Mamedov, by a split 29-28, 29-28, 28-29 decision in a fight which the American was relegated to being on the bottom for the best part of two rounds, and came closer than his opponent to finding the submission finish. But this was a crowning night for Bellator and one that will live long in the memory as the coronation of McKee 'The Mercenary' arriving as a new star in the sport.