Heavyweights Derek Chisora and Joseph Parker promised "war and knockouts" and duly delivered in Manchester on Saturday night in a hard fought battle for the World Boxing Organisation Intercontinental title eventually claimed by Parker.
It was an exhausting, rugged contest with Chisora bringing the heat early, closing the distance and pursuing his rival into close quarters combat on the inside.
It was a messy affair in parts, Chisora man out-working and out-hustling Parker for much of the fight with his trademark come forward style, but it was Parker who claimed the victory by split decision 115-113, 116-111 on two of the cards, while Chisora was seen as the winner 115-113 by one of the judges.
Chisora, for the record, walked to the ring first, having stated he would refuse to fight on Saturday night after losing the coin toss at the weigh-in on Friday, insisting that he had the right to walk in second, normally reserved for the champion.
In a ding-dong battle, they were straight into action, Parker down in a neutral corner in the first exchange, inside ten seconds. It looked like a slip, but referee Steve Gray counted the overseas fighter to his feet, and warned Parker about holding.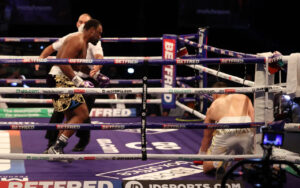 Parker came back in the round behind his jab, but the advancing, aggressive Chisora made it his period of ascendancy. The fight turned into a rugged trial of strength in the second as Chisora perused his foe around the ring, looking to work inside as Parker tied them up with his arms, to nullify Chisora's ebullience.
The fight fell into a pattern, with Chisora the aggressor, Parker working uppercuts and jabs off the back foot, the Finchley fighter intent on wearing his foe down. Parker became more effective in the fifth and sixth rounds, yet Chisora kept up his workrate.
Chisora, finally fatiguing in the seventh, after putting so much into the first half of the fight, was caught more by the former WBO champion as the fight progressed, the final third of the contest a battle of will between the two protagonists in the crowd less arena, neither man's spirit breakable.
Earlier, Chris Eubank Jr shook off the ring rust with a routine points victory in a 10-round affair against Marcus Morrison.
Having been out the ring since December 2019, Eubank Jr seemed content to bank the rounds in his first fight under new trainer Roy Jones Jr, the former four-weight world champion.
Eubank Jr is hoping to land a world middleweight title shot later this year and improved his record to 30 wins in 32 fights after all three judges scored the fight 98-92.