Vadim Nemkov and Phil Davis play it back in a light heavyweight title rematch between the current champion at 205, Nemkov and challenger Davis as Bellator's Light Heavyweight Grand Prix, arguably one of the most stacked series ever in the history of MMA, continues at Bellator 257 at Mohegan Sun tonight [FRIDAY APRIL 16]. The event is live on the BBC iPlayer from 10.30pm in the UK.
Former elite collegiate wrestler Davis can hit three birds with one stone here – win back the Bellator belt, avenge defeat and progress to the semi-finals of the tournament and meet the winner of Anthony Rumble Johnson and Yoel Romero, who fight on May 7. In the first fight in 2018, Nemkov – who is mentored of course by the heavyweight GOAT Fedor Emelianenko – used his leg kicks and was far more active in the first two rounds, winning the fight by a 29-28 split decision. Davis, awkward as we know he is in the stand up, and heavy handed, only resorted to his top tip wrestling in the last two minutes of the bout, attempting the kimura sub a couple of times. But it was too little, too late. The key this time against the now champion in Nemkov, is for Mr Wonderful to get his hands on the 28-year-old from Belgorod Oblast who is riding a 7-fight win streak and has the momentum of banjoing Ryan Bader to become the champion at 205. Round four of what is going to be intriguing brutal physical chess coming up later between these two elite fighters.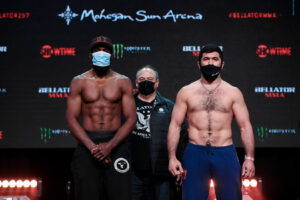 "I am entering the Grand Prix as a champion but I try to move those things out of my head, so I'm entering the tournament like a regular fighter and I just want to win," said Nemkov. "For me, it's much more important to win this tournament right now. Not the belt. I want to win this tournament. I want to prove myself to everybody. I'm in my prime age right now. I already have a lot of experience. I'm well prepared for this tournament and because I'm younger, that's even more of a plus for me. "I'm very glad that I have three fights this year to defend my title. That's really good for me to fight a lot and to prove that I am the best. That I am a champion. Not wasting any time. I'm really happy that these other legends in the tournament want my belt and I have a chance to fight with them and prove that I am better. "I'm ready to fight with Phil Davis for five rounds. I'm prepared for it. But I want to finish it. I don't want to spend five rounds with Phil Davis and I want to be the first one to finish him in his life." Davis, meanwhile, the former champion at 205, explained: "Honestly, it's sort of cliché but the toughest test in this tournament would be Nemkov. He's champion for a reason. He's a tough cat and he's the guy to beat. I want to get this light heavyweight belt and then after that, clean up the rest of the tournament.
"This fight is going to be crazy. I can promise you that. With Nemkov, you know when you skate by with a win. This time, he's coming to make a statement that he is the rightful champion. And I am coming to say, 'No you not!' It's definitely going to be a very aggressive and exciting fight. "I look back at that loss and I never would wish I would lose, but at the same time, I do feel like it adds a little more theatrics to this moment and how sweet it would be to win the belt back from a very close decision in such an amazing light heavyweight tournament. "All of those matchups [rematches with Nemkov, Johnson, Bader] are freaking awesome. I am definitely motivated to avenge a loss but I am just more motivated about winning this tournament because it has some of the who's who of the sport and of the light heavyweight division. Whoever wins this, the fans will say, 'That guy is freaking awesome. You went head-to-head with all the killers in this division.'
"I think it's a mistake to think that you know a guy or think that you know what he's going to do. I approach it almost as a brand-new fighter, brand-new fight. It keeps me from falling into the trap of underestimating him or maybe thinking he didn't improve in certain areas. I have limited knowledge of what you like to do and what I think your plan of attack will be and my job is just to come at you with a blank slate because a lot of times, especially with rematches, they tend to be completely different from the first one." Also on the card in the Grand Prix, light heavyweights Corey Anderson and Dovletdzhan Yagshimuradov meet for a place in the semi-finals. Anderson joined Bellator under a fanfare of publicity last year and says he wants to prove he is the best in what
he believes is the best light heavyweight roster in the world. Anderson debuted with victory in Bellator last year against martial
arts legend Melvin Manhoef, and has the chance to bring his ambitions to a reality in the opening sequence of the Bellator light heavyweight tournament against newcomer Yagshimuradov of Turkmenistan. The short squat powerful Yagshimuradov is riding an eight win streak, six of those by submission or knockout, and built like a tank, has heavy hands and feet and has some impressive finishes. He remains the dark horse of the tournament. Anderson, who has been in with some of the very best 205-ers on the planet, and has not always had it his way, is at 31, is close to the peak of his powers. Anderson is known by his cage sobriquet as 'Overtime' and the smothering force from Illinois will be looking for a short shift tonight.
"The moment I got the release and everything settled from UFC and signed with BELLATOR, I knew I was valued more over here already before even meeting anybody," explained Anderson. "My manager let people know that we got out of UFC and within an hour, hour-and-a-half, BELLATOR hit us with a huge offer that we couldn't pass. The people I was with at the time were like, 'Yo, if you don't take that money you are stupid.' So, we took that and that showed me how much they valued me as a fighter. In a matter of 24 hours, a new promotion had offered me my worth in money, actually reached out and talked to me and then they wanted to meet with my face-to-face. That's something that in my seven years in UFC, I still hadn't had a face-to-face meeting with Dana White."
On his opponent, Anderson added: "He was the champ somewhere else. He is legitimate enough to be in this tournament with the other seven fighters. With that being said, I'm not going in there and looking past him because he's not a name we know. I'm not looking in there thinking that I because I was in the UFC and I fought at the top that this guy is not ready. I'm going out there thinking this guy is as dangerous as anybody else. He has two fists. He has two legs, two eyes and two ears. He can hear, see and throw whatever he wants to throw when he sees it.
"BELLATOR's light heavyweight division has all the numbers. We have all the skills. We have all the names. In 205 over there in UFC, all you really have right now is the champ and Glover. People over here already beat both of those guys. It's kind of like, it shouldn't even be a question." Yagshimuradov, for many a dark horse in the tournament, re-enforced his little is known of his style. "Sometimes I don't even know how to describe my own fighting style. It's some kind of weird style. Usually, I start adapting to my opponent during the fight. If the guy tries to wrestle, I strike with him. If the guy tries to strike, I wrestle with him.
"I don't like to predict the fights, especially my own fights. It's easier to predict somebody else's fight but it's hard to say what's going to happen. Everything about what is going to happen is going to be shown Friday night in the cage. The only thing I can tell you about what I'm going to do is I'm going to go out there and fight with the guy."
"I don't feel any kind of pressure because there are a lot of big names in this tournament. It's only names. I can fight with any of them. I think Yoel Romero would be the guy I'd like to fight. It's not like I really want to fight him or there's something special about this fight, but I was always a fan of his fight style and the way he acts in the public. I kind of respect this guy so if you ask me who I would like to fight from this tournament, it would be Yoel Romero."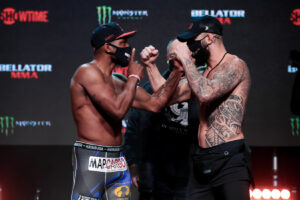 Elsewhere, renowned British knockout artist Paul Daley will be looking to thrill as ever in a rescheduled bout with Sabah Homasi – an American of Lebanese descent with the 'Sleek Shiek' on a four-fight win streak, having told me previously that Daley may be dangerous with his hooks and knees, but if he lands on the British veteran, it will be lights out because he is chinny. Homasi, also known as The Punisher, can back his power up, with 10 knockouts from his 15 career victories. Daley, who once served in the same British Army regiment as Prince Harry coming off a knockout – what else – of Saad Awad in October and has said he will hunting Homasi down. This is one of those fights where you dare not blink, as two destroyers collide. Fans can expect another highlight reel knockout finish from one of these two explosive fighters.
"In regards to Homasi saying he's not fazed by my record, I think he has to say that for his confidence," said Daley. "I know already that he's nervous. He's already doubting himself. It's a big change from the interview when we were supposed to fight pre-COVID when he was saying that he was a fan of me and he's been watching me fight for a while. That just tells me that he's nervous about the fight and it's just for his confidence that he's saying stuff like that. Just to reassure him that he deserves to be in there with me."
"Very few people who meet me have the same idea as prior to meeting me. Everybody thinks I'm this psychotic fighting machine but deep down I'm a martial artist. What brought me to martial arts was ninjas. That is what got me into martial arts. It wasn't the fact that I was some kind of street fighter. I just wanted to be a ninja. I wanted to disappear. I wanted to do the meditation things. Intertwine my fingers and summon a dragon or something like that. Deep down, I'm a martial artist and that's what keeps me going. It's the endless search of perfection that drives me. I just want to be the best martial artist I can be. I've just recently been awarded my black belt in Brazilian jiujutsu and I'm still here in BELLATOR competing against these guys after so many fights and so many years in the game."
Bellator 257 is live on the BBC iPlayer from 10.30pm on Friday April 16.