The stacked Bellator light heavyweight Grand Prix kicks off with a main event rematch between two of the most decorated fighters ever to grace the fight league's roster, live on the BBC iPlayer in the UK on Friday night. Ryan Bader and Lyoto Machida met nine years ago with Bader knocked out cold by a short straight right hand from the karate master after bullrushing the Brazilian.
Almost a decade on, times have changed, Bader has matured and become a champ champ and is a formidable force with his striking and wrestling, having won both light heavyweight and heavyweight belts in Bellator. 'Darth', the favourite tonight, has the opportunity to set the record straight and propel himself back towards reclaiming the belt at 205 pounds. The Dragon Machida might be 43 next month, but with his fighting mystique, he only requires a mistake from his opponent to create chink of light to get the finish. Will the Dragon breathe fire in the cage tonight, or will Bader avenge defeat all those years ago when he felt his lights go out in Los Angeles…?
Bader, still the reigning Bellator heavyweight champion, explained: "When they first filled out the bracket and I looked at it, I thought this was great for me. It's all about redemption for me. First fight out of the gate is Machida, a guy that knocked me out in 2012. That's always one I wanted to get back. Not only that, you have two guys on the other side that I lost to [Anthony Johnson and Vadim Nemkov]. It will be that much sweeter to get those wins back and do it in a Grand Prix tournament. "I had so much fun in that Heavyweight Grand Prix that when they asked me to join this Grand Prix, I said yes right away. I love the format. It brings a lot of eyeballs. And I have the opportunity to do something nobody's ever done in becoming a two-division champ once again and winning two Grand Prix's."
On the rematch with Machida, 'Darth' added: "I didn't really know what I was doing on my feet back when we fought in 2012. I could hit hard but I didn't even have a jab. For me, going against one of the better strikers at that time was one of those things where I was just out of my league. I didn't try for one takedown. I didn't threaten him with certain things. It's a totally different fight now. That was lifetimes ago for me. I've grown since then. I've become a champion, a two-division champion, fought everybody in MMA. I have to pressure him but I have to do it patiently. I have to pick my times and I've worked on a lot of karate. I know what he's looking for and I know what I need to do to negate that. I'm feeling really good coming into this rematch."
Machida, meanwhile, explained: "I am so excited, not just because it's a rematch but because I have a big task ahead of me. I had a great camp and great preparation for this moment. Of course, as a professional fighter and as a competitor, we always have these things within you. This will to win. As a human being, I want to think in the future but I keep my mind in the present."
On the card, too, is an important women's flyweight match-up between Liz Carmouche and Vanessa Porto. It has deep significance in the women's flyweight division as Carmouche and Porto battle for what is arguably a title eliminator to face current world champion Juliana Velasquez.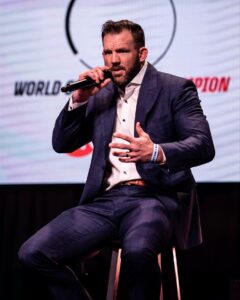 Carmouche, who came within a whisker of finishing the great Ronda Rousey eight years ago, enjoyed victory over DeAnna Bennett on her Bellator debut, now faces the Brazilian Porto, the former Invicta flyweight champion. Porto has had a long career and the Sao Paolo submission specialist – 11 of her 22 wins are by submissions – will undergo the toughest of debuts against Carmouche. Robust and powerful, Carmouche trains in San Diego with former Bellator flyweight champion Ilima Lei MacFarlane. She developed toughness and resilience over five years in the Marine Corps as an aviation engineer during which she did three tours of duty in the Middle East. It's war in the cage with both women on a mission, yet a major reward could be there for the winner who may just get the next title shot.
"Whether we're on the ground or not, it doesn't bother me," says Carmouche. "She can have 11 submission wins but I'm a whole different beast that she hasn't faced before. It can be standing. It can be against the cage. It doesn't matter where we go, it's something I'm prepared for and ready and looking forward to." "I think, if nothing else but based on the rankings, a win would put me in title contention. I feel like automatically with this win, that should put me on track to go for that belt. I think this is going to be a really good fight because we're both mixed martial artists. It's not like one of us is strong in just one area. We're able to adapt and overcome whatever that specialty area happens to be. I see the fight going wherever it needs to. I think both of us are going to be hunting for that finish and take those opportunities so it's going to be really exciting for the fans, but
ultimately what's going to end the night is my hand raised with the win."
Porto, though, is looking for a conclusive result. "I'm going to be looking for that finish, whether it's a submission or a knockout. But in reality, you can only see how it's going to go when you get in the cage. I'm looking forward to standing up and showing my Muay Thai and finishing her. "Going into this fight, I'm just focused on myself and not so much the people that I've fought or the name in front of me. I'm just really focused on being able to go out in the debut and show my skillset and who I am as a fighter."
Elsewhere on the 256 card, featherweights Jeremy Kennedy and Ádám Borics battle for ranking positions in the Bellator 145lb division. Canadian Kennedy, 28, a rounded mixed martial artist, who has fought some of the best in the division including Rony Jason and Alexander Volkanovski, is a relative newcomer to Bellator and faces one of the most devastating stylists on the roster. Borics, 27, born in Hungary but now fighting out of Sandford MMA under the famed coach Henri Hooft the former kickboxer from The Netherlands, has lost just once in his 17 fight career on a night when he was old manned by Darrion Caldwell in the Bellator featherweight Grand Prix. Borics told me that the loss was a good thing for him, and he has learned from the defeat. With notable victories over Aaron Pico, Pat Curran and Erick Sanchez, 'The Kid' throws down against The Bandit from British Colombia in what promises to be a thrilling fight.
Bellator 256 is live on the BBC iPlayer from 11pm on Friday April 9.