A potentially thrilling main event at Bellator 255, as the fight league returns, features a second encounter between the champion Patricio Pitbull and Emmanuel Sanchez for a place in the final of the Bellator Featherweight Grand Prix against rising tyro AJ McKee, with a million dollars in bullion awaiting the eventual winner. High stakes, indeed.
The event is live on Showtime in the USA, and live streamed in the UK on the BBC iPlayer, which will show all Bellator events this year. It represents a major moment for the sport in the UK, with BBC Sport embracing mixed martial arts.
After their 5-round Tear Up in Tel Aviv in 2018, a decision win for the champ, Sanchez told me this week that he is on a 'revenge tour' and in spite of having the toughest route through the tournament, has taken 'ownership and accountability' in his life during these changing times over the last year. Sanchez says he is "grateful" for these toughest of opponents, and that without a champ-champ like Patricio Pitbull and a great fighter like AJ McKee with an undefeated record we wouldn't be having exciting fights like this".
Pitbull told me this week that he feels Sanchez's self-belief going into this, but he loves it. Why ? Because there will be no excuses
after he embarrasses Sanchez. Can the Matador use his magic cloak tonight or will the Pitbull tear him apart. We are set for a thriller in the main event.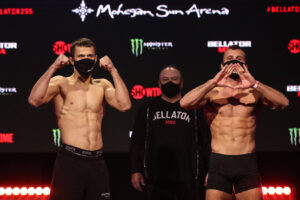 At lightweight, there is much anticipation as undefeated Usman Nurmagomedov, cousin of the great lightweight champion Khabib, makes his Bellator debut against MMA Lab's Mike Hamel. Nurmagomedov is 11-0 as a professional over the last four years, with seven wins by KO/TKO and three by submission, and has finished his past five opponents.
Training under esteemed coach Javier Mendez at AKA in San Jose, Nurmagomedov began at the famed Sambo academy in Dagestan, and Mendez says his young charge "can do it all, and is by far the most talented and gifted fighter" he has ever had. "He just needs seasoning and experience," adds Mendez.
That begins tonight with his first foray in the big league, against 'Magic' Mike Hamel who is coming off of a split decision loss to
Adam Borics in his Bellator debut last August. It was at short notice, but it brought the best out of him.
"I'm not fighting Khabib," says Hamel, "I'm fighting his weaker little cousin." He will need to carry that mindset into the cage with him. Usman has the name but does he have the skills and the same DNA as his cousin Khabib ? We are about to find out in the Bellator cage.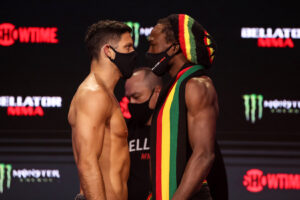 Also on the main card, a welterweight contest between Neiman Gracie and Jason Jackson pitches a fourth generation fighter from the Gracie family, who studies MMA under Renzo Gracie in Manhattan, against the fluid, fast transitioning Jackson who believes he is just reaching maturity as a fighter. It's hard to disagree with that. Jackson is a very fluid fighter victories over Dhiego Lima, brother of Bellator welterweight champion Douglas Lima, and most recently in his three fight win streak fine wins over Jordan Mein and notably, the decorated Benson Henderson, last November. It makes this is a fascinating match-up.
The decorated, urbane jiu jitsu artist Gracie, with multiple championships on the mat, has the opportunity, coming off a fantastic
submission win against Jon Fitch, with victory here to set up a title challenge against champion Lima. The same applies for Jackson. It has title contender fight written all over this. It's a tough pick, but on the ground you go Gracie, in the stand up it's Jackson, who has power, poise and precision. Gracie versus Jackson is all about who controls where the fight goes.
Bellator 255 is live on Showtime in the USA and on the BBC iPlayer in the UK (11pm, Friday)