Her grandson Campbell, son of former two-weight world champion Ricky, makes his professional boxing debut on Saturday night
Carol Hatton laughs heartily when she contemplates the next chapter of her family's boxing story. "Those two could have their own show – 'The Little And Large Show'," she says, referring to her son and former two-weight world champion Ricky, and grandson Campbell, who makes his professional boxing debut on Saturday night in Gibraltar. "Campbell takes the mickey out of his dad but he really is a chip off the old block. He's got the same personality. They're like a double act."
If the Hattons have a fair claim to be Britain's most colourful boxing family, there is little doubt over who sets the tone. Carol is a former pub landlord who, according to Ricky, "knocked a few fellas out for refusing to leave at closing time" and used to "dip her finger in people's pints" to taste it if they complained it tasted off, and then tell them to get it down them.
Famously nervous at ringside when Ricky and her other son, Matthew, fought, Carol would routinely clutch a bottle of Lucozade in the VIP seats in order to quell her nerves. A way of topping up her energy levels during a draining fight? Not really – it was full of vodka and tonic.
The butterflies will be fluttering again on Saturday, although Carol can at least reassure herself with the knowledge that Campbell could not have a better man in his corner. Ricky has schooled his son not simply in the art of boxing, but in how to manage his life outside the ring, urging him not to repeat the mistakes which afflicted his own career.
"I think Campbell is just like his dad, but he has learnt from Richard [Ricky] what he must and must not do," Carol says. "They say the apple doesn't fall from from the tree and Richard would be the first to say don't do what I did.
"Richard can explain himself to Campbell more because he knows his diet was off the wall and in between fights he gained too much weight and then lost it. I think Richard is passing on his wisdom and experiences onto his son."
---
Dillian Whyte's second contest against the Russian Alexander Povetkin, for the World Boxing Council Interim heavyweight title might be the main event in Gibraltar on Saturday, but it is fair to say few undercard bouts will attract more interest than Hatton's professional bow against Jesus Ruiz, where Ricky and uncle Matthew, as trainer, will both be in his corner.
Carol cannot be there, of course, but will watch Saturday's fight at home in Hyde, Greater Manchester with her husband, Ray.
"It's a bit like deja vu," she says. "It feels a bit unreal, seeing Campbell about to go into boxing 20 years after Ricky and Matthew – it's like stepping back in time. Especially when I hear Blue Moon and everyone is getting so excited about Campbell's debut. It does actually bring a lump in my throat.
"I'm very, very nervous for him. We actually thought all the tension of the boxing and the worry and the dieting days were behind us. But now we're back to where it all began."
At least Carol knows there will be one person in the family more tense than her. "It's going to be an emotional night for his dad – definitely. I used to go watch Matthew and Richard with my little bottle of Lucozade – which was full of vodka and tonic, so I didn't get stopped. Well, you can double it how I feel now.
"I think it's maybe because of all the hype and he's been given such a big platform. We always knew when Campbell turned professional it was going to be a big deal, but we didn't realise the extent with all the stuff about him on social media. We didn't have social media when Matthew and Richard were fighting. I don't know if it's because I'm older, but every time I speak to anybody about it, I'm crying and getting emotional."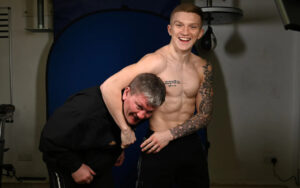 Carol revealed that there has never been any pressure on her grandson to box. "He never really watched his dad in his pomp, but when he decided he wanted to do it at 15, 16 nobody pressured him. He doesn't need to do it. What is weird was he actually passed his exams and was going to university.
"Even though he comes across as a jack the lad, he's far from it. He's nobody's fool. But I think fighting is in the genes. There will always be a following because of his surname and boxers will be shouting him out because he's a great scalp. He's had that all the way through his amateur career.
"We all say our grandchildren are brilliant, but he's the image of his dad, he's got his dad's personality and he's a brilliant dad himself. I just want him to be safe and I'm sure he will be. I remember years gone by when Richard went to New York on his own and fought on the undercard of Prince Naz and Kevin Kelley. Even though Campbell is going to Gibraltar, he'll be with Matthew and his dad is going to be there. That makes me feel a lot better."
So, what will Carol's pre-fight routine involve back in Manchester – a little more 'Lucozade'? "A little bit? I'll be having the bloody gallon!" she says, laughing again. "I do feel sorry that his mum and his family – especially his mum – isn't able to get over. You want to give him his last kiss before he goes in the ring and when he comes out the first kiss or hug. It is what it is. He's just got to listen to Matthew and Richard. He knows everybody will be rooting for him."
Campbell Hatton fights on the undercard of Alexander Povetkin vs Dillian Whyte 2 on Sky Box Office on Saturday night.