Fury will now work with Bob Arum of Top Rank
Tyson Fury will no longer be represented by an alleged crime lord in negotiations over what would be the biggest fights in British boxing history against Anthony Joshua.
Less than two weeks after Fury announced that Daniel Kinahan had struck a two-fight deal for him to face Joshua for the undisputed heavyweight championship of the world –provoking outrage and calls for a sporting and media boycott from Irish premier Leo Varadkar – the self-styled Gypsy King has agreed to distance himself from his adviser.
Fury was urged last night to ensure any contest now proceeded with "absolutely zero involvement" from Kinahan, who Telegraph Sport revealed last week had also negotiated the boxer's triumphant World Boxing Council title fight with Deontay Wilder and was in the process of doing the same for the rematch. Indeed, Kinahan negotiated all three of Fury's fights after helping him secure a deal with promoter Bob Arum's Top Rank and a reported $100 million (£80million) five-bout deal with ESPN and BT.
Arum told Telegraph Sport: "Over the weekend, I've had a lot of conversations with Tyson and what we decided is that myself, Top Rank and Tyson will do all negotiations for fights in the future. Whether it's for Joshua, Wilder or anybody else."
He added: "We've talked with Dan, who Tyson and I both love and admire and respect, and he understands it's best the negotiations on Tyson's side be handled that way. He only wants the best for Tyson."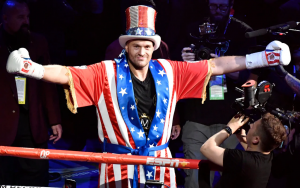 Kinahan, who co-founded the management company to which Fury signed ahead of his comeback from depression, binge-eating and drug and alcohol abuse that almost saw him take his own life, has no criminal record.
But Ireland's Criminal Assets Bureau told its High Court in 2018 that he had "managed and controlled" the drug-trafficking operations of the Kinahan organised crime group. The following year, Europol identified the cartel as one of the main cocaine importers in Europe and as far away as Australia. And, just last month, Dublin's Special Criminal Court accepted evidence the group was involved in serious offending, including "execution-type murders", as well as trafficking of drugs and firearms.
It has also been reported that Kinahan has been banned from entering the United States.
Neale Richmond, a member of the Irish parliament and party colleague of Varadkar, welcomed Fury distancing himself from Kinahan, whom he accused of "seeking to whitewash a very concerning reputation through legitimising himself in the boxing world".
But he called on the boxer's management company, MTK (Mack The Knife) Global, to clarify whether it would continue to deal with Kinahan, who officially left the firm in 2017 when he also relocated to Dubai but has continued to recommend fighters to it.
"We have to make sure that it is a real separation, that he's been removed and we need to see clarity from MTK to what extent they have a relationship at this stage with Daniel Kinahan," Richmond said.
"As a boxing fan, I really do hope we do get to see this fight [against Joshua]. But we have to make sure that it proceeds with absolutely zero involvement of Daniel Kinahan."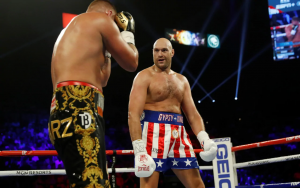 Kinahan advises other boxers, including Fury's close friend Billy Joe Saunders, and was becoming regarded as one of the most influential figures in the sport.
Last month, he was announced as a special adviser to KHK Sport, which was set up by the son of the King of Bahrain to bring combat sports to the oil-rich state. It axed him last week following the outcry over his involvement in the Fury-Joshua fight deal.
He had been negotiating those contests with Joshua's promoter Eddie Hearn, who has repeatedly said he would deal with whoever he was told to by Fury's camp in order to make "the biggest fight in British boxing history".
Hearn expressed "relief" that Kinahan had been replaced by Arum and not Fury's UK promoter Frank Warren, with whom he is not on speaking terms.
"Obviously, with my relationship with Frank Warren, it's probably a relief that he wasn't given control because maybe we wouldn't have made the fight," he said. "So I look forward to sitting down with Bob and getting the fight made."
As well as Varadkar's boycott calls, the Irish government had said it would contact its UK counterpart to express its "outrage" over Kinahan's involvement in the Fury-Joshua fight. Northern Irish MP Stephen Farry also wrote to the Government and yesterday accused it of "washing its hands of any responsibility" after it responded indicating it would not intervene.
A representative of Fury said she had nothing to add to Arum's announcement. Lawyers for Kinahan – who have previously branded allegations against their client "grossly defamatory" – did not respond to requests for comment.