British Boxing Board of Control is hoping to get the green light to proceed soon, with bouts to involve British boxers only
The British Boxing Board of Control is preparing for the sport to return in television studios behind closed doors in July. Only British boxers will be involved, because of the 14-day quarantine period for anyone arriving from overseas, and leading promoters are prepared to hire an entire hotel if necessary.
"We are well aware we have to get boxing going by July, and we'll find a way to do it behind closed doors if needs be – but under Government guidelines," said Robert Smith, the general secretary of the board, who said that up to 60 shows in the UK will have been lost or abandoned through March, April and May.​
"We've been hit hard. I'd say 95 per cent certain that the first boxing shows we do in the UK will be behind closed doors. The ideal locations are TV studios, but I have a lot of communication with Frank Warren and Matchroom's Frank Smith," added Smith.
"They're all on board. They appreciate what they've got to do. Whether they might have to hire an entire hotel, they're willing to do it. If the hotel is away from the venue you've then got to bus the fighters in, so you'll need masks. You'll need good facilities at the venue so they can shower and then ship the fighters back to the hotel. There won't be any hanging around."​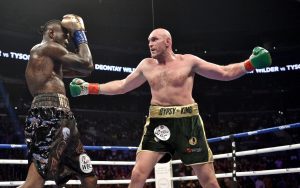 Smith added: "We'll be reviewing in May with regard to June. I was thinking a couple of weeks ago that we may get going by the middle of June to the end of June. We've got a lot of things taking place regarding discussions with the doctors and government officials. If it goes into July, so be it. We're well aware we need to get boxing back on board, how that happens we're not too sure yet. But things are changing every day.​
"If you compare us to football or rugby, they have their own training facilities. In the boxing world it's slightly different. We have to have gyms operating again. I do think once we have the restrictions lifted we can do shows. But you're talking four or five weeks before shows can take place even then."​