Kiev, where the former boxer is the mayor, has suffered only 15 coronavirus-related deaths
Vitali Klitschko was a leader as heavyweight world boxing champion and is proving himself equally adept at showing a way forward as the Mayor of Kiev, a city which under his leadership has so far managed to avoid the worst of coronavirus.
To date the city, which has a population of 2.8 million, has suffered just 15 virus-related deaths, a rate which is attributable in large part to Klitschko.
Back in January the 48-year-old reacted swiftly once he heard intelligence regarding the events in Wuhan, a city twinned with Kiev, creating a taskforce to buy life-saving equipment and enforcing an early lockdown of the city.
It is the latest moment in the spotlight for Klitschko, the son of a former diplomatic military attache who retired from boxing in 2012 with a record of 45 wins and just two losses, retaining his WBC crown 10 times.
Shortly after moving into politics he stood up powerfully to President Putin over the annexation of Crimea by Russia, and he has since been talked about as a future president of his country. For now, though, his entire focus is on Kiev.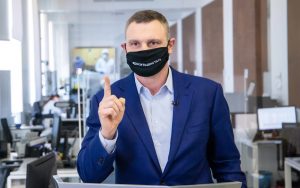 "As early as late January the city formed a taskforce and since then, has been purchasing ventilators," he tells Telegraph Sport from his mayoral office in Kiev. "For instance, while Ukraine issued the quarantine order on March 12, by March 10 Kiev had received the first pre-ordered batch of coronavirus testing kits. The first pandemic measures in Kiev were taken on March 11 and escalated by March 17.
"By the end of March seven hospitals had been set up as dedicated coronavirus facilities. Now there are 14 such hospitals which can hold up to 1,700 infected people. We continue to stockpile the protective gear, medications, ventilators and equipment. I want to underline that the city budget covers all expenses related to the coronavirus pandemic, including those purchases."
Did being twinned with Wuhan help? "You know, Wuhan is one of Kiev's sister cities. We contacted the experts there and they kindly shared their expertise and practices that helped them contain the spread of the virus. They also provided guidance on how doctors and nurses who are at high risk of becoming infected can stay protected and safe. We used their guidelines and recommendations in our coronavirus-related decision-making process.
"I also asked the opinion of the chairman of the Berlin-based Robert Koch Institute. I am certain that early imposed severe restrictions bought us the time we nееded to slow down the spread of the disease spread. The situation here is still stable and we have escaped the Italian or Spanish scenarios for Kiev so far."
---
Maintaining contact with the mayors of German, Austrian, Chinese, and US cities to learn their responses, Klitschko insisted Kiev had had to be "ready to upgrade the coronavirus strategy accordingly and decide on our further steps" governed by what they were learning. Klitschko has taken the role on his very broad shoulders.
"The responsibility is enormous. We are talking here about the health and lives of millions of people. As mayor of Ukraine's capital city, every day I have to deal with plentiful problems. Now Kiev is under strict quarantine which means I am facing absolutely new and the most pressing challenges, things I have never encountered before. At the moment we all are working non-stop, 24 hours a day, and I almost live in my office."
As a boxer, the 6ft 7ins tall, 18st fighter never backed down from a challenge. He has carried that with him into his post-boxing life.
"The will to win, persistence in the face of difficulties aplenty, a willingness to fight tooth and nail are equally important in public service as well as sports. I never hesitate to seek advice and learn new things. It is no easy task [to make strong decisions in the face of the pandemic]. Behind the tough decisions are economic losses of SMEs, a low level of ordinary people's well-being, cutbacks in many municipal projects, disruption to normal life and the frustration of city residents."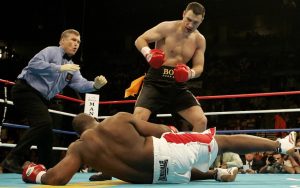 The boxer, remembered by many boxing fans for his battle with Lennox Lewis, added: "This is a matter of people's health and lives. Tough times demand tough decisions. My top priority is that Kiev gets through the hardships with minimum damage. We will restore the economy, but no one can resurrect people.
"Every day I appeal to Kyivans and the Ukrainians. Everything I say to them can be said to people across the world. Take good care of yourself, respect the restriction rules."
He added: "No one could have ever predicted the huge human and economic toll for all countries worldwide. Even the most well-developed public health systems such as the one in the United States is unable to deal with a growing number of critical care patients.
"No one can predict how the pandemic will progress. But I think it is feasible to reduce the pandemic risk. And so much of that depends on our actions. Such simple things as hand washing, staying at home, and seeking medical help early can save lives. The virus is indifferent to your skin colour, race or religion. This is a global threat against which we must stand together."
Once a fighter, always a fighter, they say. And Mayor Klitschko sees this as his greatest fight to date. "I would never have thought I could work non-stop for so long. Now my work day is almost 24 hours a day all week long and I can't see when I will return to normal life. Since I am responsible for everything that happens in Kiev, during this pandemic the challenges are particularly plentiful. But I firmly believe we will overcome them."