It was all about patience. A deep, hard, commanding patience. Cris Cyborg made history at Bellator 238 when she defeated Julia Budd by stoppage in four dominant rounds to become the first female fighter in history to claim belts in four weight divisions.
It was emphatic, vintage Cyborg, who has won world titles now in Bellator, Strikeforce, Invicta and The UFC.
After her defeat to Amanda Nunes in the UFC, losing her 145lb championship belt in a berserker 51-second toe-to-toe brawl, there had been whispers that perhaps the 35-year-old Brazilian was waning, either physically or at least in desire.
There was even talk of her aggressive style working against her, that she was an 'on top' fighter, yet this was a fine performance against a very game, determined defending champion in the Canadian Budd.
Cyborg had professed that there would be a clear strategy from her going into this fight, but truth is, once the great champion opens her game and gets into her stride, she is not just a wrecking-ball, but has a full arsenal, and we saw much of it in this contest.
Slowly, methodically, she chopped Budd down, until a shot to the body poleaxed her in the fourth. It was as complete a display as we have seen from the Brazilian.
Belt slung over her powerful physique, there were the well-timed portraits after the event along the musical wall of fame at The Forum, and yet Cyborg merits greater widespread love than she has been awarded in the sport.
It is not just her accomplishments in the fighting arena, but her willingness to use her profile for greater causes – notably her missionary work and the charity assistance she gives her time to with water aid in deprived neighbourhoods in disadvantaged communities – which call for wider acclaim.
We were even given a glimpse of Cyborg fighting back after not being the 'on top' fighter, in the opening minutes of the much anticipated contest at the iconic fight and music venue.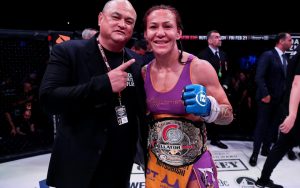 Cyborg was matched for the first half of the first round, but then the record breaking fighter, whom many consider the greatest of all time in women's fighting, was both ruthless and relentless in the timing of her striking attacks as well as the smothering, controlling ground game which has not always been needed in her decade and a half as a martial artist.
This was a rounded, accomplished great of the sport on top form. "I did think to myself this is the place where I lost the UFC belt (to Nunes, in December 2018), and it feels great to win the Bellator belt here tonight," said Cyborg. "I think I showed my all round game in there tonight."
"This was as good a Cyborg as we have seen against a champion who had not been beaten for eight years in Julia Budd," said Bellator president Scott Coker. "When Cris fights to plan like this it is hard to see her being beaten."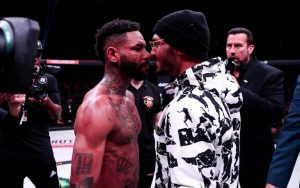 In the co-main event, the men's featherweight protagonists created a story of differing fortunes.
Some had perhaps written off Darrion Caldwell heading into his Bellator Featherweight World Grand Prix last eight fight with Adam Borics, a rising force in MMA from Hungary. Caldwell had a mood about him around the event all week – which he translated into focus in this fight.
Borics came into Bellator 238 as an undefeated rising featherweight star, but had a steep learning curve fight with the former Bellator bantamweight champ Caldwell, who made the fight his own, to pick up a first-round submission.
With a berth against the highly-touted AJ McKee in the semifinals of the tournament at stake, it took Caldwell (15-3) just a move or two to make it his fight. He claimed the inside with head shots, and took Borics (14-1) to the mat, exerting a dominance from which the younger fighter could simply not recover.
Taking the back of his opponent, at the 2:20 mark of Round 1, when Borics lifted his chin and Caldwell locked in a rear naked choke to secure the tap and a place in the last four of the tournament.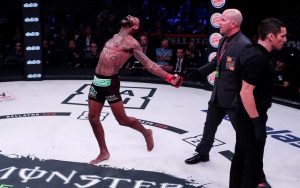 It was also announced at the event that on May 9, at the SAP Center in San Jose will host a Bellator a light heavyweight world championship bout featuring two-division Bellator champion Ryan Bader (27-5, 1 NC) defending his 205-pound title against Russia's Vadim Nemkov (11-2).
Bader is also the Bellator heavyweight champion having defeated Fedor Emelianenko in the Grand Prix final last year.
Photocredit: LUCAS NOONAN/BELLATOR