Conor McGregor answered his critics with a blistering knockout of Donald Cerrone – brushing aside 'The Cowboy' in under 40 seconds at UFC 246.
In only his second bout since 2016 – a gap filled by outside-the-cage troubles – the Irishman returned to the Octagon with a bang.
The former two-division champion busted the nose of Cerrone in the fight's first skirmish before finishing him in a first-round TKO.
McGregor had not won since November 2016 when he stopped Eddie Alvarez, the lightweight, to become the first fighter in UFC history to hold two championship belts at the same time. McGregor then fought only his boxing match with Floyd Mayweather in 2017 before losing a one-sided UFC bout to lightweight champion Khabib Nurmagomedov in 2018.
But last night he leapt on top of the cage wall to celebrate with the thousands of fans in the T-Mobile Arena in Las Vegas.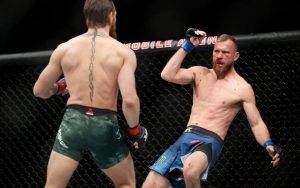 "I made history here tonight, McGregor said. "I set another record. I'm the first fighter in UFC history to get knockout victories at featherweight, at lightweight and now welterweight."
"Donald holds the record for the most head kick knockouts so I was very very happy to get one myself. Thank you all for the support!"
Cerrone never got started. McGregor missed a left cross in the first few seconds and that was Cerrone's best moment. McGregor then used his shoulder to pop the American's nose before landing a brutal head kick.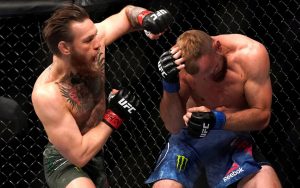 Watched by celebrities including Matthew McConaughey, Jeremy Renner and Dave Bautista, and NFL star Tom Brady, McGregor then finished Cerrone with a flurry of punches on the ground before the referee called it off.
"He wasn't expecting that," McGregor said of the kick. "I'm so happy. I'm very proud of that accomplishment. UFC can strip fighters and give other fighters make believes belts but they can't give out knockout victories across multiple weight divisions.
"Etch my name in history one more time."