Love or loathe Conor McGregor – and there is generally very little shades of grey when it comes to the irascible Irishman – he remains the biggest draw in the mad, bad world of mixed martial arts.
McGregor returns to the cage of the Ultimate Fighting Championship in Las Vegas on Saturday night, to fight 'Cowboy' Cerrone. His fights always have the feel of must-watch events, but this one is particularly fascinating for one very good reason: it could answer whether McGregor, one of the sport's greatest fighters, can stop his slide into being a rather tawdry sideshow and get back to the top of his profession.
For the past three years, the UFC's cash cow has lived up to his fighting sobriquet of "The Notorious One", blotting a stellar rise in which he claimed world championships in two weight divisions, while amassing an estimated $150 million (£115m) fortune in career earnings. Once at the pinnacle of the sport, McGregor has careered off the rails.
A raft of controversies have blighted his life outside the fighting arena in the past three years, including being disqualified for six months from driving, climbing into a fighting cage and getting involved in an altercation with officials in his home city of Dublin, attacking some of his rivals on a bus at a UFC event in New York and, at his last fight, an ugly brawl between his team and those of Khabib Nurmagomedov, the Russian who defeated him in Las Vegas in October 2018, leading to a long suspension by the Nevada State Athletic Commission.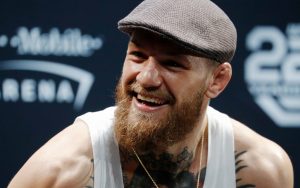 With McGregor gone from the sport, and into a life globe-trotting and launching his own brand of whiskey, the UFC was deprived of its biggest star. But it has been a very different McGregor in Las Vegas this week. He has been affable and classy, with no profane diatribes aimed at opponent Donald Cerrone.
It has been a very different Conor McGregor in Las Vegas this week.There is talk of a newfound maturity after 15 months away from what he does best.
He has spoken of staging three contests this year, and of showing a greater dedication to his fighting arts. He has even broached the subject of crossing over into boxing again, having fought Floyd Mayweather in August 2017 in an event which grossed close to half a billion dollars, including $100m for himself.
A second contest with Mayweather has been hinted at for later this year, along with the revelation that there have even been negotiations for a blockbuster crossover fight with Manny Pacquiao, after Saturday night's fight here with American Cerrone.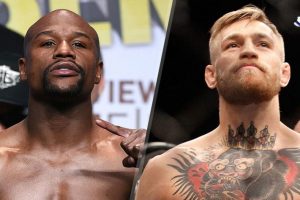 "An aspiration of mine now is to win a boxing world title," McGregor said this week. "I think that would be a phenomenal feather in the cap and something I look to achieve in the future. And something I will achieve."
Like the raw, visceral sport itself, McGregor's rise and popularity with the fans has been based on blasting through opponents mentally, and physically, with a gift of the gab to compare with the likes of the great Muhammad Ali, and latterly, Tyson Fury.
For now, though, with his alter ego sidelined, McGregor is all about the fighting. The world waits to see how long the new McGregor lasts before his Notorious side emerges again.