Conor McGregor will put in a 'tactical' performance on his return to UFC this weekend after 15 months out, according to his coach John Kavanagh. McGregor will fight American Donald Cerrone here in Las Vegas on Saturday night – only his second contest in four years – and Kavanagh, speaking exclusively to Telegraph Sport, says the Irishman has been calm and consistent in his training camp.
But the truth is that regardless of how McGregor looks, or sounds, it will not be until the bell rings in the cage that we will we really know what the Irishman has left to give to a fight industry the 31-year-old once brought to the attention of millions.
It has been in the real world that McGregor has become 'The Notorious One' in recent times, with serious matters swirling around him outside of fighting: battles with the law, old men in public houses, and his reputation.
It was Kavanagh who began training McGregor as a teenager and they rose together, the coach's SBG gym in Dublin gaining fame and acclaim, spawning franchises on a global scale. There is little doubt that McGregor's fame has dipped, his bank balance has sky-rocketed, and fickle fans deserted the once revered figure.
"I think you'll see a more relaxed Conor in this performance, somebody who's calm. If you re-watch the Eddie Alvarez fight [when McGregor claimed a second world title in New York in November 2016], you'll see someone very tactical and calm; there was a hell of a lot of pressure but done in a controlled manner and that's what I'd like to see in this fight," Kavanagh said in Las Vegas of the fighter who is now father to two young children.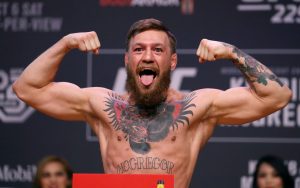 But the key is whether the hunger remains – or whether it is back strongly enough for the record-breaker who became the first simultaneous two-weight champion in the UFC. It is a hunger that was replenished after his last UFC outing, a defeat to the Russian Khabib Nurmagomedov in October 2018, and a money-spinning spectacle in a crossover boxing match with Floyd Mayweather Jr in 2017 which made McGregor one of the biggest earners ever in a single fight. It is estimated that the man from humble beginnings in Crumlin had amassed more than US $120 million in his career to that point, and since then, a sabbatical of differing proportions has seen him absent from the fighting arena.
"That was the point of most concern to me if you'd asked me a year ago," responded Kavanagh on the subject of the fighter's hunger. "Is he going to be able to go back through the gruelling fight camp for a professional fight? There's one thing training for fun, and I imagine he'll want to do martial arts of some description for the rest of his life, but training a couple of times a week is very different to the demands of training for a professional fight.
"That's what I wondered – if he would still have. He didn't tell me he did and he didn't do a lot of interviews about it, he's been quiet the last six months… he just did it, he just showed up and took part in the team sessions and pushed himself really hard every time.
"The training camp started last Easter, he did a boxing contest and he's been pretty consistent since then, so you're talking almost 10 months, and in that time, there have been almost no missed sessions. It's been almost a year and he's not talked, he's just shown for a year that he can train at this level."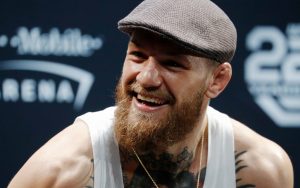 It was in Las Vegas that McGregor found most resonance, bringing a lifeblood to the economy in seven fights, before departing without a care in the world. Kavanagh insisted that Vegas holds good memories, with the team back together.
"That's a huge part. Some of us who are involved in the training camp have different gyms now back in Dublin, so this is a chance to get back together and reminisce about old times," explained Kavanagh to Telegraph Sport. "We drove through The Strip a couple of days ago and remembered different times…we were at a Ramsay Burger the other night and that's a tradition every time we're in Vegas. There are a lot of great memories in this town and it's been great to catch up with old friends."
But old friends and great memories will mean nothing if, on Saturday night, McGregor fails to deliver against a fine fighter in Cerrone, whose style in the stand-up should suit McGregor to the hilt. Fan-pleaser and UFC veteran 'Cowboy' holds the most wins with 23, and most finishes (16) in UFC history. Even though many fans have turned away, they will secretly want the Irishman to produce a vintage performance. He must.