Inspiration from home support could play a major part in spurring on the 13 Great Britain amateur boxers at the Tokyo Olympic Qualifying event to be held in London from March 14 to 24, envisaged Rob McCracken, the performance director of GB Boxing.
McCracken, who oversaw the winning of eight medals for GB at the last two Olympic Games in London and Rio, believes GB boxers will be able to use the muscle memory of London 2012 as around 450 men and women from 50-plus countries compete at the Olympic qualifying event at the Copper Box in East London in two months' time, with 77 Olympic places at stake.
The competition will feature eight men's weight categories and five for women. Fifty qualification places are available for the men; 27 for women.
McCracken's watch has seen a decade of unprecedented success as men and women from Great Britain have won 63 medals at 19 major championships, the coach having also guided Anthony Joshua's rise to become the current IBF, WBA and WBO world heavyweight champion.
Assessing of the current crop at the Road to Tokyo event launch, McCracken said: "Our boxers had a very good year in 2019, when the men and women won 16 medals at four major competitions, so they are coming into 2020 in a good run of form.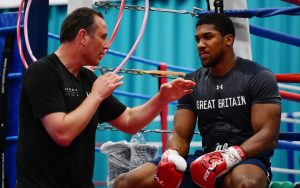 "The qualifier will be very tough, as a lot of the European nations are strong in boxing, so it is good that it is taking place in this country. Hopefully the home support will spur our boxers on and help them to perform at their best."
Eight men and five women from the GB Boxing squad will be selected to compete in London which is the first opportunity for the boxers to qualify for Tokyo 2020. The second – and final – chance will be at the final qualification event in Paris, on May 13-24.
The qualifying event was removed from the governance of the Amateur International Boxing Association in July 2019 after the International Olympic Committee ruled that the AIBA was unfit to govern the IOC competition, due to finance and government issues.
Two members of the GB Boxing squad who have Olympic aspirations this year – light-heavyweight Ben Whittaker and heavyweight Cheavon Clarke – explained the bonus of the event being in London.
Whittaker, who enjoyed the best year of his career in 2019 after winning a bronze medal at the World Championships and a silver medal at the European Games, said: "Last year was huge for me as I felt I really proved myself as a top international boxer, so it has given me a lot of confidence coming into the qualifying campaign. Having the first event in London is a bonus. I remember watching the boxing at London 2012 on television and the atmosphere was just electric. If we can get anywhere close to that it will be absolutely amazing."
Clarke, from Kent, added: "I have grown-up and spent a lot of my life in London so to have the Olympic qualifier here is fantastic. As part of the GB Boxing squad we usually compete abroad so to have such an important event on home soil is fantastic. All of the boxers in the squad are pleased about it and really excited at the prospect of competing in London."
GB Boxing's women were not able to attend the launch as they are at a training camp in the USA. However, Lauren Price, who won the world championship in November 2019, said: "Last year was amazing for me, winning the world championship and going unbeaten throughout the whole 12 months, so I am just going to continue to work hard and do everything I can to keep on winning.
"Going to the Olympic Games has been a dream since I was eight years old. It's why I got into sport in the first place and I am determined to take this opportunity to book my place for Tokyo at the first time of asking."
Tickets for Boxing Road to Tokyo in London go on sale at 09:00 on Friday 17 January 2020. Prices starts at £5 (adults) and £2.50 (concessions) for weekday sessions and people can register their interest now at www.boxingroadtotokyolondon.org.