The great American heavyweight George Foreman believes Anthony Joshua should employ the same tactics Muhammad Ali used in his rematch with Leon Spinks in 1978 with "a jab, jab, grab technique" as the Briton attempts to reclaim the IBF, WBA and WBO belts from Andy Ruiz Jr, and become a two-time heavyweight champion of the world.
Foreman, now 70, who lost his title to Ali in the 'The Rumble In The Jungle' in Zaire in October 1974 only to come back after 10 years in retirement and win it again more than 20 years later, believes Joshua has "many options – height, reach and punching power" in this intriguing dust up in the dunes on Saturday night in Diriyah, Saudi Arabia.
Foreman, who became the oldest heavyweight champion ever at the age of 46 with victory over Michael Moorer in November 1994, fought on after the Ali defeat, then retired for ten years before his astonishing comeback to join the list of two-time world champions. Joshua – in contrast – is trying to do it the quick way – stepping into the ring against Andy Ruiz Jr, his vanquisher only in June in a huge upset at Madison Square Gardens in New York.
'Big George', now 70, told Telegraph Sport from his home near Houston, Texas: "I never did believe in going straight into a rematch."
Not against Ali, certainly – the defeat changed him, and he keeps an image of 'The Greatest' Ali standing over him in triumph as his screen-saver, in order, he says, to keep him humble.
It has worked for some, though, and Foreman recalled the deposed champions who won back the world crown against their nemeses in their very next fight: Lennox Lewis against Hasim Rahman in November 2001; Ali – rematching Leon Spinks in September 1978, and Floyd Patterson's three consecutive fights with Sweden's Ingemar Johansson in 1959, 1960 and 1961.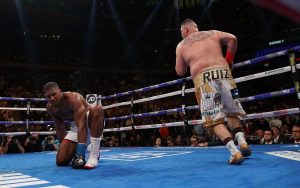 Five defeated champions who tried to do the same came unstuck, though, including Jack Dempsey, Sonny Liston and Mike Tyson, in the infamous ear-biting bout against Evander Holyfield. Tyson, though, was a two-time champion.
Foreman said: "The most magnificent thing to happen was when Floyd Patterson regained that title from Johansson. The way Floyd was knocked out in their first fight, it looked like there was no way he'd be able to get it back."
Patterson was knocked down seven times in that first fight with Johansson before the contest was stopped in the third round. "And they were horrible knockdowns too, horrible. The kind you think, 'that's the end of him'," recalled Foreman. "But it wasn't, it was the beginning of a new history in boxing."
Patterson, at that time the youngest heavyweight champion in history at the age of 21, came back and beat the Swede twice. "He sure did, with that jump hook. What a punch it was," said Foreman.
Foreman's advice to Joshua is straight out of an old school boxing textbook: "The good thing about Anthony Joshua is he has so many options — with his height, reach and punching power. Floyd only had hope, jumping with that hook. That was his best chance and he took it."
Foreman turns to Ali, in his rematch with Spinks, the Olympic heavyweight gold medallist at Montreal in 1976 "Muhammad had so much more experience in the ring than Leon Spinks. You've got what Muhammad Ali's style was against Spinks, where you just jab, jab, then hold. Joshua can do that for 12 rounds. He don't need to prove anything to us. Go out there and win every round.
"Don't go for the mix up, that's where Ruiz may have the edge. Don't put your head down, like a giraffe. That's when AJ is vulnerable.
---
"Lennox Lewis was so daring. You knock him out and he comes out to try and fight you again like you never knocked him out. Joshua could use that as well, but I wouldn't. He's shown he can punch and punch well. He can go Lennox Lewis or Muhammad Ali. Joshua's got so many ways he can win the title back. All he's got to do is pick one and stick with it."
"If it were me, I would look to the Ali-Spinks rematch, and follow it to a 'T'. Don't worry about people booing you. Walk him around the ring. Wait for the referee to say break. Step behind the referee, and do it all again, for 12 rounds. Then he'll become the next heavyweight champion of the world.
"That's what I would do. Not much moving, just jab, jab, jab. If things get out of hand, control your man and wait for the ref to step in. Every now and then land a right hand to keep the crowd excited, but don't go deep into exchanges because Ruiz has already proven he can drop him."
Like Patterson, Lewis, Mike Tyson and others, Foreman became a two-time world champion. Ali won it three times, and Holyfield four. It will mean more to Joshua to regain the crown, Foreman, the boxer-turned entrepreneur- he made a fortune out of his eponymous grill – told Telegraph Sport.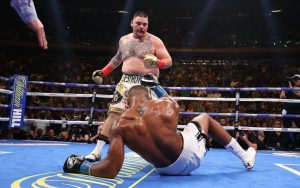 "Doing it the second time, you understand what you had, what you could've had and what you lost. The second time around, it is fantastic, amazing, terrific. It's going to be more important to Joshua the next time around. He's had to listen to everyone giving him advice when a little while ago everyone was in awe of him. If he wins again, it'll be much better."
His prediction? "He's going to go out there and box. If there's going to be a knockout, it'll be when he decides he has three minutes left and this guy can't reach him. I believe he'll win that fight in 12 rounds.
"Joshua has experience, power, reach and a corner that's willing to go all the way. Keep his height, don't duck down. He can win this fight round after round."
One last question before Foreman, grandfather to 14, departs for one of the three weekly sermons he gives at his own church in north Houston: who does he believe to be the best of the bunch, right now?
"Joshua's day is coming before Deontay Wilder and Tyson Fury meet. His day is coming real soon. He can claim it after he wins. He can say he's the best there is."