Anthony Joshua revealed he's had "a prison mindset" in camp for his rematch with Andy Ruiz Jr, with a series of sparring partners brought in to replicate the movement and fast hands of the Mexican-American who claimed the Briton's IBF, WBA and WBO heavyweight belts six months ago.
Joshua must deliver in the return fight, a high-risk encounter after being caught by Ruiz's left hook, floored four times and stopped in the seventh round in New York.
The protagonists head to the Middle East for their second encounter on Saturday night, in a purpose-built stadium on the outskirts of Riyadh, the Saudi Arabian capital.
Joshua insists he has the right mentality for the second battle. "It's just a mindset, a prison mindset, like a military mindset," the 30 year-old, who will earn an estimated £70 million, said. "Lock-down. Training, focus, sleep. You have to have that mindset. You have to be in that mindset.
"I've been boxing 11 years now and I have always been on top, from the amateurs to the pros, so this has been six months of letting Andy Ruiz take all that pressure. You've seen all the stuff he's had to deal with; we've been dealing with that for 10 years now and it's a breath of fresh air. I'm no longer focused on any other opponent than Ruiz, and it feels good to just be focused on one guy."
Joshua has sought out old foe Wladimir Klitschko for advice. "Klitschko told me this would happen, he said he could only get good sparring after he'd lost. It's ended up being a blessing because everyone wants to come to the gym now and see what it's all about. When we lace the gloves up now there is no holding back."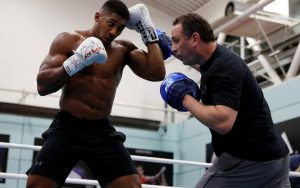 Joshua has had a series of sparring partners in Timothy Moten, Dereck Chisora, Albon Pervizaj, Bryant Jennings and Andrew Tabiti, all there to ape the short, stocky Ruiz. "Sparring is important because it is the closest thing you can get to the fight," said Joshua. "They throw everything at me, 12 rounds with five different people back-to-back and I'm dealing with every shot coming at me."
What of Ruiz's hook ? "The left hook? I'm worried about every shot in boxing, you have to be cautious. Ruiz and his people don't get enough credit for his jab – he has a decent jab as well – so we need to be prepared for that. It's almost good that I lost because all of the sparring partners are coming out of the woodwork now, no-one wanted to spar me before."
Joshua added: "Timothy Moten is the same height and weight as Ruiz. It's a completely different style to fighting a 6ft 6in boxer and I've picked up little tricks of the trade, it has been the right preparation. He has been here the whole 12-week camp. Dereck Chisora came with a Joe Frazier-style and he is strong on the inside so it was good to have someone challenge my strength and push me back. It was good to have the old Finchley Boys reunited, too.
"Pervizaj was another short guy with quick hands, he works with Klitschko's manager Bernd Bonte and they sent him over. He came for a week."
The key, insisted Joshua as fight week gets underway, is that he still enjoys boxing "100 per cent".
---
"I have the same passion, because I am getting better all the time, every step of the way," he said. "One loss can't strip your skin off overnight, when you put your solid foundations in, one chip in the brick can't destroy the whole building. But people know I'm not soft and I don't need people to pat me on the back.
"When I lost, I didn't hit the bag in anger. The red mist didn't come over me, I just got smarter. If you get blessed with a second chance, you'll always get it right. And if we're talking about pressure, I've been under pressure since I walked into boxing. My whole career has been under the bright lights. I've never been able to learn quietly and go through my amateurs and work my way up. I've always dealt with pressure really well."
The 6ft 6ins tall British fighter, who could be a sporting behemoth once more with victory, has replayed the defeat to Ruiz many times. "I've watched the first fight back. I couldn't tell you how many times I watched it. I slow it down, you have to study. He's good but I don't think he's great."
It is all about the second chance, the chance to become a two-time champion now. "Look, when I went into boxing I was in major trouble with a court case," recalled Joshua. "I beat the court case. You pray to God to give you a second chance and you'll make all the changes. When I beat that court case, I did all that. It's the same thing with Ruiz. Give me a second chance and you'll see what I can do with it."