Respect, redemption, revenge, grudge. They are a quintet of often-used verbal horsemen in the fighting apocalypse which thunder in into the pursuant intrigue of a combat sports week involving bitter rivalry, venom and dislike. We watch closely. We want to believe it is real. It sharpens our senses. We discuss it. We say we can ill afford to miss. They tell us we must not blink.
It has been one of those weeks of spite, grudge and deep dislike – hate still feels like a very strong word – within Bellator MMA's latest build up for a London event and yet when middleweights Mike Shipman and Fabian Edwards meet in the chief support fight tonight at the SSE Arena, Wembley, both protagonists will be looking to stamp their authority on each other.
Both men have openly said it is for real, feeling a bloody feud needs to be settled. A feud which has simmered for more than two years. Which at one point even saw the offer from Shipman of a fight "behind closed doors". Rival camps. Teams with a dislike for one another.
Our two fighters told each other face to face early in fight week that there is a plain dislike for the other, a distaste, a disgust even, and both men assured the army of fight fans who will tune in to watch it on Channel 5 in the UK, tonight, that they are relishing "putting hands" on each other. They truly want to hurt the other. Forget handshakes afterwards.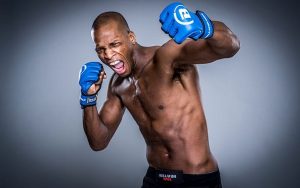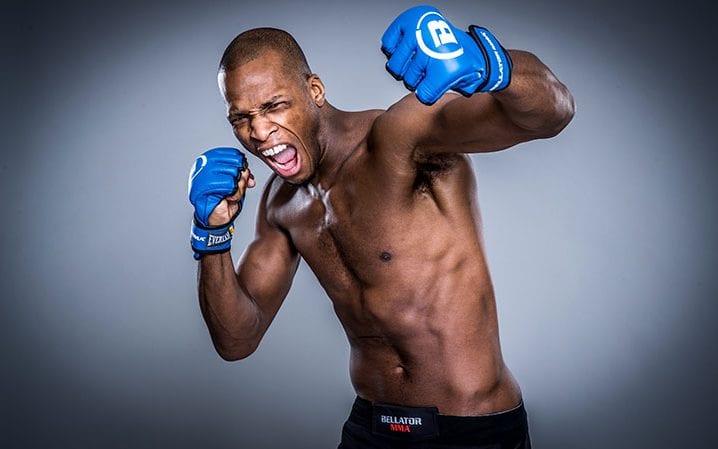 I had the privilege of chairing the discussion, in the huge masterful shadow of the iconic Wembley Stadium, and then, as they sat just feet apart, glaring at one another, in the fight arena. The tension was palpable. At times, the mood was dark. They both feel irked. There is high energy, emotion, desire, ready to burst out. Both have claimed they will knock the other out.
There is no belt involved. It is a fight for the championship of each other. Diverse backgrounds, different upbringings, separate them. Shipman, who was a judoka and amateur boxer in his early years, tried his hand at rugby but found the physicality of combat sports were for him; Edwards grew up "on the streets" as he explains, having had time at Her Majesty's pleasure, incarcerated, yet a reformed character.
They almost came to blows by Friday midday, at the ceremonial weigh-ins, ten officials having to jump between them as they faced off after making the 185 pounds limit. Even Michael Venom Page, one of Shipman's training gym partners, dived into the fracas. Nothing landed. It was calmed. But a tension that has simmered for many, many months, will be settled tonight.
There is the sense that Shipman (13-2) must smother the space between himself and Edwards (8-0), and turn the contest into a dogfight. It would not surprise anyone, as we have seen so many times before, if there is a tense, cagey stand-off in the early few minutes of the fight before the action explodes. But this is one of the biggest grudge fights British MMA has ever seen, and the two fighters have pledged to deliver.
Otherwise on the main card, televised live on Channel 5 from 10pm, lightweight Terry Brazier, a former soldier who served in the Middle East, with a harrowing tale of transformation of his own, takes on Norway's Soren Bak in a very tough match up, while Page, one of Bellator's top four ranked welterweights, and thrilling, dynamic fighter with a background in freestyle kickboxing, will be looking for a trademark highlight reel finish against latecomer Giovanni Melillo, after the withdrawal just ten days ago by Derek Anderson. Page must really starch the Italian, or indeed, that is what fans will expect.
---
As Page said in his fascinating column with the local London newspaper Metro this week: "I feel I'm on such a high right now. My mentality is clearer and I'm more focused. I feel unstoppable. Even with the name change, it was no problem. I'm not phased. Another opponent actually fell through before Giovanni Melillo stepped in. I've had a lot of personal stresses this year and I've been slowly working through those. But now, I feel I've broken a barrier down and I want to keep going. I think being in a better place will lead to an amazing performance for the London crowd," Page had told MMA/Boxing reporter Coral Barry.
"I always have something special planned. I always fight the same way. I land a couple of single shots, I feel my opponent out until I get comfortable. Then I start looking for the crazy stuff. Annoyingly, my single sniper shots have put down a lot of my opponents.
I never really get the chance to go crazy in there. But once I know Melillo can't touch me and if he can withstand the single shots, then you'll see something special."
I spent time recently with Page when he talked about growing up in London, and his desire to avenge defeat after his loss to incumbent Bellator welterweight champion Douglas Lima earlier this year. It drives Page on.
Page even had time to comment on Jose Mourinho's new gig at Tottenham Hotspur Football Club. "His teams have always played a specific way. He didn't do great at Manchester United and it really turned sour at end. But he's still Mourinho and Tottenham fans have been crying about not winning trophies. Mourinho might be the one to do that for them. They won't be complaining if they win the Premier League under Mourinho. It could potentially be a disaster in waiting, but you take that risk with any manager. It's like a first date, you're never really sure how things will go. We don't know if Mourinho can gel at Tottenham and if he'll click with the players."
Patrice Evra – who spent time with Page recently, is said to be going to the event, while footballer Andy Cole also asked for tickets. Eva paid a visit to Page recently. "I couldn't believe how quickly we clicked and how funny he is," said Page, likely to call out welterweight champion Douglas Lima, should he triumph. "Wiley and Big Narstie are going to be in the crowd on Saturday night too," says Page. "It's so amazing to get support like that, especially from my fellow Brits. It means a lot. While 'Venom' Page will look to deliver spectacularly, Shipman and Edwards will be looking to end violently. It's a main card not to be missed.