Anthony Joshua reacted angrily yesterday to questions that he might be suffering from mental ­fragility as he prepares to face his nemesis, Andy Ruiz Jr, in Saudi ­Arabia to claim back the three world ­title belts he lost in New York five months ago.
"I'm no pussy, I'm a champion," responded Joshua to questions ­relating to "needing help mentally" after the defeat in a calamitous night at Madison Square Garden.
Joshua also launched an impassioned defence of Rob McCracken, his trainer, following the criticism that followed his stunning knockout defeat by Ruiz in June.
"Rob is more than a trainer. He helped me when I got kicked off the GB squad and they didn't want me back on, but Rob spoke up for me. It's good to have someone around you who can guide you through the snakes and sharks of the industry. Rob has been through it all himself and there are years of understanding between us.
"Rob is more than just a pad man. There are a million pad men out there, but you have to be selective about who can guide you. We have added things for sure, but we are never going to change."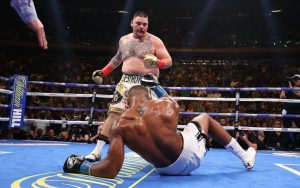 On his mental strength, Joshua, 30, added: "We haven't done anything differently mentally, I am a champion. I walked into the gym and three years later I was Olympic champion. I have had one loss, but I am not about to become a pussy overnight and not be able to fight. I can fight, that is it, I don't need to reflect on that, I just need to win."
In the wake of the first defeat of his career, in which Joshua was knocked down four times before being stopped in the seventh round, former world heavyweight champion David Haye suggested Joshua's sparring might have been too soft.
"My sparring has always been technical and he has never been in my camp," countered Joshua yesterday, having opened the doors to his training camp at the English Institute of Sport in Sheffield. "I only needed 16 fights to become champion of the world, I have always been a fighter. You cannot be lacking anything and I have not been protected, Rob has not overseen sparring with anyone's arm behind their back."
Joshua also played down claims made by heavyweight rival Tyson Fury that he did not want to be there on the night against Ruiz.
"Of course I wanted to be there," Joshua said. "Tyson is at a different stage in his career, I always say he turned pro the year I had my first fight and he's been pro 11 years ­doing his thing."
"What me and him deal with … he would never understand what I'm going through. That's another entitled opinion. I was ready, I was in a good place."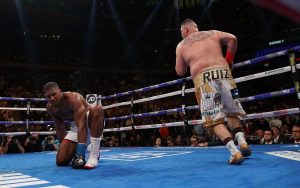 Joshua, looking leaner than in the past, commented on pictures showing that the normally rotund Ruiz had most likely lost weight, playing down weight being a ­factor in their second encounter on Dec 7.
"I think it is more to do with the angles of the photos. I am still as strong as ever, still as heavy as ever. Weight is a big factor in the heavyweight division these days, but I don't think it should be such a big deal.
"I leave it down to my sparring and how I prepare for the fight, I am not really focused on my weight. I could weigh anything, but it just comes down to how I perform in the ring. The sparring gives me all the information I need. Everyone in the team has different opinions on my weight, but I like going off my sparring."
"If I sparred six times and after a chat with Rob I decided which one was my best spar, we will know what weight I was and adjust it to that. I will never get my weight down and then adjust my sparring to that. I am not concerned with anything apart from how I am ­performing in the ring."