The Bellator fight league's 'brains trust' had clearly been working overtime at The Forum when its creative minds were plotting intrigue for the draw for its Featherweight Tournament Grand Prix quarter finals – played out during Saturday night's show at the iconic Inglewood venue, in Los Angeles.
It was MMA meets game show, meets chess match, meets reality television for the million dollar winner's prize, in a novel format of deciding the combatant match ups for the last eight of Bellator's 145lb year-long tournament. It was cerebral, off the cuff. And it worked.
Many and various are the outcomes in an MMA fight, and the draw's openness and possibility for changes at a moment's notice fitted the format perfectly. And indeed, represented the very nature of MMA.
It appeared unrehearsed, and had an element of Reality Television about it, as, at one point, the challengers called out the still perspiring champion to choose them to fight him.
Eight fighters – including Patricio Pitbull who retained the title in a majestic, mature performance against a game Juan Archuleta – have come through the first round in two separate events in September, and they will now go head-to-head from December through to March, in what is becoming a captivating series involving arguably the strongest 145-pound roster anywhere out there in the fight world.
Follow this: With seven numbers picked at random allowing the remaining fighters to choose one of the four months from December to March, one position was left open for Pitbull, having just triumphed over Archuleta, to throw the balance of the tournament in the direction of his choosing.
Champion's privilege, they call it. And rightly so for this two-weight champion (145 and 155) from Brazil, who grows with every performance, every outing. The moment of choosing was pure theatre, and even included a countdown meter, ticking away.
Up to that point, the draw had gone thus: December 2019: AJ McKee vs. Derek Campos, chosen by Campos; January 2020: Adam Borics vs TBC. February 2020: Daniel Weichel vs Emmanuel Sanchez; March 2020 Darrion Caldwell vs Pedro Carvalho.
But then turning it all on its head, with an open choice of any date and any opponent, incumbent king Pitbull picked Pedro Carvalho in March, meaning that Caldwell was switched to face Hungarian Borics, in January. The cut on Pitbull's eyelid, from a clash of heads late in the Archuleta fight, made it a wise choice.
Perhaps it was also smart in that he picked the least experienced remaining fighter, though Carvalho, training by Conor McGregor's coach John Kavanagh, has shown some great stones on him already.
Carvalho said he was "super happy". No wonder. With the right outcome, the life of this relative newcomer from Portugal who sacrificed life with his wife and young child to train in Dublin, is pregnant with possibility.
But so too was the champion pleased as punch. "He's from SBG, he speaks Portuguese, he talks too much – everyone does from there – and I'm going to stop him," said Pitbull.
The co-main event fight, indeed, saw Pitbull handle Archuleta with such composure and calmness that the elder of the two fighting brothers from Brazil clearly belongs high in the top ten pound-for-pound roster in the sport.
Pitbull eased to victory dominating in every area, in spite of Archuleta coming in on the form of his life and on an 18-fight winning streak. Pitbull shrugged off two blows to the groin, an eye poke and yet still dominated his foe with heavy punches, smothering clinches and attempted submissions.
Pitbull looks every inch a champion, from his bearing, to his body posture, to his presence and his decision making. The big question now is how long he can reign for.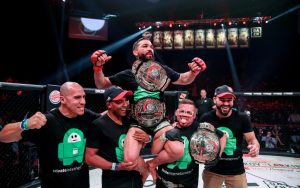 He was never in trouble. Not once. Pitbull claimed every round on my card. The cut in the right eyelid will be of some concern, but the judges were in no doubt in awarding the bout, 49-46, 50-45 and 49-46 to the reigning king of the division.
His control was phenomenal. "This guy is a warrior. It was a great battle, a great fight. He's very dynamic, but we were ready," said Pitbull afterwards of Archuleta's movement and tenacity. But Pitbull waas too methodical, too strong, a rock.
Yet edging towards Pitbull is AJ McKee. Known as 'The Mercenary', McKee had cornered his 49-year-old father Antonio to his 30th win, before coming out to finish his opponent Georgi Karakhanyan in just 8 seconds. "Where's my belt," he yelled, from the ledge of the cage after the contest, like the king of the tribe beating his chest.
McKee grows louder, more accomplished and more of a threat with every fight. The match-up with Pitbull is mouth-watering. Whenever – and wherever – it does eventually happen, it promises special depth.
This was the second fastest KO in Bellator history. "I want my belt. Duck and dodge, it's coming, though," bellowed McKee, having finished Karakhanyan by dropping him with a left hand, from the southpaw stance, followed by a vicious flurry on the ground.
"I grew up in the streets and the struggle, I'm an LA kid, and my time is here," said the tyro McKee, who continues to tantalise, and looks to be one of the greatest rising stars of the sport.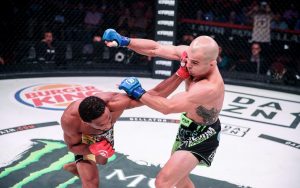 In the other Grand Prix tournament fights, Saul Rogers, the sole British fighter in the starting sixteen, lost by decision in a competitive fight with Daniel Weichel. The German, tough as they come, in his 50th fight, deserved the nod of the judges, who had it 29-28, twice, and 30-27.
Darrion Caldwell defeated Henry Corrales, out-dancing and outwrestling his opponent, to claim a dominant victory in the other tournament match-up, though the former bantamweight world champion Caldwell was warned for timidity in the final round by the referee. He took the bout 29-27 and 30-27, twice.
There was more news. In January 25, back at The Forum, women's MMA legend Cris Cyborg Santos, who has left the UFC to join Bellator, will challenge for the featherweight title against incumbent queen Julia Budd. "I'm really excited to come here and step inside the cage," said Santos, the Brazilian who is widely regarded as the greatest female fighter of all time in mixed martial arts.
"I respect Julia, and we will put on the best fight for the fans."
Budd, the Canadian who has dominated since she claimed the belt from Marloes Coenen, added: "It will be amazing, I can't wait to step into the cage against her. It's the perfect time."
The Forum also hummed to the chess match between two other MMA legends, the night's denouement between Gegard Mousasi and Lyoto Machida, a rematch of their bout five years ago, won then by decision by the Brazilian's movement and prowess. But the Dutch-Armenian originally from Iran, reversed the tide with his cage magician's skills to claim victory by split decision – 29-28, 29-28, 30-27.
It was cagey, it was technical and this was Mousasi's 46th career victory. Job done, there is only one thing on Mousasi's mind. Rafael Lovato. Another rematch. "Lyoto is crafty, and I could not take a lot of risks," explained Mousasi. "I neutralised him. But now I want the rematch with Lovato. It has to be the next fight. 100 per cent."
The powers that be will no doubt be planning that already, as Bellator enter a busy period which sees the travelling fight circus take its events to California, Italy, Connecticut – were Rory Macdonald and Douglas Lima contest the Welterweight Grand Prix final – London and even Hawaii by the end of the year.
"We were delighted with the event, and the selection show, which was a real success," Bellator president Scott Coker told The Telegraph.
Across the weekend, it was a riveting couple of night's for the burgeoning fight league, with controversy,drama and thrills in Dublin, followed by legends and novel ways of bringing a growing audience to an-age old theme: the making and winners and losers, replete with the theatre and entertainment that exists in fight sports which never grows old.
PHOTO CREDIT: LUCAS NOONAN/BELLATOR