If James Gallagher is feeling the pressure of headlining two Bellator shows in a row in his country's capital, the 22-year-old is certainly not showing any signs of it outwardly. Renowned for his confidence, in spite of a single dent in his 10-fight record thirteen months ago (albeit after 14 months out due to knee surgery) the man from Strabane is still labelling the Bellator Dublin event 'The Jimmy Show'.
The young fighter, who grew up in the sport as a teenager under the shadow and influence of Conor McGregor's long shadow at the SBG gym in Dublin, and within the aegis of renowned coach John Kavanagh, certainly has the X-factor.
Gallagher faces late replacement Roman Salazar, an experienced US veteran fighter who was the penultimate fighter to weigh in on Thursday, having made just under 145 pounds, even though the contracted weight was at 140 pounds. "I offered him to do it originally at 145, he should have taken it then, " Gallagher told Telegraph Sport on Thursday morning, looking trim and happy after making 140 pounds himself.
It will likely mean an increase in the Irishman's purse for the weight indiscretion. The event's head commissioner Mike Mazzuli clarified at the close of the official morning weigh-ins that Salazar, who had taken the fight on seventeen days notice due to concerns over the brain scan results of original opponent Cal Ellenor, has not been fined.
Gallagher's assuredness and confidence wins him as many fans as haters, but the mixed martial artist's air only adds to his following. Slowly, the journey of his life and career is being tattooed on his torso. Though there has been an absence of needle time in recent times.
"Last time I had a new tattoo? Probably about two years ago. I wouldn't mind a new one after this. I want my whole body covered. It's too f—– sore," he told Telegraph Sport.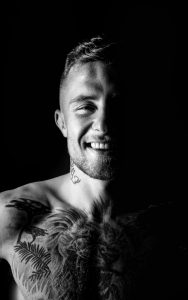 "I'm actually screaming when it's getting done. 20 minutes in and I'm done. Takes me about three months to get a 20 minute tattoo. Maybe if I man up a bit. I'd say a new one after this. Maybe around Christmas time. I want to get something filled in. I've got gaps on my stomach and want them all filled in. But I want the right one. I don't rush into them. I put years of thought and planning into them. I wouldn't call them significant, but I've put a lot of thought into them."
Gallagher has a keen mind on him, reflected in his fighting style. We talk of Brexit, topical for Ireland at present. "What a serious question. I'm an MMA fighter, not a politician. I'll do what a politician doesn't and keep my mouth shut."
But then he reflects.
"I'm a citizen of the world and that's how I feel. What's the point of all this b——? Can we not just live? Can we not just roam around? Why do we need borders? We don't. Pretty sure there'll be people very unhappy when you stick up a hard border between the south and Northern Ireland. We've moved on, we're not going backwards. Get with it. Who wants to go back to that? I can drive anywhere I want on this island. Do you want to stop everyone who drives across something you call a border? It's an island. It doesn't work like that. As long as you're a decent person you should be allowed to go wherever the you want."
Talking of borders, Gallagher explains that he will be back in the UK, he believes, for his next fight, having won his last contest in London in a hard-fought battle with Jeremiah Labiano. "I'll definitely be fighting around these regions in a few months," he replied enigmatically. Gallagher insisted, though, that he will firstly dismantle and stop Salazar in front of the Dublin crowd. He has to.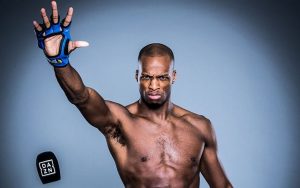 Richard Kiely insists Michael Page has 'fragile ego issues' and will exploit them
Irish welterweight Richard Kiely insists Michael Page has 'ego issues' and will exploit them when he takes on the enigmatic British former freestyle kickboxer who has laid down a marker by pledging to humiliate the local fighter in front of his home crowd.
Page is coming into this fight on the back of a defeat to leading welterweight Douglas Lima in the Bellator Welterweight Grand Prix semi-final in May. "Have I seen a blueprint? No it's not that. I intuitively can wind people up," Kiely told The Daily Telegraph. "I don't know what it is. I have the craic. I don't take things too seriously, but these people do. And all you have to do with an ego driven person is prick it."
"It's fragile. And he bit, and as soon as he did I knew I had him. As soon as he reacted, I had him. I threw out the line and he bit. He reeled himself in. I didn't even have to reel him in. Realistically speaking, I can't believe he took this fight. What was he thinking? He was thinking he'd take a 3-1 can. That's the nature of the guy and his character. He's coming from a semi-final in a world title Grand Prix and after that he'll fight a 3-1 fighter? He didn't know what kind of guy he was taking on, but like all bullies he was looking for a highlight reel knockout."
Stylistically speaking, this is the worst fight he could have taken bar one. All the Bellator armchair fans can laugh, everyone has bought into the hype. I know what kind of fighter he is."
Kiely, a former kick boxer himself, claims Page is "one-dimensional".
"If you stand in front of him, a stuck in the mud fighter, he's an incredibly effective offensive fighter," he explained. "Everyone who has fought him may as well have been sending smoke signals. They might as well told him in five minutes I'm going to throw this. Yes, he's world class at a particular thing, but he's also looked a lot better than what he is thanks to the opponents he's fought."
"He's not going to get that with me. If he tries to mix it with me, he's mixing with someone who has the reflexes of a cat. Look at the Keith McCabe fight. A much shorter distance and he tried to cover it quickly. And I buried him with a knee to the chest. By the time Keith McCabe threw a jab I'd reacted, picked the technique and stuck it on his chest before his jab had even landed."
I expect Page to produce another dynamic performance, though Kiely will be game early.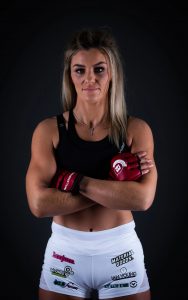 Leah McCourt: mother, fighter, chess champion, new breed of women fighters
Leah McCourt, mother, fighter, chess champion, is one the new breed of women to be entering the fight sports world, and feels made for the industry. "My dad has three daughters, so he made us do judo as kids. I was always obsessed with watching any martial arts, the Olympics and I used to go with my grandda. I loved the showmanship and aura around fighting," explained the featherweight fighter from Belfast with a 2-1 record. McCourt faces Kerry Hughes, a Police Inspector in her day job, who has trained in Albuquerque with Greg Jackson. Jackson's wife is a law enforcement officer, and they have become firm friends.
It ought to be a fine fight between two driven, determined individuals, with Bellator having recently signed Cris Cyborg Santos, arguably the greatest female fighter of all time, to the organisation.
"Once I had my daughter I started training and once they saw my grappling and saw how dedicated I was to get better at striking, my coaches threw me in at the deep end," explained McCourt of her inception into the professional side of mixed martial arts. "I had no idea what I was doing. I was 21. It started with judo as a child. Then Muay Thai and it rolled from there."
It was therefore just sport to begin with. "I'm very competitive. As a child I did judo and was in the chess club. I loved telling people I was national chess champion. I'm really good at chess. I'm very competitive at anything I do. I love the fact that with MMA you have to be at your very best mentally and physically. It brings the best out of you in every sense, inside and outside the cage."
"At chess, too, I rarely got beat. I was the best and I taught me dad and sisters, everyone, to play chess."
Perhaps her chess mind helps her be moves ahead in MMA ?
"I've had six or seven first-round finishes in my career. I'm not always the most skilled, but I try and go in to finish the fight from the start. You need to carry me out of that cage, everything is being left in there. I think that kind of brain helps. I started MMA and I didn't have a lot of experience but I used what I knew to win."
McCourt travels four hours from Belfast to Dublin on a round trip four days a week to train. "I love it so much I would fight in my back garden. Obviously the 3Arena is a lot nicer. My mind is on fighting. To be fighting for Bellator in Dublin is surreal, it's amazing."
Ryan Scope and Peter Queally had 'gentleman's agreement' to fight at welterweight in fight with could steal the show
Peter Queally was asked by opponent Ryan Scope is their contest could be raised 15 pounds from lightweight to welterweight on the Bellator Dublin card. Scope, who looked brilliant event in defeat against Patricky Pitbull at Bellator Newcastle in February, was happy to oblige.
"It was changed early in the week," explained Irishman Queally, who like Scope, loves to throw down. "It's at welterweight. This is what we weigh. It wasn't that neither of us could make the weight, its just a gentleman's agreement. Let's stop this weight cutting and fight. I'm happy with that."
They both predict an exciting fight, on the main card being shown live on Channel 5. "If history is the greatest predictor, then Ryan likes to fight and so do I. I don't think we're going to change that. This is going to be a scrap. I think it's going to be a fight of the night. I think it'll be a war."
"There was bad blood there in my last fight [with Myles Price, over camp allegiances]. There is none of that with Ryan. People are going to be wowed by this fight. It's definitely the most well-matched fight on the card. There's just no point manufacturing bad blood, there's only respect there. The fact he's messaging me on Instagram. That's how the weight change happened. Do I want to just fight at welterweight? I came out of the shower and there was a message on my phone from Scope. My exact words were: 'I don't care what weight we fight at." He said 170 pounds and I said grand. That's it now."
"I'm going to be in a very good mood. It's a hard toll on your body that weight cut. You must lose something. This time it's going to be a fight. This hasn't come into my head until he messaged me last night. It's sort of a no-brainier. I don't know why more fighters don't do it this way. Just fight at our natural weight."
Perhaps this will be the start of many fighters deciding to cut ? "That is beginning to happen, but it's hard to enforce I think. This is just what we weigh. Perhaps it should simply just be who is better, not who is better at cutting weight. This is like a normal training week. He's eating, I'm eating. It feels perfect."