Anthony Joshua believes that his loss to Andy Ruiz Jnr three months ago will be the making of him.
"The Muhammad Alis faced it, the Mike Tysons faced it and now I'm facing it," Joshua said of losing his three heavyweight world title belts to Ruiz on June 1 in Manhattan, in one of heavyweight boxing's most unexpected defeats.​
"It's all part of it. It's no big deal. It's about how you come back," said a noticeably slimmer Joshua. "I have a different challenge in my head. When you've walked the road once, you can do it again."​
Wise words but the issue for Joshua, who carried the world-weary air of a man who had travelled three continents in three days – on a whirlwind media tour of the Middle East, New York and London – may not be heart and desire, but how he can change the pattern of the fight second time around after being floored four times and stopped inside seven rounds. The pair meet again in a purpose-built stadium for 16,000 in Diriyah on the outskirts of Riyadh, Saudi Arabia, on Dec 7 for the International Boxing Federation, World Boxing Association and World Boxing Organisation titles.​
Mexican-American Ruiz, bedecked in a sombrero given to him by an adoring fan in New York on Thursday, reiterated his intention to not be a short-lived champion.​
The 29-year-old became the first Mexican heavyweight champion of the world after his triumph at Madison Square Garden, and denied that he was enjoying the good life and the spoils of victory.​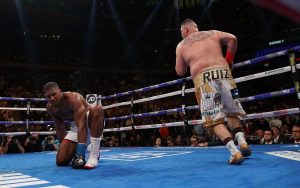 The determination to keep hold of the belts, he insisted, had not left him for one day. "Of course I still have that hunger. I just got these belts. You think I want to lose them straight away? Hell, no. I am excited, there's no fear. It's just crazy how I made my dreams come true.​
"It's going to mean everything to defend the titles. December 7 the belts will be in the air, it's either me or him. The mindset is that I think Anthony Joshua is trying to take food from my kids. My motivation is my kids and family and if anyone wants to take it away from them I'm willing to die to protect them."​
Joshua said: "The man did what he had to do. He was the best option when we looked at it. It was a bump, a loss, but nothing has changed in the way I view him."​
There appears to be little animosity between the pair. The Briton has refused to indulge in any underhand comments or sleights at his foe.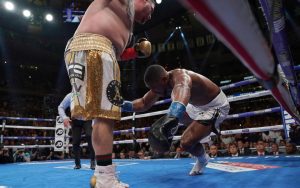 Joshua is expected to earn close to £60 million for the contest, the most ever offered a heavyweight challenger in history without a belt.​
"It's more myself I have to change," explained Joshua. "I am looking at myself in the mirror and saying I know I'm better than that. Andy is still the same person. He will come game and I've got to change some of my bits and bobs. ​
"I was 50 per cent of the way towards getting a win, just got caught. That's why I said it was a punch from the gods [which knocked him down in the third round]. ​
"I know how to fight. If I had to change everything now, it would be too risky. I haven't got time to do that and make it new."​
Victory, believes Joshua, can form part of his legacy. "Now it's about how to come back and hopefully the next generation will look at how I came back, how I rebuilt. But many champions like Ali and Tyson have come back from defeats. If I win, no problem. If I lose this fight and stay down, then I've got a problem."