There is only one better salesman at Matchroom Sport than Eddie Hearn, the boxing promoter. It is his father, Barry, 71, the chairman of the company and still its overseer.
We share a cup of tea at the cricket club where he is president, in rural Essex. He loves cricket, fishing, his family. Not in that order, of course. But Anthony Joshua, for several years one of the great linchpins of their sporting outfit, is on his mind. ​
As wickets tumble with regularity (his troops are bowling) he talks Joshua, who, of course, lost his World Boxing Association, International Boxing Federation and World Boxing Organisation heavyweight belts to Andy Ruiz Jnr at Madison Square Garden on June 1.​
A huge house of cards tumbled. Joshua will have a rematch with the Mexican-American on Dec 7 in Saudi Arabia, from which he is expected to earn an estimated £60 million, in spite of the catcalls and criticism for going east. Hearn was ringside in New York three months ago. "I think we were all in a state of shock. I think we all acknowledged he got beat by the better man on the night, which was an even bigger shock.​
"Andy Ruiz was always a tough opponent. We knew everything about it. We knew he was capable, but appearances can be deceptive, he looked like a pizza delivery guy," he told The Sunday Telegraph. "Man mountain against pizza delivery boy, technical ability meant it was a very well matched fight. Heavyweight boxing needs those type of fights."​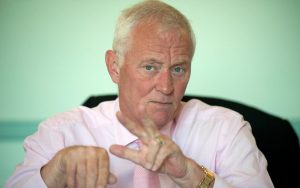 Yet ever the promotional impresario, Hearn acknowledges that the rematch is even bigger. There is no issue with an immediate fight with Ruiz, either, in the mind of Hearn, even though most critics believe the Briton is finished at the top level if he loses again. ​
"AJ walked onto one and got beat. Welcome to heavyweight boxing. Ruiz signed for a rematch. The insurance policy is that Joshua has one chance back at it. Do you take your chance? Yes, of course you do. Anyone else who says different is just looking for column inches. You would fancy Joshua against Ruiz 99 times out of 100." ​
Hearn insists Joshua is confident of winning and that "money talks sense".​
"To refuse the rematch would mean you'd come back as a challenger with no claims. You'd be in a weaker negotiating place," he says. "You're still one fight away. The downturn is massive. If you get beat in the second fight, you may not be finished but it's a massive dent in the commercial side. You get over one. Lennox Lewis came back after one shock defeat and another, too.​
"Do we let Ruiz walk away with all the belts and not take the chance to get them back? Don't be ridiculous. Anyone who says that is in cloud cuckoo land. This is the fight Anthony wants."​
Hearn also points out that Joshua makes the final call on everything they do. "We asked him if he wanted the fight and he said go and get it. Four or five venues around the world wanted the fight and we did budgets for each one. Final call – Anthony Joshua."​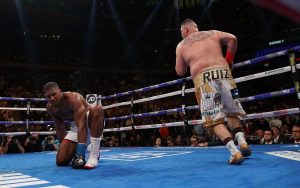 But there has been a backlash from British fans. "You always expect a backlash from British fans because they quite rightly want the fight in England. I just have to hold my hands up and say there's a bigger picture. Sport is business and the day you take your eye off that is the day sport goes backwards. As far as the political and cultural side of Saudi, yes I was expecting a backlash. There are people who are quite rightly defending the rights of individuals victims of abuses of power."​
He added on those issues: "I'm not justifying it, but what I'm seeing is slow change. Four hundred years ago we did things in this country we wouldn't be proud of now. By and large, things change and sport can be part of that process. It's a long haul but the alternative is cutting people off. There's things all over the world I could take offence at. My focus is on sport."​
The desire burns for Hearn to see Joshua matched against Deontay Wilder – the WBC champion – and an all-British clash with Tyson Fury.​
"I want to see him fight both those guys and now is the right time, but they have their own obligations. Politics in boxing will complicate and money will resolve things. Let's see how we get on in Saudi. It's a question of how do we bounce back and go on to the next level of legacy planning. The legacy planning is to turn him into a global star. ​
"You can't say he'll be the next Muhammad Ali because comparisons don't work. He's very special. He's been the most well-rounded, charismatic, nice man who can fight. We need to take him to the next level but first he has to regain that destructive urge where he flattens people because that's what makes heavyweight boxing exciting."
This Article First Appeared On The Telegraph