Heavyweight prospect Daniel Dubois was lauded as "the future of the heavyweight division" following his impressive fifth-round knockout of Nathan Gorman at the O2 Arena on Saturday night. The win earned him his twelfth victory of an unblemished career as well as the vacant British heavyweight title.
Most impressive was the poise, power, ruthlessness and temperament the young fighter showed, with his promoter Frank Warren later hailing the 21-year-old as a clear world title contender. Dubois had dominated the contest, finishing with a spiteful double-jab and his now renowned venomous right hand two minutes and forty one seconds into the fifth round.
Gorman – the cousin of Tyson Fury – was down twice in the battle of two rising fighters.
Although Dubois is far from the finished article, his use of the jab and patient fighting now mark him out as a future star of the division, and the current fourth best Brit behind Tyson Fury, Anthony Joshua and Dillian Whyte. He is too inexperienced yet to challenge that trio, but that may change within a year. Many of the great heavyweights had the jab as their foundation, including Larry Holmes, Muhammad Ali, Lennox Lewis and Wladimir Klitschko.
On Saturday night, Dubois showed he has the ability to control a fight with his left lead, in order to set up his dangerous right hands.
"Every fight is a learning fight, there is a lot to improve on. It's great to win the British title. I wanted to control the fight behind my jab and then land the right hand," he said. " There's still a lot to work on, and I'm grateful for everything. Who I fight next is up to my team, promoter Frank Warren, my dad…"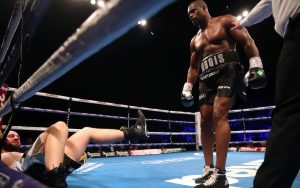 The problem for Warren will be how to progress the young fighter. He said: "Daniel was very composed in the fight, and we saw Nathan has no quit in him. These are the two youngest fighters to fight for the British title. The key for me in this fight was the jab. And Daniel showed that. It was superb. I've said it all along, I think Daniel is the future of heavyweight boxing."
It was the power of Dubois that told in the third round, as he clubbed Gorman to the floor with a flurry of right hands, but he was not finished, throwing back bravely and showing true grit.
"Beat him up, break him down, don't try and hurt him," advised trainer Martin Bowers to Dubois between rounds. A right hand from Dubois staggered Gorman, but with thirty seconds left in the fifth round, Gorman was down and counted out by referee Victor Loughlin,.
Earlier at the O2 Arena, Joe Joyce claimed a points victory against former world title contender Bryant Jennings after going twelve rounds for the first time in his undefeated ten-fight career. Joyce took the bout by unanimous decision 118-109, 117-110 and 115-112 on the judges' cards.