Nathan Gorman boxed "two or three hundred rounds" with Daniel Dubois in the amateur ranks, and believes he has the edge over his old rival when the two young undefeated heavyweights collide for the British title at the O2 Arena in London on Saturday night.
To the victor the belt, but perhaps just as importantly, major bragging rights – from a grudge born during their time together on the Great Britain boxing team.
If Gorman – cousin of Tyson Fury, great nephew of folkloric bare-knuckle fighter Bartley 'King of the Gypsies' Gorman, and trained by Ricky Hatton to boot – has the boxing pedigree, Dubois has the power. The man they call 'Dynamite' has 10 knockouts in his 11 professional victories.
It is rare that two promising boxers meet at this stage of their careers, during their respective climbs to the top. It's why this bout has the entire industry on tenterhooks.
"We're only babies in this division," Gorman, himself unbeaten in 16 contests, with 11 stoppages, told The Daily Telegraph. "I'm 23 and Daniel is 21. In terms of the heavyweight division, heavyweights don't reach their prime until they're 29 or 30. Frank Warren's done a very good job with the matchmaking, striking while the iron is hot.
"You can overlook a fight sometimes. Prime example is Amir Khan and Kell Brook. A lot of people wanted to see that fight but now people have gone off it."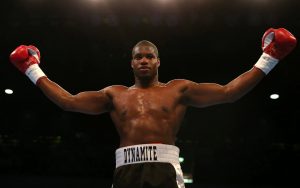 Gorman added: "I do think I can exploit Dubois. My style is totally wrong for him. On the other hand, he's a big, strong, powerful lad and I could switch off and get clipped. But I'm not going to switch off."
The man from Nantwich revealed he was the one to call Dubois out, explaining their history: "We've got a grudge that goes back to the GB team. We're not best of friends. Even if I beat him, I still think he'd hold a grudge.
"There could be a trilogy in this one. We boxed two or three hundred rounds. I know I'm going back three of four years ago, and a fighter changes, but I've also got that mental edge over him and he knows it, in boxing terms. Deep down, he knows."
Dubois, trained in the famous east end Peacock Gym by Martin Bowers, dismissed the sparring sessions. "This is a fight. That was sparring. It's a massive difference, trust me. I believe I'm going to go on and be the best," he said.
"It's just a matter of time really. Gorman is not a big challenge, it's just my job. This is what I do. I'm not fazed by anything."
Bowers did not quite back up his fighter's bravado. "This is Daniel's biggest test," the trainer said. "Gorman is a very good fighter. I know they're both young, and we could have waited to have this fight, but I don't think they'll be any losers on the night.
"I believe they'll both go on and win titles and this is a great crossover for both of them to show they've both got the heart, skills and desire to want to be the best fighter in their own backyard."
Nathan Gorman vs Daniel Dubois for the British heavyweight title is live on BT Sport on Saturday 13 July.