Holly Holm is a modest soul at the best of times but the former Ultimate Fighting Championship bantamweight champion made her views very clear ahead of her challenge against two-division champion Amanda Nunes here on Saturday night: the victory Nunes enjoyed over Cyborg Santos to become the first two-division women's champion in the UFC was a 'toss of a coin' in their 51-second beserker fight last year.
It throws the gauntlet down to the wrecking-ball fighter Nunes from Brazil. Asked if Nunes had solved the puzzle against Cyborg, Holm responded: "As far as solving a puzzle, I wouldn't say that's a solved puzzle. It was a coin toss. I think the fight could have easily gone the other way, the way they fought that night."
"That can happen in fights. One punch could be the end of it. It easily could have been Cyborg hitting Amanda. They both stood there and literally through at each other."
"I think if you went back to do it again, I don't think it would a first-round finish, I think they'd be much more tentative. It's not a fight I look at much. I don't pick that apart. The only thing you can take away from that is don't get caught up in the emotion."
Holm had also relished the idea of fighting Cyborg and wanted to be the first to defeat her in the UFC but was defeated by Santos via a decision over five rounds at UFC 219 in December 2017.
"Obviously, I definitely wanted to be the one to beat her first (in the UFC). My fight with Cyborg, before that she was running through people. After our fight it was almost like I made her human. It was frustrating I didn't capitalise on those moments. Everything is through hindsight so I don't want to be stuck on it. I want to move forward. I want a victory over every single person, but that's what keeps me me. That's my plan Saturday night."
Nunes, meanwhile, says that there is a long way to go to continue the legacy she wants to leave. Victory over Holm is another notch in that legacy. "I've still got a lot of people to help me and who look up to me. My journey is only beginning. I still have improvements to make. Holly Holm is important – she's the only former champion I haven't beaten. It'll be a good night for sure."
And the future ? Another Cyborg fight at 145lbs ? "After this fight, we will see. I want to defend my 145lbs for sure, but right now my focus is Holly Holm. Keep making history. I feel I'm hungry to do that. I'm getting used to this moment, but I need to be focused and remain humble. Because this moment I have to share with people. I haven't done this by myself. I've done it with my teammates, my corner, my family, my fans and the media. It's a huge moment and I have to stay in touch with everybody."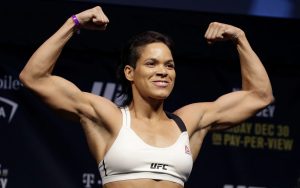 Conventional wisdom will dictate that Holm will stick and move in this fight, largely southpaw, use her jab, and kicks to create the separation of space to disallow Nunes from landing heavily on the inside, where she is at her most dangerous. But can Holm dictate the fight for 25 minutes ? That remains to be seen. What Nunes must do, conversely, is show patience  with her assaults.
"I have to see what she shows up with," said Nunes. ":We all know Holly Holm is facing a different night. We've never faced each other before. We'll see if she shows up and I'm ready for everything. This fight is about making history. I can let the belt sit there because I have to defend it. I have to step up. Holm is a great fighter and a great opportunity to make more history."
Holm is certainly bolstered by having training camp and gym team-mate Jon Jones here, defending his light-heavyweight belt against Thiago Santos in the main event. Both have Greg Jackson and Brandon Gibson here from the Wink-Jackson set-up.
"This fight week is different, but so is every fight week. Having a team mate on the same card, it means all of our coaches are here. I feel we're part of an army. It's made this week great. Aside from it being a huge fight card, I'm more into my opponent. I'm concerned about my fight. I feel really calm this week. Obviously there's a little bit of anxiety, that's natural."
"One thing about this fight is a lot of people look at Amanda as the unbeatable two-division champion, but they know I come with intention. I come with belief in myself. This is one of those fights that's sparked people's curiosity. Im not coming in there to be part of it, I'm coming to win. I think it creates a curiosity about how the fight will go."
As for visualisation, Holm added: "I picture holding my belt watching my team mate coming out with his. There are a couple of things I want to learn from Jon. His fight IQ and attention to detail, he's very intuitive. He's not just trying to go in there and get it over with. That's what makes him such a great performer. He never disappoints. I see him performing again."
Holm is accustomed to being underestimated; thrives off it, even. "That's been a lot of my career, but it's also what's kept me driven. It makes me stronger. If a situation requires more struggle and is more of a challenge, I remember I'm here for a reason. My dad told me a lot of people think why me instead of why not me? You might as well go for what you want. Why don't I go out there and go for it."
In her view, does beating Nunes make her the best ever ? "You would never hear those words coming out of my mouth. I feel the world is always coming up with something new. There's always someone else coming. If I ever felt like I was the greatest then I'd feel I'd already made it. I'm still going, so I always want to feel I'm building my legacy. I want victories along the way so when I retire, my goal is that other people say that about me. But I would never say that about myself."
"I'm just focused on this fight. This title and this belt and this journey. I don't want to look too far in the future because we're not even promised tomorrow."
Meanwhile, Conan Silveira, head trainer of Nunes at American Top Team, is adamant that the Brazilian has already climbed the heights. "She already is the greatest female fighter of all time," he told Telegraph Sport.   "For the wins she has, she's the greatest. Not even any male has done what she's done. What are you talking about here? Miesha Tate, Ronda Rousey in seconds, Cyborg in seconds. Show a male fighter that has done that?"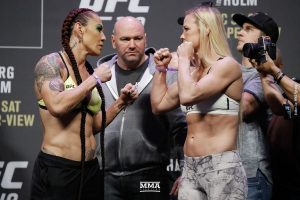 "Everything that Amanda Nunes has been doing since she won the title is perfection. She is the greatest fighter. She is now adding to her history. What we'll do now is defend 135lbs, defend 145lbs. How can you put Holly Holm above all her other opponents? I'm not even going on what happens on Saturday, I'm going on before Saturday. She's already the level of the great male fighters."
The major differences in Nunes, he added, are the steps the 31-year-old is making before every fight. "She really got some combinations together. The maturity really came together. Her feet, she doesn't allow life to get in the way. She is a champ-champ fighter, but she doesn't let that get to her head. She is simple. I think that's the best combination for Amanda Nunes."
Is patience, then, against the deft movement and footwork of Holm the key ? Reserving her power to unleash at the right moment, and not fighting wild. This, after all, will be no tear-up in the manner of her fight with Cyborg Santos. "It's always important in every single fight. It's not just important against Holly Holm. I think patience for a fighter on Amanda Nunes' level is critical to be a champ-champ. She's had patience to get there. All the sacrifice, training and the hours – everything has taken patience."