We complain about judging controversies, of course we do, and we always will, yet however you might have scored Deontay Wilder's dramatic dance with Tyson Fury in the American's eighth defence of the World Boxing Council crown, one thing cannot be denied: it gave us another narrative and opened up an even wider debate over who deserves the mantle of current heavyweight king. After twelve rounds between two of the unbeaten three of Wilder, Fury, and Anthony Joshua, we still don not know. In the end, it may just come down to styles. What eventuates over the next eighteen months will give us an answer, or not.
At any rate, this heavyweight world title fight between Wilder and Fury, with its three-legged London, New York, Los Angeles press tour, and two huge personalities, grew into one of the most anticipated clashes in modern times, simply because no one really could predict with complete accuracy what would happen when the first bell tolled.
What we knew, for one thing, was that it was a clash of styles: Wilder, the 6ft 7in tall world champion, an out-and-out puncher, the 6ft 9in Fury an outlandishly effective boxer. Both boxers were undefeated – 67 contests between them – both had huge egos, compelling personalities and fascinating back stories. Fury had been the world No 1 three years ago. Wilder now claimed it was him. It was Fury, frighteningly bold, who seemingly won the battle of the set-pieces in the build up, climbing into Wilder's head, and in a dark moment after they had squared up at the news conference, the American's blood seemed to be boiling. On that day in LA, Wilder was wide-eyed. We all had a piece of him. At one point, he leaned in towards this correspondent, sunglasses removed and said: "He should fear for his life. I want you to look into my eyes. I mean it, fear for his life." He came so close, he became a human hair-dryer. But it was all great pantomime.
This was the "Bronze Bomber" of Alabama, the alter-ego of the champion, who glared outwards at the thought of dismantling, physically, the self-proclaimed "Gypsy King". Two weeks earlier, alone with Wilder in his training camp in the deep south, the tattooed warrior, his flesh glistening after an hour of literally thumping the pads held for him by the deeply likeable Jay Deas, the WBC champion had talked of being two people rolled into one: a loving, giving father, yet a cold, destructive spirit with gloves on. Wilder is a fighter, who, after all, had knocked out all 39 of his opponents – he renames them "victims" – prior to this fight with Fury.
Meanwhile, 2000 miles away in his camp on the west coast of the United States, Fury revealed he had been consuming legendary military general Sun Tzu's 'The Art of War', disclosing that he had been flicking through the 2,500-year old tome by the military strategist and philosopher. It was almost prophetic, as two diverse fighting strategies combined for a thrilling spectacle.
Two undefeated heavyweights went into that ring at the Staples Center in Los Angeles on December 1, and after twelve rounds, we are still arguing over who is the best. That's boxing for you. Styles make fights, and indeed champions. Styles can define eras, and even be misleading. Yes, there are profound champions who clearly dominate their weight classes, but this sport of ours thrives on rugged debate and heated opinion. Records and punch statistics can lie. It is a sweet science, but in the same breath, an irregular, subjective judging art. What was fascinating, moreover, in the aftermath of Wilder-Fury, was that it also flushed Anthony Joshua out of his man cave. Rightly, Joshua needed to comment, and the argument now resonates that in spite of his own monumental climb and achievements over the last three years, the British holder of three of the alphabet titles cannot claim that the number one spot is his. There is the clear sense that Joshua – caught up in boxing politics, egos, and promotional deals – may have missed the boat temporarily. It may work in the Briton's favour in the long game. Again, we really don't know. Yet right now, many fans have swung towards the resurrection of Fury, the self-annointed 'Gypsy King', for the quite staggering revival of both his body and his mind, and the will and heart in the face of the power of Wilder's raw skills yet devastating power. What Wilder must be admired for after the fight with Fury is his desire for a second skirmish in the war for supremacy.
All in all, Wilder-Fury 1, was a build-up, a fight and even an aftermath to savour. Your correspondent was afforded the privilege of being invited inside Fury's dressing room in the sixty minutes leading into his ring walk, as well as a day inside his house in the Hollywood Hills when he had moved from training camp at altitude in Big Bear. It was access to two intimate sessions when the portrait of Fury returning to what he does best, what his family lineage has almost bred him to do naturally, were in focus.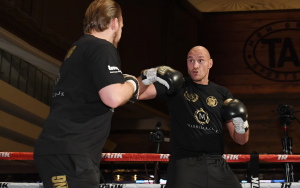 At home in a three-storey mansion up a winding lane in Hollywood – his daily gym space the Wild Card Boxing Club down in the village – Fury was the most relaxed I had ever experienced him, and I have covered his professional career from the very first night, when his then promoter Mick Hennessy cooed about a new talent, on the undercard of Carl Froch's monumental toe to toe world title battle with Jean Pascal in Nottingham. That was 2008. At home in his Hollywood home, Fury was magnanimous. He talked kindly ofJoshua, spoke of his respect for Wilder, and even cheekily praised rival promoter Eddie Hearn for his dress sense, looks, and success with aforementioned future foe Joshua.
In a sense, this was the vintage Fury, the one who proclaims, sings, enjoys skits and entertains. He can do so, as everyone should realise, because his boxing skills, at three inches short of seven feet remember, and at a minimum of 18 stone plus, are staggering.
Wilder knows that now. Joshua will get to know that. And goodness knows what kind of shoot out and exchanges we shall witness when Joshua and Wilder carry the battle to each other down the line. Fury carried that mood through fight week, selling and promoting the drama at every turn. For his part, Wilder was equally in on the event.
Two weeks out, in that visit to his camp in Alabama, I witnessed, in a deep, resonant interview, in which Wilder expounded his theories on life, that we are dealing with another complex man, one who changes at the flick of a switch. He told me that he had "visualised knocking out Fury in 75 different ways". It will be no different when they meet again.
We all saw the switch flick when the 'Bronze Bomber' emerged in fight week. Oh, how he raged, and how Fury goaded his foe. Was it real ? Was it theatrics ? Only the two men themselves really know deep down. But when it came to the night itself, the two huge heavyweights delivered with aplomb. As the minutes wound down in the dressing room before the ring walk of the 'Gypsy King' – bearing in mind how the man had overcome his paralysing mental health issues, come back from thirty months in the wilderness and shed 140 pounds in what has been a life-affirming year – a scene unfolded. Along the wall, on a bench, sat hall of fame trainer Freddie Roach, while Ricky Hatton, pacing, stern faced, chewed hard on his gum. On a stool sat promoter Frank Warren. "We are going to do this tonight," the promoter told me with absolute belief. Fury's huge younger brother, Shane, an ever present in camp, demanded that a television crew move out. It was a solemn mood in there, yet upbeat. Fury sat, then moved, bounced on his feet, his trainer Ben Davison, who deserves deep praise, not the critique that Roach offered afterwards, never taking his eyes off the man he was been with almost every day for a year as he helped Fury to return from a human wasteland, physically, and mentally. Fury had a 15 minute lie down on a large massage table, stretching, then dressed himself. Boxer shorts, groin protector, those green and gold trunks, taped up around his middle. Music was on constantly, starting with the emotional country vibes of Chris Stapleton – Fury singing along. "This is strange music before a fight, innit ?", he said to me as he approached. Yet it was not. It was the music of a return to the fray, to the emotion of a great occasion. As the minutes wound down, we had the mellow hip hop of Kanye West and Jay-Z, then rousing tunes of Tom Jones and the Kaiser Chiefs and then towards the end, 'Thunderstruck' by ACDC, that great uplifting heavy rock track. Fury went on the pads with coach Davison, going through his combinations, switching from southpaw to orthodox, practising sequences they had drilled for months. There were no real nerves from the big fighter himself, instead smiles of concentration and mood shifting.
There were two prayers in a huddle, one from Fury himself, another from Asgar Tair, who had been in Fury's corner in Dusseldorf on the night Wladimir Klitschko was dethroned in December 2015. Then, as now, trusted Tair had inspected the foam under the canvas and had questioned its thickness. A protest was lodged, and it was made thinner. Detail. So important.
In the dressing room, it was attention to detail too. The entire team's eyes were on Fury, as if they would go to his side if anything cracked in the final minutes. But of course nothing did, just like the comeback itself. Out they walked to the ring, slow, very slow, soaking up the mood, the respect, the adulation. They reckoned 8000 folk of the traveller race had made the journey.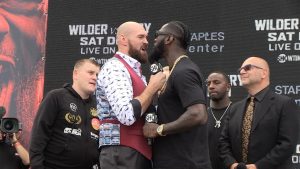 The fight delivered on so many levels. Fury boxed, goaded. Wilder hunted for those tenacious attacks. But it was a Hollywood ending that saw Fury dropped to the canvas twice, both times climbing back up, in the ninth and the twelfth rounds, the second time, like Lazarus, or as some saw it, aping The Undertaker in WWE wrestling. When the cards came in, 115-111 to Wilder, 112-114 to Fury, and 113-113, boxing hit the news. Draw !! Some said it was a robbery, Fury was praised for his heroics, and Wilder was game, a man who said he would do it all over again. The judging of Mexican-American Alejandro Cochin was called into question the morning after by Fury's entourage. The fighter himself, his face marked up and his hands sore after the battle, said he had "never seen a worse decision" in his life and that it was "as bad a decision since the first Lennox Lewis and Evander Holyfield fight." Fury's promoter Frank Warren said that there would be an appeal to the WBC, yet six days later, WBC president Mauricio Sulaiman declared that his committee had voted on "an immediate rematch"
"Tyson's the No 1 heavyweight in the world, the people's champion, the winner of that fight. People I respect in boxing, Mike Tyson, Abel Sanchez, Gennady Golovkin, Teddy Atlas all had it for him," said promoter Warren. "They were all with us and others saw it that way. People that can actually judge boxing know he was the winner, as do the fans."
The drama of Fury getting up miraculously in the twelfth round from that vicious right cross, left hook combination will be used again and again to promote the rematch, as will Fury's moves, making Wilder miss, miss and miss again. Wilder had called this "the biggest fight of my career. The one. This one that solidifies my name, especially here in America." It has, and the second meeting will only be bigger. Get it signed gentlemen. We will all be there.
This Article First Appeared In The Ring Magazine.