Anthony Joshua can come back and be even better now in spite of the shock defeat to rank outsider Andy Ruiz, in the view of heavyweight great George Foreman, who suffered his own humiliating defeat to Muhammad Ali in 'The Rumble in the Jungle' in 1974.
All is not lost, says one of the greats, and Foreman even invited Joshua to come and see him in person.
Joshua was knocked down four times by Ruiz and was defeated by seventh round stoppage, having floored the challenger once himself in the third stanza.
Ruiz, who claimed the IBF, WBA and WBO belts, became the first Mexican heavyweight champion of the world.
The view that Joshua will return to the summit of the heavyweight division is not just one held by Foreman. It was echoed in the days after the contest at Madison Square Garden by Lennox Lewis and Wladimir Klitschko.
Both had to climb up from the canvas after humbling losses themselves, Lewis twice, before becoming undisputed champion and Klitschko three times, before he reigned in the division with a rod of iron for almost a decade.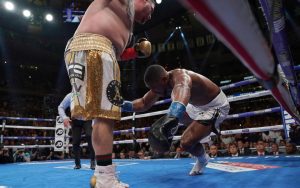 "Joshua will come back and be even better now," Foreman told me 48 hours after the fight. "It changes you because there's a realisation that you can lose.
Sometimes you believe all the hype and you just think you can't lose. I've been in that position, being on the floor when I fought Muhammad Ali in Zaire, at the Rumble In The Jungle. The greatest thing is the embarrassment. If you can overcome that, you come back better."
"When you're the heavyweight champion of the world it's not like you've lost a fight, you've lost a part of yourself. You've got to find it again. A lot of times the hardest part is you didn't just get beat, you fell for the hype.
"People say you're so good and you think you've let them down. You have to recapture yourself and go back to the drawing board, but it'll take some time… I wouldn't be anxious for a quick rematch with Ruiz at all."
Big George may be saying that, but both Joshua, and his promoter Eddie Hearn will look to utilise the rematch clause, bringing the California to Cardiff for another stadium fight in the last quarter of 2019.
Promoter Hearn explained: "AJ's putting on a brave face on the defeat, but he is already starting to think about getting revenge…the rematch is a huge fight and there's a lot of pressure on AJ to win it."
Foreman, though, believes Joshua simply needs to go back to the drawing board.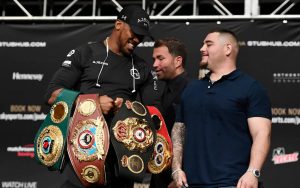 "Go back and start all over. You can't be in a rush. If I can be heavyweight champ 20 years after I lost it, certainly this young man can be. In two years, he'll have all those belts again. He's a great fighter and the future belongs to him."
What Foreman did see, moreover, was a sportsman who was not a broken spirit afterwards. "The one thing Anthony Joshua did, which if I could do it again I would, he was kind and congratulating Ruiz," the legendary heavyweight told me.
"I didn't do that to Muhammad. I didn't even get him a congratulations, and I'm sad about that. Joshua showed himself to be a true sportsman. This is what you call some of the greatest moments in sport.
"You lose your title. You get knocked down twice, they stop the fight and you go put your arms around the guy and congratulate him. You know, I wish I had done that to Muhammad. When he was taking all those punches I gave him, I hurt him.
"I never told him that night, 'Great fight champ, you did it'. When I saw Anthony Joshua do that, it was something I should have done, and I was proud of him for that."
Does Foreman fear for the new Ruiz when they step back into the ring in the UK?
"He [Joshua] wasn't prepared for this guy. He was overlooking him, I suspect. He didn't know how to use his height. I wish I could spend a few weeks with him to help him get himself back together. To let him know how to be tall."
"I'm out here if Anthony Joshua wants to reach out. If he wants to come and see me, or talk to me. I'm always there for those guys. After I saw him lose, I'm a bigger fan than I ever was before."