George Foreman was speaking with Gareth A Davies
I was shocked, like we all were, when Anthony Joshua was put down by Andy Ruiz, but I believe Anthony will come back and be even better now. Because there's a realisation that you can lose. There is a process of grieving after a loss like this.
When you're the heavyweight champion of the world it's not like you've lost a fight, you've actually lost a part of yourself. You've got to find it again. A lot of times the hardest part is you didn't just get beat, you fell for the hype.
People say you're so good and you think you've let them down. You have to recapture yourself and go back to the drawing board, but it'll take some time.
Sometimes you believe all the hype and you just think you can't lose. I've been in that position, being on the floor when I fought Muhammad Ali in Zaire, in the Rumble In The Jungle. The greatest thing is the embarrassment. If he can overcome that, he'll be a better fighter, and an even better champion.
I had flashbacks watching it… you're looking great, you're body is great, all the cameras are on you and it's all about you. I was told and asked by people, 'George, please don't hurt Muhammad'. That's how good I felt. And there I am, on the floor.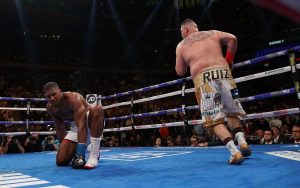 That's what it is, you believe the hype. Nobody is that good. I went from Africa to Paris and stayed in the hotel for a week. Then I went to Hawaii and stayed another week. I didn't leave, didn't go out. I had a friend with me. By the time I got back, there were other headlines. It was no longer about George Foreman and Ali.
Joshua can't afford to disappear, You have to be public, because you can't hide from the media. Then after about a month you get it together again. You find yourself on the heavy punching bags, you're angry.
I wouldn't be anxious for a quick rematch with Ruiz at all. I don't believe he should go into the rematch later this year, or next. He doesn't need Ruiz. Ruiz needs him. Ruiz needs Joshua. In six months, all those belts will be split again. Anthony Joshua was the only one who could keep those things together. Ruiz won't be able to keep those belts together at all. In six months, they'll be out there again and Anthony Joshua can get one of them back and then eventually two of them.
Go back and start all over. You can't be in a rush. If I can be heavyweight champ 20 years after I lost it, certainly this young man can be. In two years, he'll have all those belts again. He's a great fighter and the future belongs to him.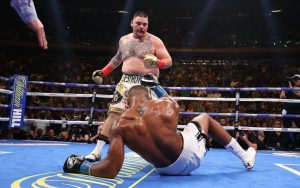 Joshua showed himself to be a true sportsman. This is what you call some of the greatest moments in sport. You lose your title. You get knocked down twice, they stop the fight and you go out with your arms around the guy and congratulate him. You know, I wish I had done that to Muhammad. When he was doing all those punches I gave him, I hurt him. I never told him that night, 'Great fight champ, you did it'. When I saw Anthony Joshua do that, it was something I should have done, and I was proud of him for that.
He wasn't prepared for this guy. He didn't know how to use his height. It's back to the drawing board. The Marquis of Queensbury, that's how he wanted people to be, how Joshua was after the fight. Come out fighting and then afterward congratulate him. That was civilisation really on display. I wish I could spend a few weeks with him to help him get himself back together. To let him know how to be tall. I'm out here if Anthony Joshua wants to reach out. If he wants to come and see me, or talk to me. I'm always there for him. After I saw him lose, and how he reacted, I'm a bigger fan than I ever was before.