Anthony Joshua insisted yesterday that he was not in the United States "to take part, but to take over" as he towered six inches over Andy Ruiz Jnr, the Mexican-American against whom he defends his world heavyweight belts on Saturday night.
Joshua said he wanted "to make a statement" in the style of Deontay Wilder, the World Boxing Council champion, who continued his unbeaten reign in dramatic fashion last weekend when he knocked out Dominic Breazeale.
Nothing less than an emphatic knockout will suffice for Joshua at the Madison Square venue.
"I do want to have a great night. Even though Andy Ruiz is not Wilder or Tyson Fury, he is a fighter who will give me a great contest," said Joshua, undefeated in 22 contests and holder of the International Boxing Federation, World Boxing Association and World Boxing Organisation belts.
"As long as Ruiz puts up a good fight, it doesn't matter that he is a late replacement. It's all about the fight night. You could be the greatest fighter on earth, but if you go in there and don't perform then everyone will be booing. I'm looking forward to going in there and doing what I do best: putting my name alongside those great heavyweights. This will be a night to remember."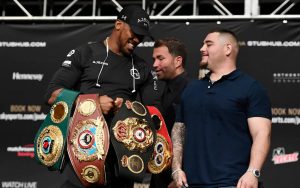 The 29-year-old's American debut comes six years into his professional career, after his rise to prominence with the super-heavyweight gold medal at the London 2012 Olympics.
"We've built ourselves to a position where we're able to fight at Madison Square Garden. It takes a long time, but we're here now. Now it's about defining fights going into the second phase of my career. Ruiz is the first step of coming to America, to US turf and to take over. I'm not here to take part, I'm here to take over. You've got to be thick skinned and tough-minded in boxing. It's a tough sport, an unforgiving one. I prepare well and I'm going to go out there and do my best."
Ruiz had a message of his own, all the way to President Donald Trump, as he seeks to become the first heavyweight of Mexican blood to hold the world heavyweight title.
"Hopefully the President comes down on June 1," said the 29-year-old, recalling that Trump had visited his home town of Imperial on the border with Mexico recently.
"Donald Trump went over to my hometown to talk about the border wall. It's hard for everybody in the world who is struggling, and there are people on the United States who are not letting Mexicans come over to the United States. We are part of the backbone of this country. It's hard for the Mexican people coming over here to make a living. This is where you make more money. As Mexicans we have a lot of family and kids to support. But, God willing I win this fight and I'll be here to help my Mexican people."
"And when I become the first Mexican heavyweight champion of the world, I'm going to be helping out my people. But you know what, if I win the world title, I'd rather go to the Mexico White House. I'd rather be over there then get an invite to Trump's White House."
Ruiz, though, intends to bring Mexico in his fighting style, too, intent on attacking the reigning champion. "It won't go the distance. I feel good, feel blessed with this opportunity. I'll go in there fast and throw combinations. As long as I stick to the game plan, we're here to shock the people. I feel there's a little pressure because I don't want to let my family down or my Mexican people down. I want to come out victorious. I'm going to die trying. I'm going to give it all I've got."
Ruiz, with 32 victories from 33 contests, added: "I have respect for him right now, but inside the ring it's a whole different ball game. I don't have respect for nobody. Outside of the ring, it's a whole different show."
Joshua added: "It is a big night, but I won't be overawed. I want to have a great night at Madison Square Garden and this is now all about legacy fights in my career."