Anthony Joshua remains the overwhelming favourite to retain his three world title belts against Andy Ruiz Jr at Madison Square Garden on Saturday, the unbeaten Briton predicting that he would triumph by seventh-round knockout against the late-replacement, Mexican-American underdog.
Certainly, the least the champion must produce on his United States debut is a dramatic ending. Without an emphatic finish, the 29-year-old's desire to capture the market here as a crossover sports star will have been severely damaged.
"I don't feel no pressure at all," insisted Joshua, who looked finely honed on the scales yesterday in contrast to the less aesthetically-pleasing physique of Ruiz.
The champion played down concerns about an inflamed right eyelid, a swelling under his left eye and a cut on his nose, which he said were the results of "hard sparring".
But, as Joshua has reiterated all this week, he underrates Ruiz at his peril. "If I go out there and knock out Ruiz, that's what I was meant to do anyway, but in no way am I underestimating him."
The fight itself could be intriguing in the early stages, with Joshua enjoying huge height and reach advantages, though Ruiz will alternate between body and head attacks, has a fast jab, and is likely to employ hooks, notably his left hook, to try to create what would be a huge upset.
"He can jab to my body, jab to the head," said Joshua, as he talked his way through how he has visualised the dance. "He'll throw a feint, a left hook, and probably try to land that. I'm going to be defending that.
"I won't be as cautious as I was with Alexander Povetkin [last September], because he was a counter puncher and I was wary of his traps. Ruiz throws punches in bunches, he doesn't counter punch. I'm looking forward to it, and I believe I'll stop him around round seven."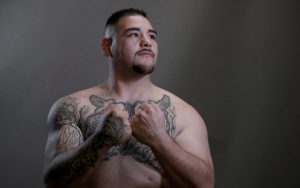 The weapon of choice may well be that brutal uppercut Joshua throws from the inside. The left hook will be the Mexican's most dangerous weapon. The challenger will look to stay small as a target, and implement his game plan.
"We've been working on everything he throws," Ruiz said. "That uppercut, the right hands – everything. As long as we stay small and throw the combinations, stick and move, I think it's going to be hard for him to get me with a clean shot. Everyone who fights AJ, they fight too far away. They give him that extra reach advantage. Not me.
"Hopefully he is overlooking me, thinking I'm a chubby little kid he'll knock out quick. I don't think he's fought anybody like me. I've been waiting my whole life. All fighters, real warriors, put their life in there. I have two friends that died from this boxing game. It kind of scares me, but I feel I was meant for it."
There is underlying despair, nonetheless, that the other heavyweight belt holder, Deontay Wilder, announced two days ago that he would be meeting Cuban Luis Ortiz in an autumn rematch, rather than signing up for a unification contest with Joshua which would create an undisputed champion in the blue riband division. That fight now looks almost certain to be at least 12 months away.
"I don't know what's happening. I feel the fans are being deprived of a great fight," said Joshua, with Eddie Hearn, his promoter, saying that "one solution may be to get the two men face to face in the same room, around a table with their teams".