Katie Taylor's failure at the Rio Olympics to land a second successive gold still stings, but she uses it to spur her on. When Saturday comes, the raging belle of the ring knows history is close at Madison Square Gardens, where she can become undisputed women's lightweight champion.
Beat WBC champion Delfine Persoon, and she will unify all four of the women's belts at 135lbs. One way or another, it will be a momentous night for women's boxing, and Ring Magazine, the Bible of Boxing, has created a belt for the winner.
Taylor, 32, fights on the undercard of Anthony Joshua's heavyweight title defence against Andy Ruiz Jr. Her Belgian opponent is no slouch, recording 43 victories and just one defeat, but it is Taylor who has done most to advance women's boxing since turning professional after that quarter-final defeat in Rio. It says everything about one of Ireland's most coveted sports stars – she also played football for her country – that she has turned down several sponsorship deals – "they have to fit right for me," she insists. Instead, on the arm of her tracksuit there is simply embossed: 'Psalm 18'.
Taylor told Telegraph Sport: "It's my favourite psalm. I read it before every one of my fights." And this is the biggest one of her career, greater than the Olympic gold medal final in London in 2012, or the five consecutive world championship titles amassed as an amateur phenomenon. And, while she now earns well, she is closing in on seven-digit purses.
The Psalm reads: "The Lord is my rock, my fortress and my deliverer; my God is my rock, in whom I take refuge. In my distress I called to the Lord; I cried to my God for help. From his temple he heard my voice; my cry came before him, into his ears."
Boxing's real-life 'Million Dollar Baby' has an appeal to fans few others possess, softly spoken out of the ring; a fearsome fighter in it, with blurring hand speed launching relentless attacks. I first visited her in Bray, Ireland, twelve years ago, when women's boxing was first announced as an Olympic sport, and she has not changed an iota.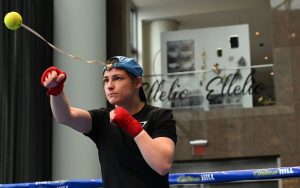 Promoter Eddie Hearn said: "Katie is my favourite boxer. She is interested in two things: boxing and religion. She lives her life as she does her talking in the ring, and is just brilliant. Katie won't do anything she doesn't want to do – ever. She's turned down sponsorship deals and she doesn't want to do too much media. Once her manager tells me 'No, that isn't going to work' she scares me that much that I'd never pester her. She's totally focused on what she wants to do. If it's not part of her plan, it's not happening. And she's already by far the highest-paid fighter in women's boxing history."
Taylor is raising the stakes for women boxers. In March, she added Brazilian Rose Volante's WBO title to the two world title belts she already held, but the payday her opponent received was life-changing.
Taylor explained: "I got a message from Rose Volante after the fight saying she was able to buy her mother a house in Brazil with the money she made from fighting me. That's incredible for me. She's set her parents up for life now through that fight. Amazing."
"To be in the position I am now and making this sort of life-changing money is incredible. When I first turned pro I didn't really know how this was going to go. I didn't know how people were going to take to women's boxing. I definitely feel lucky and blessed to be in this position."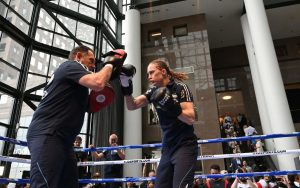 On million-dollar paydays, she said: "I'm not there yet but we're very close. We obviously deserve these kind of paydays as well. We women train just as hard and we sacrifice just as much.
"London 2012 helped massively. It was the first time in the history of boxing where the female boxers were actually turning over into the female game. The pro game, for the first time, has females with an amateur background because of the Olympic Games. The Olympics have really brought female boxing into peoples' worlds."
Her failure in Rio, where she was knocked out as reigning Olympic champion in the quarter-finals still burns inside her.
"What happened in Rio will always hurt. To lose to someone you should never have lost to will always eat away at you. I guess learning from those losses and winning world titles makes it easier. It's on the back of my mind every now and again but winning on Saturday will be the biggest night of my career. I feel like maybe I could finally move on if I win the fourth belt."
The Irish diaspora on America's east coast happily flock to witness her fights.
"Every time I've boxed in New York, it has been a big night so I'm used to fight week and the busy-ness of fight week. It definitely suits me more than it suits Delfine. I don't know if she will be overawed by the occasion – I don't really care to be honest. But this is the biggest night of my career, and the biggest night of her career too."