The American heavyweight Dominic Breazeale yesterday shrugged off world champion Deontay Wilder's disturbing comments this week that he wanted "to kill in the ring" and wanted "a body in a bag on his record". Heard it before, Breazeale, the world title challenger on Saturday night in New York, told a media scrum, believing the distasteful comments are like "a little dog barking behind a fence… building himself up" as he attempts to take the WBC title from his compatriot, who defends the belt for the ninth time at the Barclays Center.
Wilder has made such inglorious, crude statements in the past, not least last December before his battle in Los Angeles with Tyson Fury, which ended with a controversial drawn verdict on the judges' cards. The goal, Breazeale also told The Daily Telegraph in an exclusive interview heading into the weekend's showdown, is to head straight towards a rematch with Anthony Joshua, with Tyson Fury on his radar, should he triumph in Brooklyn on Saturday night. The bookies, though, have 6ft 7ins tall Breazeale – beaten by Joshua three years ago when he was stopped in the seventh round in the O2 Arena as the Briton defended – as an underdog. A big one.
There is a backdrop to these ugly comments from the champion. Wilder and Breazeale had an altercation in an hotel, post-fight, many moons ago, in Alabama. It involved their respective families, hands flying in the lobby, and bad blood has simmered ever since then.
"Wilder has been saying some crazy stuff — I don't think he means it," believes Breazeale, who has a record of 21 fights, 20 victories and eighteen knockouts, and is pains to point out that boxing, to him, is a sport, and not violence. He is happy for Wilder to vilify himself with his own leash. "I've been staying away from all that social media stuff. I don't see it like you are all seeing it. He's just building himself up, saying he wanted to kill me he wants a body on his record. It's like a little dog barking behind a fence. It will all change when the fence is taken away," said the 33-year-old who competed at the London 2012 Olympics for the USA, having been part of a centre which scoured the continent to find great American heavyweights, underwritten by the late billionaire businessman Michael King.
Breazeale is arguably the programme's most successful graduate. "When we get in that ring, man on man, we will square up. No one wants to see that fight go the distance. I guarantee the fight is not going to go the distance. This is my Super Bowl. I've done the play-offs, this is the Super Bowl moment for me."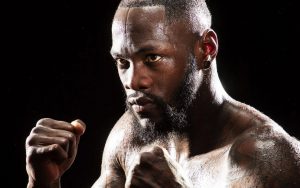 Breazeale is a very large man, and has power in his hands. He also showed in seven rounds against Joshua that he can absorb punishment. "Deontay Wilder, he's got trouble coming his way," the Californian told The Telegraph. "There's definitely some bad blood. I'm going to take it into my own hands with Wilder and legally put my hands on him in the ring. It's going to be an epic night. I'm excited for it. The emotions, the anger and all that aggression that's been festering for the last year and a half is what has helped me get up in the morning. Going into the fight though, you've got to leave all that emotion outside of the ring. It's got to be boxing IQ. It's got to be smart boxing. You've got to box your way to a world championship. I've done a great job of using it to fuel the fire for training purposes."
The American was defeated in Joshua's first defence of the IBF title. What did he learn from that contest with AJ?
"I learned Joshua is a great fighter. I learned I definitely want to get back in the ring with him. You learn a lot more from losses than wins. All my wins and KOs, I don't go back and watch them. But I've definitely watched the Joshua tape enough to where I can remember each shot. I made some mistakes. I was a young fighter then. Physically I was there, but mentally I was still trying to catch up. I learned going overseas and fighting for your first world title is not the best idea, but at the same time you've got to take advantage of those situations. A guy like Joshua helped boost my reputation in the heavyweight division. I've got guys fearing me and wanting to fight me."
There were tough lessons, but some good ones against Joshua. "In the boxing game you want to hit and not get hit. Ultimately in the heavyweight division when you get hit, it hurts every single time. I took a couple of shots, but landed some big uppercuts. I remember coming back to my corner at the end of one round and thinking "You know what, I've got this". I came back out and went through another storm. I thought he would break, but I came up short. It was three years ago now. I'm a different fighter and he's a different fighter. It's probably one of my big motivators for May 18th – if I get the WBC title, you better believe me and Joshua are getting it squared off again. We've got some unfinished business."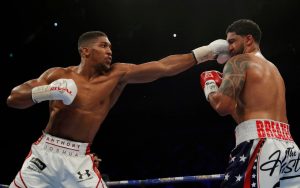 Breazeale had been due to fight Wilder before a certain Tyson Fury signed to fight him, and the WBC agreed. "I waited and waited, then the whole Tyson Fury thing happened. Then they had the draw. No way in hell that was a draw," Breazeale told The Telegraph. "We all know Fury won that fight. When they called it a draw, I just about passed out. I knew then I had to wait that much longer. I couldn't care if it was Wilder or Fury, but as soon as they called it a draw I thought it would be another year waiting. I was ready to start filling out applications because I would need a job before my next fight."
Claim the belt on Saturday night, and all roads lead to British fighters, Fury or 'AJ'. "I obviously want the Joshua fight if I have the WBC belt, to become the undisputed heavyweight champion with revenge over Joshua would feel great. I'm hoping he agrees to come to my turf."
And silencing Tyson Fury, who has called all the other heavyweights 'bums' … "I don't know if there's any silencing Tyson Fury. I think he silenced himself signing that Top Rank deal with ESPN," mused Breazeale. "You've got to understand when your opponents are with a certain promotion or network, you've got to work hand in hand. Who's he going to fight? Who is Fury going to fight now ? Never would I put any heavyweights down, but he'll be fighting lesser fighters. I'm going to get my WBC belt, and if he wants a shot, he's going to have to work damn hard to get it, even if he's calling himself the 'lineal champion'."
Breazeale screws his face up at hearing that Wilder is assessed as arguably the most dangerous puncher in the division. "It kind of puts me down a little bit when you say Wilder has the best power in the division. Yes, he's knocked some guys out. I've knocked some guys out. I've even knocked some guys out of the ring. I've knocked some guys asleep against the ropes. You don't hear me boasting about that. But watch what happens on Saturday night. Wilder will be asleep in there."