Billy Joe Saunders has put the annus horribilis of 2018 behind him, and is bidding become a two-division world champion when he faces Shefat Isufi for the vacant World Boxing Organisation super-middleweight title at Stevenage Football Club on Saturday night.
Stripped of his WBO middleweight title, given the severest of warnings by the British Boxing Board of Control and fined £100,000 for a series of ill-advised actions outside the ring, 29-year-old Saunders told The Telegraph he is "looking forward to regaining momentum" in the 10,000-seat open air stadium, situated a short walk from the travellers' site he grew up on in Hertfordshire.
"It's time now for really getting back to action and showing my best abilities," Saunders said. "I'm 30 this year and I need to make sure I kick on. I ain't got no time to mess around no more. It's now or never."
Saunders boasts sublime skills in the ring, but made headlines for all the wrong reasons in 2018 – the same type of headlines which have too often blighted what should have been a glistening career.
There was a tasteless video of him taunting a drug addict from his Rolls-Royce last October, which brought the fine from the British Boxing Board. Then there was the footage of him forcing a stranger to strip naked after pulling up alongside the man's car. Finally, the Massachusetts State Athletic Commission refused him a boxing licence following an unfortunate positive test for a banned substance.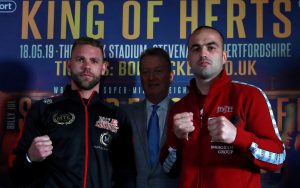 Saunders had taken a nasal decongestant containing oxilofrine, a substance that is not banned by UK Anti-Doping in out-of-competition tests, but illegal in the US. As a result, he lost out on a $2.3million (£1.7m) world title defence against Demetrius Andrade, and relinquished his belt.
Still undefeated in a nine-year, 27-fight career, Saunders must now deliver against the heavy-punching, aggressive Isufi, a division above the one he has operated in for a decade.
"I think you've got to take the positives from all of that and move forward," Saunders says. "2018 was far from good for me and I'm using that fuel for 2019, because I can't afford no more slip-ups.
"I just want to get in there and fight right. I'm ready to rock and roll. I have felt impatient, but I've had to learn self-control. I've now just got to get in there and get the win."
Saunders admits a move back down to middleweight "could still be there" for fights like Gennady Golovkin and Saul 'Canelo' Alvarez. "I can make [the] middleweight [limit of 160lbs] for the right camp and the right fight. It's just that I needed to move up to super middleweight to give myself some more options," he says.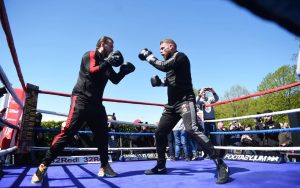 "They were very limited at 160lbs. The only appealing fight for me to take there was the Andrade fight, but the numbers didn't add up. It would have been a completely silly deal to take, considering the deal I was getting first time. But I do want fights like Canelo and Triple G.
"But I don't think forcing is going to work. I think I need to leave it to materialise itself. I don't feel forcing these fights works. You've got to be ready at all times. If they want to spring it on me, I'll be ready. I'm not going to go chasing these fights. I'll hopefully become world champion and let the people come to me."
Saunders' theory is that – after a virtuoso performance against David Lemieux in Canada in December 2017, in which he was spectacular – other fighters are avoiding him.
For this fight he is back with trainer Ben Davison, the 26-year-old virtuoso who is also currently overseeing heavyweight Tyson Fury's return on June 15 in Las Vegas.
Their reunion – along with the presence of Fury – has made camp both more entertaining and more inspiring. Saunders boxed with Davison when they were both amateurs, and was the one who introduced him to the 'Gypsy King' in Marbella two years ago.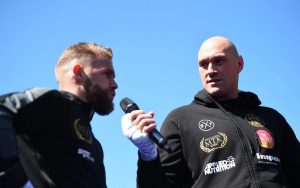 The rest is boxing folklore: Davison helped Fury shed 140lbs, overcome depression and return to the ring last December for the stunning WBC heavyweight title tie with Deontay Wilder in Los Angeles.
Saunders has enjoyed the company at camp. "It's been good. Me and Tyson push each other in the gym," he says. "I've worked with him a long time and I feel the training is working. I'm very happy doing what I'm doing and I can't wait to put it on display. We are a happy three. We play off each other. Ben's still learning, but he's got a lot of experience for his age. He's a good trainer. We've got a good working relationship. He's very, very dedicated."
He and Fury will be ringside, supporting each other for their respective fights. "Tyson's coming to my fight and I'll be going out there to Vegas. I'll have a week or two and I will be straight out there to support Tyson," Saunders says.
Vegas remains an ambition for Saunders, too. "100 per cent, that's where we're all training to get to," he says. "I feel it will happen. I just need to keep working hard. Tyson and me on the same card would be a very, very good thing."
Saunders knows he must play matador against the bull-like style of Isufi, who will hunt him down. "I want to go out there and put a show on," he explains. "As long as I win, I become a world champion. That's the main thing."
That and staying out of trouble – both inside and outside the ring.