Michael Jerome Reece-Page has been fighting men since he was kid of 13. He grew up in north west London, and loved freestyle kickboxing and street dance. He was one of ten kids, several of them champions. He was the senior national champion in the sport as a child, in effect. A phenom. When he explodes in mixed martial arts, it's there, in his expression, fighting style, and in his fighting persona. He has become not just Page, but 'Venom' Page. A series of highlight reel knockouts and finishes that have led to this moment. His proving time.
On Saturday night, Page fights a Brazilian by the name of Douglas Lima in a mixed martial arts fight here in the windy city, with the opportunity to elevate himself into an elite group of exponents of this fighting art, which can move literally anywhere from landing punches, elbows, knees and kicks, to ground grappling as complex as the footwork of the most fleet-footed boxers and karate fighters.
It is the first of two semi-finals of the Bellator fight league tournament bringing life-changing greenbacks and serious kudos.
Page is 14-0 in his MMA career. He has dabbled in boxing with former world heavyweight champion David Haye as his promoter. He knocked out two opponents as if it were fun at a fairground. But now the fun stops. Saturday night is a legitimate challenge because of Lima's ability to take the fight anywhere.
Page likes to stand. Lima, a former welterweight champion for Bellator, respects the Briton, but is hellbent on regaining his belt, as well as getting to the final where the champion will receive $1million from Curtis James Jackson III, the artist 50 Cent.
Even more than that, he is as happy on the ground, fighting, as he is standing.
Page has a background steeped in martial arts. His late father Curtis Page Sr. and mother Pauline Reece are Lau Gar Kung Fu practitioners. One of ten children, one of Page's sisters and three of his brothers are kickboxing champions. A fighting family, with an ethos in respect and discipline from martial arts, the Briton has exuded a great calmness this week – in spite of being a long underdog. But he does carry the kind of skills that can end a fight in an instant, with his hands or feet, or knees.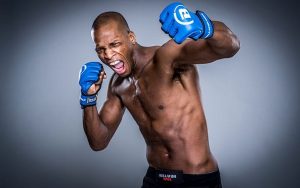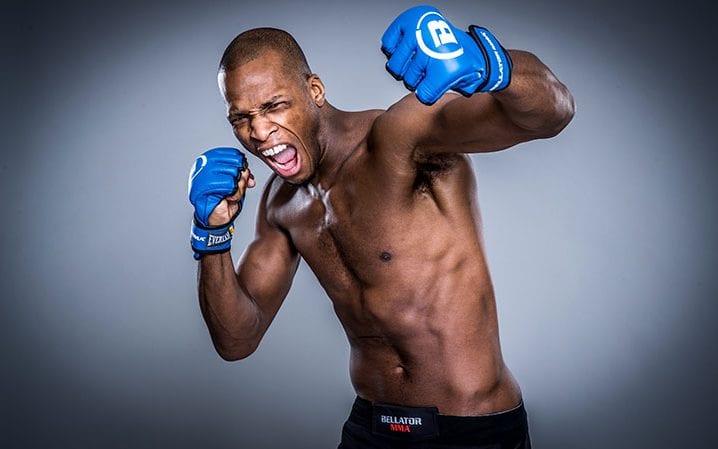 Londoner Page is proud of his past. "I was from the Paddington area and was born at St Mary's Hospital, but raised on the Edgeware Road side," explained Page, 32. There were so many sports which might have drawn Page's extraordinary athleticism. "I played football and was scouted by Fulham and Queens Park Rangers. I played basketball and got offered a scholarship to play in America. I was skiing and had my eyes on the Olympics. My dad wanted to train me to do slalom. There are so many sports I've done. I used to do street dancing as well."
Page has been with Bellator for some years with the fight league's president Scott Coker having had grand designs for him. This is it now, a moment to deliver his magic. Page's style is what draws attention. Think Naseem Hamed, Roy Jones Jr in boxing. Anderson Silva in MMA. "What I have come from is a form of freestyle kickboxing. There are kids from the ages of five and six fighting the same way. I do add my own personality to it, but it is an established style," explained Page, a 6ft 3ins tall welterweight.
"Most of my influences come from guys in kickboxing. My mum used to fight herself. My dad was a major influence. He was my coach, and I used to go to competitions and watch him fight. He fought so many names. That's all helped me become who I am."
Unorthodox it may look, but there is clean method behind it. "You get a lot of people telling you to fight with your hands up, and not down, because they think you'll get caught, but my answer to them is always the same: guys who have their guards up get knocked out. They get hit a lot. There's no guarantee that me getting my hands up is going to make it any safer. I understand distance and movement more than a lot of the people who depend on their guard. If I needed to, I could put my hands up and protect myself. Desperate times lead to desperate measures. But I feel my style is safer."
Crucially, added Page: "I've spent years trying to understand the space between opponents. That's what I'm continuing to do."
Coverage is growing, but Page laments the fact that MMA fighters do not receive the plaudits that stars in individual sports – like Andy Murray in tennis, and Lewis Hamilton in Formula One – do receive on a daily basis in the UK. That is changing, though, with coverage for Bellator on Channel 5, and Sky Sports in the UK.
Page's fight with Lima – scheduled for 5 five-minute rounds – will be shown live on Sunday morning around 2am on Sky Sports Main Event. "It's been painful for a long time," Page explained. "But we all see it changing. More people noticed me from the David Haye promoted boxing fight I had than MMA. It shouldn't be that way. But, I'm also here to hopefully change that. The timing is definitely now. I'm still comfortable in my career and where I'm going. I've still got time to be involved and open it up for the next generation. The next generation deserve to be recognised."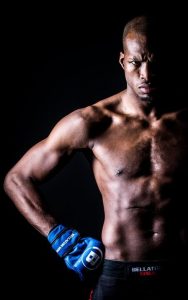 But there is a patience about Page. Rather like the way he fights: waiting, anticipating an opening to finish his foes.
"Everything takes time. Changing the world's view on mixed martial arts has been tainted for a very long time, because of how it looks. It's just perception, of course. But with more creative styles like myself, if makes it easier for the common folk, people who are not fans of the sport, to get in tune."
"I've heard it many times before: people have told their mum, their auntie, to watch me and they've enjoyed it. Eventually they become fans of the sport because they want to watch me. In order to watch me they've maybe got to watch an hour's worth of MMA. Then they start to see other guys and get into it and like other fighters. Everything is a process. It takes time. Eventually we will change everyone's mind. People will realise how much time we put in as athletes."
The figures are showing exponential growth for MMA in the UK. It is beginning to resonate. "I'm feeling the excitement is growing in the UK. I feel the growth will take a little while, a little time for people to jump on the wave. But we have the building blocks. They say about advertising, you need to hear it five times before you get involved. It's definitely growing — there'll be an explosion at some point."
Should Page win, the winner out of incumbent champion Rory MacDonald and Neiman Gracie – who meet on June 14 at the hollowed fight venue Madison Square Garden in New York – awaits. After his draw a fortnight ago in San Jose, MacDonald questioned his desire "to hurt" opponents any more, based on his religious beliefs. Page in the final would be some moment for the sport in the UK.
Page questioned whether MacDonald should seriously consider his future, though he would like nothing more than to duke it out with the Canadian. "In all honesty, I don't think he should (fight). It makes me question what he is doing in his gym. In my gym I have to hit a lot of people. You should have figured this out during your sparring. You should feel yourself hesitating. It should already be present. Not after the fight, a five-round back and forward , controversial fight. It shouldn't be there."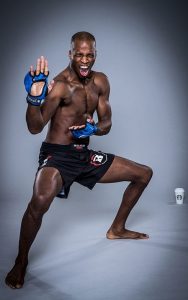 "Let's say he had the exact same experience against someone like Douglas Lima. We already saw how that fight went when he was ready to be the person he was suppose to be. He's lucky in the style he had against Jon Fitch while he was questioning himself and having those kind of thoughts. If it was somebody else, that would have been detrimental for him. For me, if you're not in the right frame of mind, you need to not do it."
But who would Page ideally wish to face in the final? "It's weird. I don't care who wins, but I would prefer Rory would win. He said before the tournament he wanted to fight someone different in myself. I feel the same. His is more curiosity. He wants to see how I would handle him. My one is more his accolades and his name, I want that in my pocket to say I beat him."
"I feel if Neiman Gracie comes through and I beat Neiman, people will still want me to fight Rory anyway. So I might as well get this fight over. I guaranteed you if it happened that way, my next fight would be Rory MacDonald, so why not get it over and done with in this tournament?"
So – to Lima. Page is the underdog in many, if not most people's eyes. Knowledgable analysts see Lima being patient too, ripping out lower leg kicks, slowing the Briton, and then taking him to the ground and pounding him out into a technical stoppage.
Page bats that off. "As much as his style makes me the underdog, what Lima does is also predictable. His style has been there for many years and it works. His credibility and what he's achieved, it definitely works. It's something I'm familiar with, it's something I've sparred against time and time again. He's just a better quality fighter. I've got to go out there and do what I know I can do."
"I think it will get there, not necessarily in my time. But I'm happy to be that figure head that keeps pushing it in the direction of that. Regardless if it's me or not, I know there's going to be other up and coming youngsters who are watching me who will deserve that kind of coverage by the time they reach my position. They're going to deserve it and I'm going to be a front runner for them. I will keep knocking them down and being as creative as possible to draw more eyes and legitimise the sport as much as possible."
"It's a massive fight but I'm excited for the challenge. It shows growth in your career and I'm excited for that big jump again."
Even if he wins, knocks Lima out, Page is prepped to be doubted again, quizzed over the fact it was a fluke. "I know I'll get the same, so it's hard to care about those kind of comments. I understand what they're saying but it's weird. If I was a conventional type of fighter and fought the extract same fighters I've had, had a few knockouts but they were back and forward fights – people would already have classed me as legitimate. But because of how I fight and how I make people look, anything that is not the norm, people want to question first before they accept it. My style is what puts people in that state of mind."
So – the bell rings on Saturday night in the Rosemont Arena, and what does Page see as the silhouettes move ? "I think two amazing kickboxers go to war. It's not going to be like the last fight. Because I feel Paul wasn't really being honest with him himself. He claimed to be a knockout artist and within ten seconds of standing in front of me I turned him into something he hasn't done ever in his career. I turned him into a wrestler. With Douglas Lima, I feel he is a lot more proud, enough to give it a chance. "
"Let me see if I can beat him with my style. I think he'll be a lot more proud and confident in his abilities. So you're going to see two kickboxers go to war, but two different styles. It's literally going to be who's style is more effective."
"For me, keeping it standing is always going to be my best option because for me, I've been a stand-up fighter for 25 years old. It's horrible to say that now! Me neglecting that would be stupid. But at the same time I've grown as a mixed martial artist. Regardless of everybody's thoughts on my abilities, I have to be a mixed martial artist."
But surely Lima is his toughest challenge ? "I'll let you know after the fight. On paper, he definitely is. I could go in there to make people look a lot worse than they actually are, I have that kind of magic to make people look ordinary. If I can do what I know I can do, it might not be and that would be a very good day."