In a strong weekend of fight sports action around the globe, Bellator Birmingham may have stolen the limelight with the most dramatic package, which included four dramatic, diverse, first round finishes on its quartet of main card contests.
It was certainly the kind of card the fight league is aiming to produce with its European series on free-to-air, network Channel 5 television.
This one did not disappoint. Brent Primus, the former Bellator lightweight champion, admitted his "healthy obsession" for wanting a trilogy fight with Michael Chandler – the incumbent king – before and after stopping Briton Tim Wilde with a rare gogoplata submission at the Resorts World Arena.
Primus's triumph raised his record to 9-1, with his only defeat being at the hands of Chandler in a punishing 5-round contest in Hawaii in December.
Primus took the title from Chandler at Madison Square Garden in the summer of 2017.
Chandler fights Patricio Pitbull in a defence of the 155lbs crown in Chicago this coming weekend. It remains to be seen if the pair will have their trilogy next, but Primus said that "all I do is think of kicking his a–, I want that third fight so badly."
Primus even told me that if Chandler loses in Chicago to Pitbull, he would "take a fight with Chandler before the belt."
For Primus, "Chandler is the belt".  Dangerous attitude, but the American, from Oregon, is hellbent on claiming 2-1 over his bitter rival.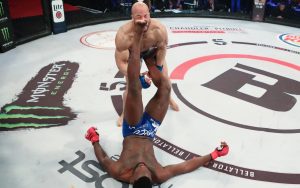 Local fighter Fabian Edwards, the 26-year-old middleweight, transformed his contest from being on his back on the canvas in the early stages of his fight with powerful Portuguese Falco Neto, who was pounding away until an up kick to the chin stunned his rival.
Edwards regained his feel and knocked Neto into the future.
Edwards retains his unbeaten 7-0, and is expected to step up in class, calling to be on the tentpole June 22 Bellator card in London.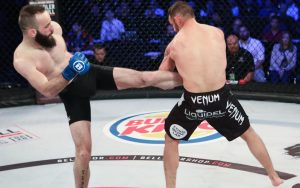 It was a serious coming out party, too, for Pedro Carvalho – a Portuguese fighter who fights out of SBG in Dublin, under John Kavanagh, Conor McGregor's long-time head coach.
It was a performance that will almost certainly earn him a spot in the the Bellator 16-man tournament, expected to be announced with names by Bellator president Scott Coker imminently.
The first eight fights are expected to take place on the same card in September, creating eight quarter-finalist. Carvalho certainly has the flash and the finesse.
Unbeaten in five straight and with three wins from three since debuting for Bellator at Bellator 200, Carvalho continued his run of form with a very impressive stoppage of Derek Campos – a long-time veteran of the promotion.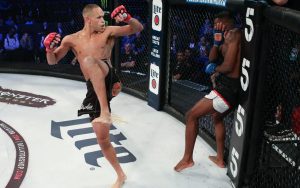 The 'Human Highlight Reel' Raymond Daniels, in his second MMA fight yet an elite kick boxer with a replete resume at the age of 39, finished his contest with a staggering 720 spin and a long straight right hand. In other words, he lived up to his sobriquet once again.
It may have not been as devastating had he been wearing the gloves of a kick boxer, instead of the four-ouncers. But Walker Barros, already downed once by a long kick to the midriff, was out on the canvas and not returning as 'the Nureyev of fight sports' banjoed his opponent, then stepped over his foe with his hand raised, before bowing to the crowd at four corners.
It was party time – once more – for the showman extraordinaire. It may well rank as one of the greatest knockouts MMA has ever seen.
Elsewhere, bantamweight Brian Moore was dominant over Sweden's Son Le Binh, featherweight  Dominique Wooding put himself in the frame for the featherweight tourney with a KO of David Khalsa – as did former aborted TUF finalist Saul Rodgers – and welterweight Akonne Wanliss claimed a second round stoppage victory over top Irish prospect Sam Slater.
The action for British interest moves to Chicago this weekend when Michael Venom Page faces Douglas Lima in the quarter final of the Bellator welterweight grand prix.
This Article First Appeared On The Telegraph