Middleweight world champion Saul 'Canelo' Alvarez is stretching, skipping, sweating… this is only training camp, but no one can take their eyes off him.
'Canelo' – meaning Cinnamon in Spanish, a nickname given to him by dint of his red hair – is deep into the final hours of his preparations in San Diego. He will soon head to Las Vegas, where his goal is to add the IBF belt to his WBA and WBC titles by beating American Danny Jacobs on Saturday night.
It is expected to be a toe-to-toe battle between two very physical, aggressive fighters. Both fast, explosive, powerful. Jacobs has become a folkloric figure in boxing not just for his victories in the ring, but outside it too.
His biggest fight, indeed, was fought in the hospital. Nicknamed the 'Miracle Man', Jacobs' career was almost cut short in 2011 due to osteosarcoma, a rare form of bone cancer. He went on to make a full recovery after spending 19 months away from the ring.
That virulence sees Jacobs, from Brooklyn, as a potential banana skin for Canelo in the eyes of many fight aficionados. It has meant the Mexican's preparations have been tougher than ever. Sparring has been more vicious, more intense.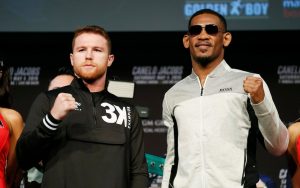 Canelo, now 28 years old, already has 54 fights under his world championship belts, having started his professional career as the youngest of seven brothers at the age of 15. His only defeat was to Floyd Mayweather, six years ago – though many believe his tie with Gennady Golovkin in Las Vegas in 2017 should have been a loss. That is boxing for you.
Nonetheless, he is a phenom in the sport. Two failed drugs tests for clenbuterol in February last year will always cast a shadow over him – his team have insisted it was down to tainted meat. Whatever the truth, this is a burden he must carry together with his triumphs in the ring.
Today we are simply here to observe him, to see the regime he puts himself through. This will be his second bout in a record 11-fight, $365million-deal with digital broadcasters DAZN in the USA, and an estimated 35million Mexican fans will bring their lives to a halt to watch Canelo box live. He is the nation's biggest star. Imagine a combination of Anthony Joshua, Harry Kane and Andy Murray. Canelo crosses all seasons. Not given to talking a great deal, but deeply beloved. A warrior inside the ring, quiet outside it.
In an exclusive interview from inside his training camp, Canelo tells me he has no nerves, no fear ahead of the fight. "I don't know what fear is. It's just excitement. I don't know that feeling," he explains in Spanish.
"I like boxing. I respect boxing. Boxing is my life. I keep training. I'm still learning. I like it. I respect my team and they say we need to train, so we train. That's why I'm here in this position."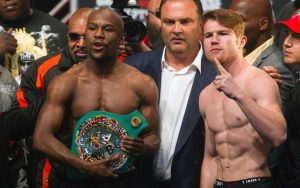 In slow English, he reads the mantra tattooed on his back. "Destiny… It's not a matter of chance. It's a matter of choice. Life is hard but never give up. Keep on fighting and always believe in yourself to achieve your dreams." He then repeats it in Spanish.
Maverick Carter is here too, presenting Canelo with a pair of trainers on behalf of LeBron James. Carter has been making a documentary on Canelo and Jacobs for 40 days, which will also air on DAZN. He marvels at Canelo: "The truth is fighters have amazing stories. The beauty of being a fighter is you're an individual competing for yourself, you're not part of a team. So you're free to tell your story, your solo story," he says.
"Canelo and Jacobs have amazing stories. Canelo's is being such a young fighter and having so many amazing fights under his belt. You actually forget how young he is since he's been in so many big fights.
"Mayweather is one of the greatest boxers to ever live but Canelo wasn't ready. Mayweather was too good, too smart and his counter-punching was too good. Canelo was aggressive and young and throwing heavy stuff. It was bull and matador and the matador hit back.
"Jacobs of course, has come back from cancer, so one thing you know is he has an amazing story. The beautiful thing is these men are more than boxers. They're family men, they're disciplined and they care about their sport."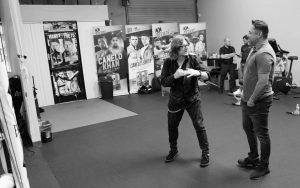 The legendary Oscar De La Hoya, a boxing star who crossed into the mainstream for Americans, Mexicans and Mexican-Americans, was also in attendance as Canelo put the finishing touches on his training.
"Every athlete cuts his own path. He has his own destiny," De La Hoya tells me. "There aren't a lot of similarities [between me and Canelo], for instance his first world title fight, he'd had 40 fights. I believe I had my first title shot 10 fights in. It's totally different. Canelo's career has had a different path than anybody else's. He didn't really have an extensive amateur career. He was pro at 15."
But the admiration is clear from the boxer-turned-promoter. "The discipline he has is unreal. With me, it would bounce on me and absorb on me, I fed off it. He sees it from a distance, he enjoys it, but it's different. He reminds me of Julio Cesar Chavez. He was adored by millions and was the king of Mexico. It didn't faze him. But as he continues to win fight and speak more English, the global fan base will connect."
They will also connect if he has his hands raised in Vegas, where he is a strong favourite. To look inside his camp was to see a young master at work, not yet fulfilled on his journey towards boxing greatness, and legendary status for a country which adores its fighters.