Heavyweight champion Anthony Joshua has spoken in the strongest possible terms calling for "lifetime bans" for the most serious performance enhancing drugs in the wake of nixed opponent Jarrell Miller testing positive for EPO and Human Growth Hormone last week.
Miller, the American heavyweight, has been removed as challenger from the US debut of the British heavyweight at Madison Square Garden on June 1, and was officially replaced by Andy Ruiz on Wednesday.
Miller has been banned by the World Boxing Association for six months. "It was shocking when it came out. I had no idea he [Miller] was on PEDs because when I reflect on what I do, I assume everyone else is like that, based on hard work because of what I base myself off," explained Joshua at the English Institute of Sport, his training base in Sheffield.
"We heard the WBA sanctioning body gave Miller [a] six months [ban]. I would have given him something different. It should be like a menu. I don't know how the decision is made but it would be better to know if whatever someone was on, that it is a lifetime ban. So before it even gets announced, you know he's f—-, it's a big mistake. It would put more fear into fighters as well."
Joshua's analogy was simple: "You carry a weapon that's one thing. You use a weapon that's another. You use one drug it's one thing, another is another situation. Now, the next person who uses human growth hormone thinks six month ban."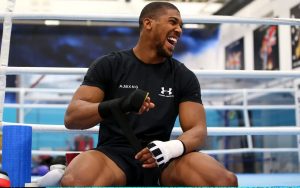 "I haven't fought in nine months. I could have taken human growth hormone after fighting Alexander Povetkin, got caught, taken six months out and still fight in June. It doesn't put fear into fighters. So maybe they should start regulating so if this is what happens this is exactly what you get. So you know not to take the risk, it's a lifetime ban or whatever.
"Miller was on the 'proper' stuff. Human growth hormone," added Joshua. "EPO, more red blood cells. More everything. I just know he should be looked at as a serious case. Imagine I fight him and it only gets found out after. He might have taken something out of me. He might have been relentless. That's why we pay to get proper testing."
"These are top guys. How are they getting to the top, that's what you question. I find it f—— hard. Imagine me with a needle in my a— every now and then. I would be flying."
"When you look down the list at everyone who has had it, how have they got to the top? It's out of control. But it's not taken so seriously by those in charge. Like racism in football. That's happening but not taken so seriously. Money is god.
"Miller? Ban him for life? Hang on a minute, he can earn X amount of money so let's give him a six-month ban. Maybe it will take something serious to happen. I don't know about a death but something serious."
Ironically, Miller had insinuated that Joshua was a cheat in the lead-in to their world title contest.
"They always say that stuff," was the champion's response. "They used to say it about [Wladimir] Klitschko. If you are signed up to WADA and UKAD and getting tested vigorously – I get tested about 16 times a year, maybe more. I've been on it [testing] since 2010, definitely during the Olympic qualification period with GB when they started testing me."
Irritating it may be, yet Joshua is thankful of the testing. "But with bothering me, with testers coming at night, or in the morning, it pays off. They've been doing it for all my opponents. We invest but everyone has been clean till now. It can be annoying [testing] but now it's happened and paid off and it's 'thank God they were so consistent doing it'."
Ruiz, Joshua's replacement opponent for his US debut in New York, called the Briton "a big robot" whom he would outgun with "speed and movement".
Joshua's response was deadpan. "Ruiz works hard, he's dedicated, he's had 30-odd fights and this is his chance to prove to the world he's a force to be reckoned with. He may not look like the man with the six-pack, but that doesn't matter: he has heart."
This Article First Appeared On The Telegraph