There are few, if any, fighters capable of outdoing Chael Sonnen when it comes to trash-talking, promoting a contest or egging on a rival. That's a fact. And few rivals of Lyoto Machida can out mobilise the brilliant Brazilian in the fighting arena. Fitting, then, that two modern legends of the sport will duke it out at the iconic Madison Square Garden, New York, at Bellator 222 on Frday, June 14.
Bellator president Scott Coker announced the match-up this week and invited to a Big Apple news conference Conor McGregor's team-mate Dillon Danis, Neiman Gracie – set to ight the winner of Rory MacDonald and Jon Fitch (April 27 San Jose), meaning the welterweight title will be on the line – and popular women's fight figure Heather Hardy who will all feature on the card.
The event will be shown on Sky Sports in the UK, live, and on DAZN in the USA.
Wade Davis, the Executive Vice President & Chief Financial Officer at Viacom, which owns the Bellator fight league, spoke of the organisation's burgeoning and ambitious years ahead,
"We're less than a year into this partnership (with DAZN) and it's already proven to be a big difference maker for VIACOM and for Bellator," explained Davis. "With the power of DAZN and Viacom's Paramount Network, which also airs Bellator, Bellator is now in over 160 countries and available to over a billion people and continuing to grow. We're bringing the best of MMA to fans across viewing platforms from television to streaming and at the same time we're continuing to sell out venues worldwide.
Of course none of this would be possible without the great leadership of my friend Scott Coker. Under Scott, we've quickly turned Bellator into a truly global destination with the most exciting live entertainment in combat sports."
Coker, meanwhile, the Bellator MMA President, insists it is a twelve month period in which the fight league has "ticked off a lot of boxes".
"It's been a very good year for Bellator. We crowned a heavyweight champion in January, Mr. Ryan Bader, as he is now a two-division champion. We have a couple of really good fights that we're going to put him in this year, so looking forward to that. We also saw the continuation of the welterweight tournament, which we have Neiman Gracie here to answer some questions about his potential opponent. That tournament will finish hopefully in September, in a fight that 50 Cent [Curtis James Jackson III, the entertainment artist] will come out and award one million dollars in prize money to the winner. And later this year, is the 16-man featherweight tournament, which will begin sometime in the fall, possibly in October."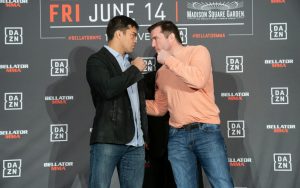 "Heading back to Madison Square Garden on June 14. The last time we were there, we saw Chael settle his grudge match against Wanderlei Silva, we saw Matt Mitrione knock out Fedor [Emelianenko] in one of the craziest dual-knockouts I've ever seen in my 34 years of the fight business. Heather Hardy and Neiman Gracie both celebrated victories in front of their hometown crowds."
Coker added that Bellator "would love to come once every year, or at least once every 18 months" to New York and The Garden. "It really is based on us putting the big fights together. This year, compared to last year, we went from 22 events to 30 events around the world and so we want to make sure that we bring a quality event to New York City. We have a couple of additional fights that we are going to announce at some point next week maybe and they are also going to be some amazing matchups."
Machida revealed that he had targeted Sonnen win signing for Bellator. "This is a fight that I really wanted because it was supposed to happen back in the day and there was a lot of buzz surrounding it, but it never happened. When this fight was offered to me by Bellator I wanted it and I took it. Chael is a tough opponent and to me he is a legend in the sport as well, I have a lot of respect for him and so on the day of the fight I can show my respect by doing the best I can and bring home the victory.
He added: "Chael is so smart, which is why he gives me so many compliments. It is a part of his strategy. He can make me full of myself and I can relax too much so that he can take advantage of everything. Chael is one of the toughest opponents I'm going to face and he is a legend on top of that."
Machida added that he feels rejuvenated after leaving the UFC after a long period and is aiming to challenge for belts in two weight divisions in Bellator. He has already beaten both champions, Bader and Gegard Mousasi, of course.
"When I moved to Bellator, everything seemed different to me. It feels like a fresh start and a chance to start my career again. I have new motivation, different opponents and a different approach here. I want to be one of the best in the sport and in order to do that, I have to be very motivated and ready for any challenge."
"Of course I would like to have the chance in both divisions. I already fought Ryan Bader and Gegard Mousasi and I won those fights, so for me it's just a matter of time."
Sonnen, meanwhile, would not be outdone. "I wouldn't manufacture any conflict with Machida. I've known him for a number of years and he is very gentleman to me, but he does have a history with my teammates. There's Dan Henderson, he knocked out Randy Couture's tooth, which maybe that doesn't upset Randy but that upsets me and it's upset me for a number of years. I always had my eye on Machida, but we were separated by organizations and we were separated by weight classes."
Sonnen dies admit, however, that Machida brags enigmatic qualities and elusiveness. "It drives me nuts. I've seen all of his fights. Nobody wants to fight wrestlers, you just fight them when you have to. But Lyoto is the wrestler killer, from Henderson and Couture to Mark Munoz to Rashad Evans to Ryan Bader. I've watched him 20 times and I've stayed up until three in the morning watching him and I cannot figure out why nobody can close that distance and get their hands on him. He moves constantly. You step in and he steps back. I watched Jon Jones fail for nine minutes with him. I don't have anyone in the practice room that moves like Machida, so you sort of only have one shot at it and it's a very different style.
Sonnen added: "There is a stress that comes with having a fight booked, regardless of the opponent, but Machida is a very different style and when some of my teammates fought him I made that same excuse for them. I told them that they have one crack at it and there is nobody in the gym that trains like he fights. You have one crack to figure out this weird puzzle that is Machida's style and it happens to be live on television. I really respect his career, and I know that I'm building him up a little bit here, but he's I guy I watched and just thought he's done a lot for the genesis of martial arts, which is karate. Nobody put him on the map, except for Machida."
There is no letting up inside him of his desire to train and fight and her deeply involved in the sport. "I love this sport. It's the only game that I know how to play and I'm a huge fan of the sport. It's a real honor to get these questions and be up here with Machida, but I'm sitting two doors down from a guy that's almost ruined the entire grand prix tournament, Neiman Gracie. Three years ago nobody knew if Neiman was his first name or last name. The media were calling Ed Ruth a dark horse, but the guys in the locker room were calling Ed Ruth the favorite. We all thought this was going to be his breakthrough moment and Neiman out-struck him, he out-grappled him, but to me as a fan he out-conditioned him and he simply wanted it more. Now he's fighting for a world championship and is a few wins away from one million dollars. I think that's something really special. That also motivates me. I'm learning new stuff all the time. The styles are changing and fighters are evolving…I don't want to miss the boat and I don't want to be left behind."
Danis, meanwhile, with just a smatter of professional experience, yet with a high profile and an ability to razz and raw on social media. explained his feeling about being on the card. "It's very humbling. I was telling Chael the other day that growing up I used to watch him and Machida and living a block away from Madison Square Garden is an amazing feeling. I put myself in this position and everyone likes to hate on me, but it's not mentally easy to do the things I do. So I feel good and I deserve to be here."
Danis added: "For me right now, there really isn't anyone popular enough at my division for me to go at. Most of them come at me and I don't even acknowledge it. So, it's a waste of time when one person is so low and another is so high. Ben Askren has wanted to do something for a while, but it just happens and it's not like I do it out of design."
***
Elsewhere, this weekend UFC 236 sees two fan friendly fights when Israel Adesanya and Kelvin Gastelum go head to head at middleweight for the interim crown and Max Holloway will compete at 155 pounds for the first time since joining the UFC when he battles Dustin Poirier for the interim UFC lightweight title at State Farm Arena in Atlanta.
Holloway, with a 13-fight win streak and the current featherweight champion, is now No 4 on the UFC's pound for pound rankings.
The 27-year-old Hawaiian won and united the UFC featherweight title with a memorable third-round victory over Jose Aldo at UFC 212 and cemented his position atop the division with a third-round TKO win in their rematch at UFC 218. He then stopped Brian Ortega in the fourth round in his latest title defence at UFC 231.
Poirier enters the Octagon as the underdog despite recording dominant performances in his past three outings, halting Eddie Alvarez by TKO at UFC on Fox 30 in two rounds.
The interim UFC middleweight title will be on the line in Saturday's co-main event as Adesanya takes on Gastelum as a -175 betting favourite. Adesanya has shot to No. 5 on the UFC middleweight rankings with a perfect 15-0 pro MMA record including wins in five straight UFC contests. Gastelum is undefeated in two outings following a split decision win over Ronaldo Souza at UFC 224. My picks are Holloway by decision and Gastelum by decision, but the middleweight fight could end spectacularly by the striking of Adesanya.