The risk of boxing being expelled from next year's Olympic Games in Tokyo rose last night following further allegations around fixing at the 2016 Rio Games.
A number of judging decisions in Rio caused huge controversy and 36 officials and referees were suspended when concerns were raised that decisions at some of the fights had been rigged, causing a huge rift between the International Olympic Committee and amateur boxing's governing body, the International Boxing Association (AIBA), which has been reeling from one crisis to another.
Yesterday, French newspaper Le Monde claimed it had seen details of an internal investigation by AIBA, which raised serious questions about the judging at Rio.
Le Monde claims that an email from AIBA's then-president Wu Ching-Kuo in Novemebr 2016 claimed the body suspected executive director Karim Bouzidi of acting with another senior official to influence judges, in particular those featuring boxers from France and Uzbekistan.
Bouzidi was removed from his role three days before the end of the Games because he was accused of favouring fighters from certain countries. Bouzidi was yesterday unavailable for comment.
France won six boxing medals, including golds for super heavyweight Tony Yoka and his now wife Estelle Mossely.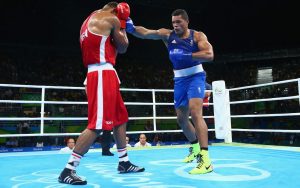 Kevinn Rabaud, a former coach of the French team, insisted there had been no wrongdoing.
"We always played by the rules," he said. "In Rio, we got results thanks to our reputation and our previous results."
AIBA was presented last month by the IOC with a list of 41 questions over its governance, financial management and the integrity of its competitions, via audit firm Deloitte, who will then report back to the Olympic body. The IOC will decide in June on whether boxing should continue at the Tokyo Games next year.
Last Friday, Uzbek businessman Gafur Rakhimov stepped down as AIBA president after he was accused of links to organised crime and was described by the US Treasury Department as "one of Uzbekistan's leading criminals". He secured the presidency back in November despite repeated warnings from the IOC against his election. However, Rakhimov insisted the allegations against him were "politically motivated lies".
Northern Ireland's Michael Conlan, who has always claimed he was cheated out of a gold medal challenge at Rio, told The Daily Telegraph last night: "It is the most heart-breaking thing I have experienced in my sports career. I had the dream of winning Olympic gold from the days of being a little boy. I won the bronze medal in London in 2012, and I was 100 per cent convinced I would win the gold medal in Rio. It was heart-wrenching.
"I would hate to see boxing removed from the Olympics. It is the biggest thing there is for the amateur boxers of the world, even more than winning the world amateur title."