Lennox Lewis, the former undisputed world heavyweight champion, believes the three current undefeated heavyweights in Tyson Fury, Deontay Wilder and Anthony Joshua could have matched the previous era of Mike Tyson Evander Holyfield and himself.
But Lewis finds it difficult to pick an outright winner in the WBC heavyweight title fight between Wilder and Fury in Los Angeles on Saturday night.
"Fury is taking this fight seriously. You can see that with all the weight he has lost. But no one can tell what will happen until these two get into the ring," said Lewis.
"But Tyson Fury surprises me. He did against (Wladimir) Klitschko. When Tyson Fury fights, he turns up. Fury moves really well, and is a puncher, Wilder has a huge right hand, against a boxer. It will all come down to whether Fury can out move Wilder.
"Boxing in the USA will not affect Fury, because his mindset will be the same. He's facing one man, in a ring. That doesn't change. But it is good that he is fighting around the world, and in the USA.
"Deontay has that right hand that can change the fight at any moment but they are both good punchers, but most are looking at Deontay because of his power. The judges, I don't think, will affect the fight if it goes twelve rounds. You get that in Vegas sometimes but I don't think it will happen in Los Angeles."
The crux, reckons Lewis, is the implementation of Fury's skills. "This is all about Tyson Fury being more of the boxer, and if he can frustrate you. If Deontay cannot hit him – he has not been against such a great boxer before – it could really work for Fury.
"Who do I prefer to win it ? It doesn't matter to me. They are both great fighters but I think it will depend on who wants it the most.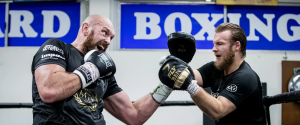 "Fury is not an easy target and I think if it goes the distance Tyson Fury will win on points. That said, we don't know how Tyson Fury is going to react if he takes a big punch, and even will Wilder able to finish him because Fury knows how to survive."
But Lewis believes the size of the three unbeaten heavyweights and their developing skills, would see them match himself, Tyson and Holyfield.
"I do think about this. Would these two fighters and Anthony Joshua have survived in my era with Holyfield and Tyson? Yes, I think so. If you look at the heavyweight division now these guys are much bigger, they are still very good and they are getting better by boxing each other. Deontay Wilder and Tyson Fury will both gain from this fight – both of them. They will both learn from it and will want to fight Joshua. He is the one at the top at the moment and they both want to fight him. But we are looking at a great fight on Saturday night. I believe it will be explosive."
Lewis also believes it will match the comeback feats of Muhammad Ali and George Foreman. "It will be one of the greatest comebacks," said Lewis. "It will be a part of history. People will look at him being written off to coming back and I think that has motivated him.
"He wants to be champion again and this is the perfect stage. It ranks as a part of history – he wants to prove everybody wrong."
BT Sport Box Office will exclusively show Wilder v Fury on December 1st, available to buy for just £19.95, find out more atwww.bt.com/sportboxoffice.
This article first appeared in The Telegraph