The tag of 'inexperienced' has been laden on Ben Davison ever since he first teamed up with former world heavyweight champion Tyson Fury 17 months ago, but he simply grins and shrugs it off. For there is a huge challenge ahead for the young Hertfordshire trainer – a world title challenge against Deontay Wilder in Los Angeles a week on Saturday.
"There was a big task when he was 27-and-a-half stone. We thought it was mission impossible but we're here today," explains Davison as we sit on a balcony on the third floor of the Team Fury training camp. Davison is plotting, masterminding, what could be ranked, if successful, as one of the greatest comebacks ever in heavyweight boxing history.
The sprawling house rents at $15,000 a month, a snip in these parts, a mile up the winding hills above Hollywood village. We have just returned from a session down at the Wild Card Boxing Gym, in Hollywood village. Fury looked fast, sleek, sharp. And the fighter who has battled back from 30 months on the sidelines appears deeply focused. "Against a puncher like Deontay Wilder, you've got to be smart," explains Davison. "You've got to know when he's doing certain scenarios. It needs to be that drilled into you that you do it without thinking. So we just repeat, repeat, repeat and work on scenarios. We'll have the game plan subconsciously in him."
Davison has watched the Alabaman, holder of the World Boxing Council title, "over and over". "Deontay Wilder is the most dangerous fighter in world boxing. It needs to be a thorough job and that's what we're doing here."
Can Tyson Fury stop Wilder, not simply outbox the American? "100 per cent. For people who doubt it, actions speak louder than words. People will see. There's no point in me saying Tyson will punch him out, because people will see," he told The Telegraph.
Exclusive interview with @BenDavison_ trainer of @Tyson_Fury coming here shortly … 'it felt like mission impossible at the start but we have come so far…' great insight from him on the camp ahead of #wilderfury pic.twitter.com/MEY6p5ABQm

— Gareth A Davies (@GarethADaviesDT) November 21, 2018
The pressure Davison might feel is not there. "Not really, no. I just focus on the job that needs doing and bringing the best out of Tyson. That's what my job is. I think I've done that so far pretty well, to get him from where he was. The occasion itself will bring another few gears out of Tyson. It's the fighters that do the fighting. I don't need to worry about what Tom, Dick and Harry say on the street corner. I just need to worry about how my fighter feels. That he believes in my work."
The tough times, explains Davison, were getting Fury back on track, early in the process, going back nearly 17 months ago. "Yeah, of course. People don't really know the extent of where Tyson as at the very beginning. He was in a bad place. It was very bad. Sometimes I used to look across and think I don't know if this job can be done. I genuinely did think that, as did many others. He put his trust in me, because everyone was asking why he'd hired me. I had to put my trust in him by leaving my gym at home and make a commitment to him. We made a commitment to each other and we've ended up here. It's been a tough and long road, but we're here now. It's been a good journey."
The switch from altitude training in Big Bear, California, to Hollywood three weeks ago was the trainer's call. "We went over to Big Bear, but I hadn't made a complete decision. When we got there we learned more about the altitude. With all three experts I was speaking to and all the data that came back to me, it was better to have a three-to-four-week period there. We've come down to reap the benefits of that period at sea level to coast him into peaking for the fight."
It has been a productive time back down in Hollywood, in the Wild Card Boxing Gym every day; communing with hall of fame trainer Freddie Roach; Ricky Hatton lending his ear to the camp. The experience of those two men will be alongside Davison on the night. The training camp house is large, sprawling, on three floors, and tucked up winding roads in the Hollywood Hills.
"Of course it's a nice house, but there's six or seven men here who all want their own space, so it had to be a large property. All that doesn't mean anything, it's getting in there on the night. It's the work in the gym and Tyson's mental state, getting the job done that needs doing. Whether we were doing the work with a broken-down mini bus and each living on a sofa bed, it doesn't matter. In fact, I was living on a sofa bed."
Davison is grinning broadly. Two glass panes behind me are full of Fury's bare behind. There are chuckles all round. "A bed's a bed," he goes on. "We've got a kitchen for Tyson's food to be cooked fresh for him. It's the way I like things to be done. It's not about the house. He needs a good kitchen for quality food to be cooked there and then for him, fresh food every time. We've got a group here where everyone's got a role to play. We needed a property that could hold us all with a good kitchen. Big personalties everywhere. Everybody likes to have their own space, I certainly do. It's been a very good training camp. Everybody plays their role."
The Wild Card Gym has been good for Davison, too. He and Roach seem to have a bond. The trainer of multiple world champions dropped into Fury's training session, in a private gym with a ring at the famed sweat shop, where Manny Pacquiao, Miguel Cotto, Amir Khan and others have found success.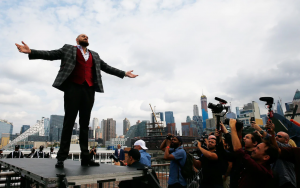 "We went and had a chat with Freddie when we were in LA for the press conference. He was very welcoming and a very nice fella. I got chatting to him and his assistant, Marie, and they were very accommodating. They asked us if we needed anything, booked us a slot in the private part of the gym underneath. As we went up to Big Bear and were planning to come back down after the data I got, I spoke to Marie. She and Freddie are absolutely perfect with what we wanted, any slot, bang, that was our slot. They helped us find stuff, put us in touch with a place for sparring partners. They've helped settle everything, so they're really good people."
Roach has said that Fury may well outbox Wilder. "Of course. Listen, people are bargaining on Deontay's power, but he (Wilder) can box as well. He's 6ft 7in, 83-inch reach and 15-and-a-half stone. He's very quick. He's got a very good jab and obviously a very, very good right hand. He'll be a problem for anybody, but Tyson is more of a problem."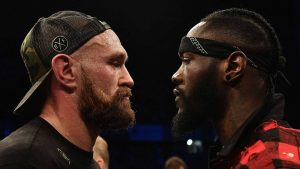 Fury, I suggest, is a freakish heavyweight himself. "The pair of them are. Both of them are absolute freaks of nature. But they've both got different physical attributes from being a freak of nature. Tyson's heavier than Deontay, but still moves and has better co-ordination and better balance than Deontay. Deontay is 6ft 7in tall. Very quick and very powerful. Tyson's got unbelievable reflexes. They've both got different attributes. But they are freaks of nature."
Davison and Fury fall into conversation. The bond is clear. "I've already achieved what my initial goal was when I met Tyson. After meeting him and learning what type of person he was, my initial goal was to get the man back happy again," Davison says. "I could see where he was. I got to know him and we gelled very well. I like him a lot as a person. Although we're trainers and fighters, he's a friend to me as well. I said to myself I wanted that man back happy again and we've achieved that. Everything else is the cherry on top. Obviously it will be a fantastic achievement [if he wins] and I'll be over the moon, but I'll be over the moon for Tyson because he's the one who's done it. It will be the cherry on top of a huge sustained effort."
It will also rank alongside the greatest comebacks ever in heavyweight boxing history.